Tomato shortage 2023: Why are supermarkets running out of tomatoes in the UK?
Struggling to snap up the red fruit? Here's why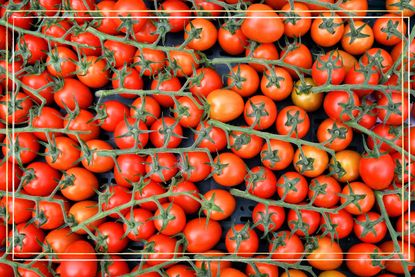 (Image credit: Future/Getty)
Whether you're a fan of vine, cherry, plum or piccolo - you might have noticed there's a severe lack of tomatoes on supermarket shelves in 2023 as the UK grapples with a fruit and vegetable shortage (opens in new tab).
The weekly food shop is a chore that has become more of a challenge in recent years, as supermarket customers deal with an ongoing egg shortage (opens in new tab), Coffee Mate shortage (opens in new tab) and food prices going up (opens in new tab) - be it bread, pasta, milk or the increasingly expensive Lurpak butter (opens in new tab). Adding further fuel to the fire is shoppers currently being unable to get their hands on tomatoes in shops - and we're sad to report it's not just your local store that's affected, with a UK-wide tomato shortage very much gripping the nation.
We've delved further into the issue, explaining what's causing the tomato shortage and the subsequent impact on tomato prices. Plus where the tomatoes you eat actually come from.
Why are supermarkets running out of tomatoes in the UK?
The tomato shortage is due to continued bad weather in Spain and Morocco - two countries who export the majority of tomatoes to the UK. Heavy rain and cold temperatures have affected tomato ripening (less crop), with stormy conditions causing ferry cancellations (transportation and export delays).
Supermarket Morrisons (opens in new tab) alluded to these issues on signs placed on empty tomato shelves in stores across the country. "Availability across our tomato range has been significantly impacted by adverse weather conditions across Spain and Morocco," they say. "The current shortage is likely to improve within a couple of weeks."
Is there a UK shortage of #tomato's at the moment???Just tried three different brand supermarkets and all have empty shelves… @AldiUK have not had any for over a week, @Tesco say they are struggling to get any!!! What is the issue?February 18, 2023
See more
Tomato production problems in Morocco began in early January, says Eddie Bowers (opens in new tab), Commercial manager of Bradford-based wholesaler and importer Burbank Produce. He told Fruitnet (opens in new tab) that conditions were possibly the worst cold weather that Morroccan tomato farmers had seen in five years. The drop in temperatures mean tomatoes are taking longer to ripen, leading to less being ready to pick and export.
Continued bad weather, including heavy rain, throughout February 2023 has led to further tomato export issues too. Ferry cancellations have been rife between Morocco and Spain. This has caused long delays in lorries crossing the border and a shortage in transportation vehicles setting off.
"The lorries that got stuck were taking two or three days to get to the port and across into Spain," said Bowers. "We had goods to load on Monday that didn't land until Thursday because there was a lack of vehicles – they were all in the wrong places because of the issues last week.
"The biggest problem is the lack of vehicles because of the problems last week, and then we were hit with this week's rain and flooding. It's a perfect storm," he added.
It's thought that the tomato shortage will continue for a good few weeks as Moroccan tomato farms dry out and transportation issues return to normal.
Tesco Extra Friday midday no tomatoes. Staff member said it will be like this for the next month. #tomatoshortage #Brexit #CostOfLivingCrisis pic.twitter.com/PqGCOB3nQAFebruary 17, 2023
See more
Whilst issues with tomato exports from abroad are to blame for the current tomato shortage, problems with tomato farming in the UK are also significant.
Rising energy costs are impacting tomato produce across Britain - and this is important because tomato growers are struggling to afford to heat their greenhouses because of the increase in the price of gas. As such tomato harvests have been affected.
"Wholesale gas prices impact all growers and tomato availability is a global issue," British Tomato Growers Association (BGTA) (opens in new tab) spokeswoman Julie Woolley told The Grocer. UK tomato production today is reliant on greenhouses being heated to 20 degrees celsius. With energy prices going up (opens in new tab), farmers are grappling to find the funds to do this - and as such the BGTA has shared that "several" key tomato farmers have had to reduce or delay planting crops leading to a shortage.
Whilst an increase in energy prices remains the main issue, Dr Philip Morley (opens in new tab), Horticulturalist and technical officer of the BTGA, says that inflation in other areas has also hit tomato farmers hard.
Rising fuel costs has meant transportation costs are now higher. Other input costs such as seeds, fertiliser and feed have also increased between 100 and 400 percent, adds Morley.
Phil Pearson (opens in new tab), group development director at APS Produce, agrees that inflation is a problem, and as such tomatoes have been "grown later to try to recover some value because everybody's been squeezed on prices - not just for energy, but fertiliser, labour, everything has gone up."
Indeed, post-Brexit, farmers have also seen a shortage of seasonal labour which would previously have been made up of EU workers. New administrative checks and costs have also come into place following Brexit - these include health checks on seeds entering the UK, to rule out plant viruses that can affect crop. "Those costs are also passed on to the grower," explains Dr Morley.
The National Farmers Union (NFU) (opens in new tab) have confirmed that these problems are currently affecting all fruit and vegetable growers across the UK - not just tomato farmers.
"British food is under threat… at a time when global volatility is threatening the stability of the world's food production, food security and energy security," NFU president Minette Batters (opens in new tab) told the BBC.
"I fear the country is sleepwalking into further food supply crises, with the future of British fruit and vegetable supplies in trouble."
Aldi joins ASDA & Morrisons in rationing veg. This glass house has 18 football pitches worth of tomato & bell pepper plants. Normally they'd be harvesting but they've delayed planting to avoid high energy bills in peak winter. ⬇️Why UK growers aren't able to offset shortages pic.twitter.com/1augyoN09HFebruary 22, 2023
See more
Are supermarkets rationing tomatoes?
ASDA, Morrisons, Aldi and Tesco are amongst British supermarkets who have announced limits on the number of tomatoes customers can currently buy in stores.
Morrisons customers are restricted to buying two bags of tomatoes, whilst ASDA and Aldi shoppers are limited to three bags per person. We're awaiting confirmation from Tesco on what their current tomato buying limits are.
In a statement, Aldi said: "We are limiting purchases of peppers, cucumbers and tomatoes to three units per person to ensure that as many customers as possible can buy what they need."
Why are tomato prices increasing in the UK?
Tomato prices in the UK have increased to make up for the rise in energy, transport and production costs facing tomato farmers - in the UK and abroad.
The Institute of Grocery Distribution (IGD) (opens in new tab) reported in December 2022 that food price inflation will peak year on year in early 2023 to between 17 and 19 percent. This is notably up from the 14 and 16 percent predicted in a previous forecast.
Mintec analysis (opens in new tab) from March 2022 showed that the average wholesale price of cherry tomatoes had risen by 58% year on year in the UK. This means an average of £3.83/kg.
Additional data from the Office of National Statistics (opens in new tab) show that the price of tomatoes (per kilogram) are the highest they've ever been in January 2023.
Where does the UK get most of its tomatoes from?
The UK gets most of its tomatoes from three countries - Morocco, Spain and the Netherlands. Over 90% of tomatoes sold in supermarkets today are imported from abroad.
Previously, Spain was Britain's biggest supplier of tomatoes. However, following Brexit, Morocco has now taken over the title. According to data from COMRADE, the UK increased its tomato trade with Morocco by 33.68% between January and November 2021. During the same period, the UK imported 24.14% fewer tomatoes from Spain.
"Since new Brexit regulations went into effect, there has been an upward trend of non-European fresh imports into the UK," reports Tridge (opens in new tab). A new trade agreement was signed by Morocco and the UK in October 2019, and as a result, trade between the two has seen a surge in the fruits and vegetable sector.
Did you know that 25% of tomatoes eaten in the UK come from Morocco?🍅That's not all! Since January 2021, food exports from 🇲🇦 to the 🇬🇧 have increased by almost 40%. Let us know in the comments your favourite dishes made with Moroccan tomatoes. pic.twitter.com/5xtPNpn9vmAugust 22, 2021
See more
In April 2022, however, tomatoes imported from Morocco to the UK were restricted, which led to a previous short-term tomato shortage. Morocco decided to restrict exports (opens in new tab) of tomatoes to ease a surge in local prices ahead of Ramadan, due to the fruit being a key ingredient of national cuisine and fast-breaking meals.
It's yet to be seen whether the same restriction will occur in late March and April this year - which again could lead to a further shortage of tomatoes in British supermarkets.
Who is the biggest tomato grower in the UK?
According to the British Tomato Growers Association, the APS Group (opens in new tab) is the biggest tomato producer in the UK, supplying around 40% of tomatoes to supermarkets.
"We have nurseries across the UK, from Teesside all the way down to the Isle of Wight, so we're able to supply the whole country with fresh produce that's bursting with flavour – whilst reducing food miles," Head Grower Phil Pearson told the BGTA) (opens in new tab).
🌱🍅Yesterday we were invited to visit the APS Group in the village of Ash, in Kent. With the tomato season slowly starting it was great to see all the preparation behind the scenes.🌱🍅#january2022 #farming #greenhouse #tomatoes #kent #preperation #behindthescenes #workers pic.twitter.com/X2sWVs8mbkJanuary 20, 2022
See more
The APS Group was founded by Albert and Hilda Pearson in 1949 and has expanded from a single nursery in Alderley Edge to a company with 175 acres of glasshouses today (that's roughly equivalent to 250 football pitches).
The company remains very much in the family today, with current CEO Mark Pearson, Phil Pearson and other members of the Pearson family making up the senior management team. It's headquarters are based in Cheshire.
Video of the Week
Emily Stedman is the Features Editor for GoodTo covering all things TV, entertainment, royal, lifestyle, health and wellbeing. Boasting an encyclopaedic knowledge on all things TV, celebrity and royals, career highlights include working at HELLO! Magazine and as a royal researcher to Diana biographer Andrew Morton on his book Meghan: A Hollywood Princess. In her spare time, Emily can be found eating her way around London, swimming at her local Lido or curled up on the sofa binging the next best Netflix show.