Nestlé announces HUGE change to Quality Street for Christmas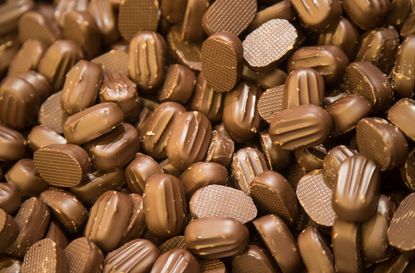 (Image credit: Rod Kirkpatrick/F Stop Press)
This Christmas is about to get a lot more chocolatey as Nestlé make a change to their Quality Street collection. As part of its biggest brand transformation yet, a new limited edition sweet will be introduced to the mix.
The new sweet is a Chocolate Caramel Brownie and will be joining household favourites such as hazelnut and caramel (aka The Purple One), strawberry delight, toffee deluxe and coconut éclair. With homes across the country already fighting over their most loved flavour, the new addition will add both excitement and another opportunity to debate which one is the ultimate.
The Chocolate Caramel Brownie was actually first introduced in May this year, setting blood pressure rising as it replaced the much loved Toffee Deluxe. But this Christmas will see it make its first appearance in the world famous tin.
Read more: Quality Street fans not happy as Nestlé remove classic chocolate from their selection (opens in new tab)
It's not the first time Quality Street has made a change to its chocolates. Earlier this year, Nestlé announced they were removing the Toffee Deluxe for the second time, which had made a comeback having been axed in 2016. And, last year, the pack dropped from a selection of 13 chocolates to 12 after the Honeycomb Crunch was canned from the assortment.
In May, when the Chocolate Caramel Brownie was first launched, a Nestlé spokesperson said: 'Every now and then we like to introduce new exciting flavours to the mix and are certain that our delicious chocolate caramel brownie will be a hit for 2019.'
They also explained the reason behind the launch: 'Well, we know we got your attention the last time we dropped the Toffee Deluxe so couldn't resist trying it again.
'But seriously, everybody's got a favourite Quality Street and the assortment has changed a lot over the years.
If that wasn't exciting enough, the tin itself is also getting a makeover. The new 'glow' design has been created to reflect the jewel design of the sweets.
If you find yourself with leftover Quality Street, why not make our Selection Box Cookies (opens in new tab)!
Plus the mix of sweets has been changed around slightly to reflect customer's more popular choices, so that there's more of what you really want and fewer being left at the bottom of the tin.
Which Quality Street Chocolates are which ?
Purple: Milk chocolate filled with hazelnut and caramel
Blue: Coconut Éclair
Orange: Orange Crème
Red: Strawberry Delight
Green foil: Hazelnut Noisette
Gold: Chocolate toffee finger
Green: Milk Choc Block
Yellow foil: Caramel Swirl
Gold: Toffee Penny
Orange foil: Orange Crunch
Pink: Fudge
Golden Brown: Honeycomb Crunch
Former Assistant Headteacher, Samuel has a BSc in Food from the University of Birmingham and is also Co-Vice Chair of the Guild of Food Writers and a Trustee of 91 Ways CIC. His work has featured in national and international publications including Waitrose Food, Australian Delicious, and the LAD Bible Group. Samuel has also consulted on a number of best-selling food and drink books, and was a nutritional consultant for BBC's Eat Well for Less.