The Best Christmas Food Ever: everything you need to know about the new BBC show
It all looks so yummy!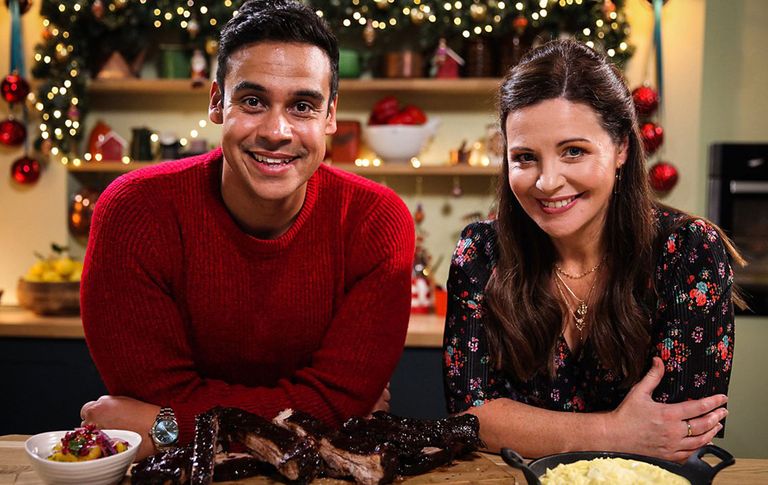 The Best Christmas Food Ever, brought to you by award winning chef Paul Ainsworth and renowned Irish TV chef and food writer Catherine Fulvio, is just what you need for a Christmas food journey to remember.
Each episode sees a different celebrity guest join the duo to whip up a selection of flavoursome festive fair.
Here's what you can expect...
The Best Christmas Food Ever: what can you expect
The celebrity line-up for the ten-episode series is an impressive one. Stars include former Eastenders actress and occasional Loose Women panellist Martine McCutcheon; Strictly Come Dancing Star Debbie McGee; TV presenters Anjellica Bell and Dominic Littlewood; and actor and former I'm a Celebrity...Get Me Out of Here winner Christopher Biggins.
Speaking in an exclusive interview with TV Times, Paul revealed his favourite Christmas Day food: 'I'm really looking forward to cooking a turkey. I cook the legs separately to the breast.
'You can turn the turkey legs into proper old-fashioned turkey rolls by filling them with sausage meat, apricots, cranberries and pistachios, rolling them up in tinfoil and baking in an oven. Then you have the two breasts left on the crown, which can be cooked to perfection.'
The Best Christmas Food Ever recipes
Put all notions of a standard Christmas menu featuring turkey (opens in new tab) will all the trimmings and classic Christmas pudding to one side, there's a twist to every dish on The Best Christmas Food Ever.
From bubble and squeak scotch eggs and baked ham with a spicy balsamic vinegar glaze to bread and butter pudding (opens in new tab) with whisky custard and Cornish clotted cream and a warm chocolate cake (opens in new tab) with sweet clementine cheese, it's all there.
All 17 recipes featured in the series are included on the BBC website, so you can try out your culinary skills from the comfort of your living room at your own pace.
The Best Christmas Food Ever: what time does it air?
The Best Christmas Food Ever started on December 3rd and airs on daytime every weekday at 3.45 pm, until December 14th. Viewers can catch up with past episodes on BBC iPlayer.
Will you be tuning in watch The Best Christmas Food Ever? Head over to our Facebook page and let us know!
Miriam Habtesellasie is a freelance lifestyle writer who has contributed content to GoodTo, Woman&Home, Women and Idealhome.co.uk. Miriam is based in London and is a fan of everything interiors, she admits to being spoilt for choice living in the capital. From stunning architecture right the way through to eye-catching department store window displays, she believes there's always an angle to be found that can translate to our abodes.