The most commonly mispronounced wine revealed – and it's not Sauvignon Blanc
The French red wine is commonly mispronounced despite being one of the most popular on the market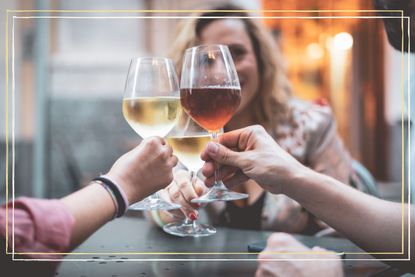 (Image credit: Getty)
The most commonly mispronounced wine names have been revealed, just a few years after it was revealed that nearly 20% of Brits can't say their favorite wine correctly.
With Dry January finally over and Valentine's Day quickly approaching, folks everywhere are looking forward to enjoying a toasty glass of vino (or two) in the next couple of weeks. Whether you sip on Aldi's award-winning wines or invest in a fancier brand, there's nothing like a bottle of grapey goodness to share your affection this upcoming romantic holiday. (These Valentine's Day hampers are another good shout if you'd prefer to splurge on an alcohol-free gift).
Over 10,000 varieties of wine grapes technically exist across the world, but only a handful are known for their commercial production. Amongst the most famous wines on the UK market today are Sauvignon Blanc, Pinot Noir, Pinot Grigio, Burgundy, Chardonnay, and Tempranillo. Chianti, Merlot, and Sangiovese are also popular choices for Britain's vino lovers.
With so many of these names hailing from other languages, however, it's hardly a surprise that their pronunciation can get a little slurred on the tongues of native English speakers. A study in 2020 (opens in new tab) even showed that nearly 20% of Brits don't know how to say their favorite wines correctly, despite regularly buying them at the supermarket and ordering them at bars and restaurants. The most commonly mispronounced wines have now also been revealed – and the results are rather surprising.
In a new study by Preply (opens in new tab), researchers found that Pinot Noir is the most commonly mispronounced wine name. Apparently, an average of 2,380 people search for how to correctly say the world-famous French wine each month. (It's PEE-noh nwar, in case you were wondering).
Sauvignon Blanc, also from France, was the runner-up for the most commonly mispronounced wine name. Its correct pronunciation is searched about 1600 times every month, while Cabernet Sauvignon is the third most commonly mispronounced wine, with searches for how to say the classic red wine ranking at about 1200 a month. Sauvignon Blanc, pronounced 'soh-VIN-yohn blan', has a few letters which are should be silent when said aloud, as does Cabernet Sauvignon: 'kab-er-nay soh-VIN-yohn'.
Also on the list was Pinot Grigio, which is most famous in Italy, as well as Champagne, Bordeaux, Prosecco, Chianti, and Reisling.
To avoid the shame of mispronouncing one of these names next time you're at a dinner party, it's a good idea to do a bit of linguistic research beforehand.
"The key to getting the pronunciation right for different types of wine – and beverages in general – is to know what language their name originates from," says Preply marketing specialist, Yolanda del Peso. "For example, Tempranillo seems like it should be pronounced 'tem-pruh-NILL-o' to an English speaker, but knowing that it is a Spanish wine tells us that we should follow Spanish rules of pronunciation. That means the double 'LL' is actually pronounced as a 'Y' sound, giving us 'tem-pruh-NEE-yo.'"
News and lifestyle writer
Emma is a Lifestyle News Writer for Goodto. Hailing from the lovely city of Dublin, she mainly covers the Royal Family and the entertainment world, as well as the occasional health and wellness feature. Always up for a good conversation, she has a passion for interviewing everyone from A-list celebrities to the local GP - or just about anyone who will chat to her, really.