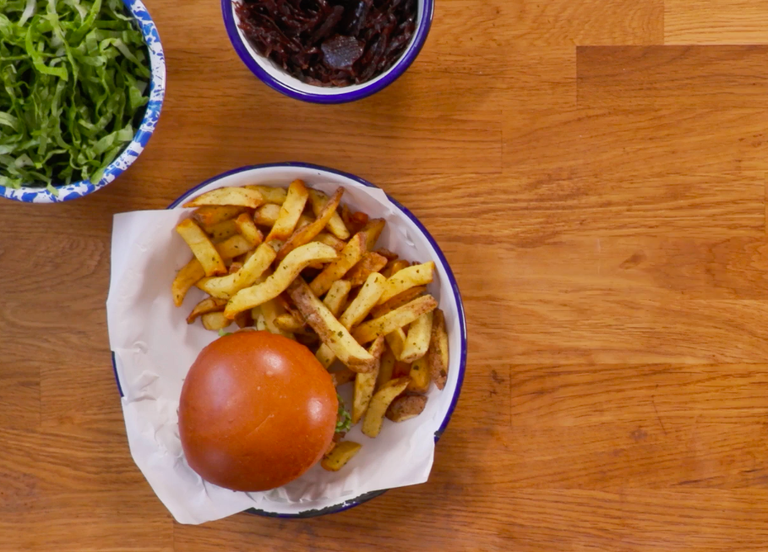 To make sure we got our hands on the best hamburger recipe possible we spoke to Tom Barton, co-founder of Honest Burger. Their signature hamburger recipe is made with prime cuts of high-quality beef for the perfect taste and texture.
In the video below Tom explains why they go to the effort of chopping their beef, instead of the usual mincing method that the majority of burger makers follow. Served simply with shredded lettuce, Honest Burger's signature balsamic onion chutney and a whole heap of rosemary-salted chips – this hamburger recipe is the perfect thing to impress friends with.
This burger recipe serves seven people but can easily be scaled up or down depending on how many people you're feeding. The ratios you need are 80% chuck to 20% rib cap.
Ingredients
800g chuck steak
200g rib cap beef
7 glazed burger buns, sliced in half
1 little gem lettuce, shredded
4tbsp onion chutney
Chips, to serve
Step 1
Finely chop the rib cap by slicing it into thin strips to begin with, about the width of a piece of bacon. Then dice each of these strips into small pieces. Finally go back over all of the meat with a sharp knife to get is finely chopped as you can.
Step 2
Repeat the above process with the chuck steak, getting a nice fine dice on all of the meat.
Step 3
With your hands mix both meats together in a large bowl, using the heat of your hands to melt the fat slightly.
Step 4
Take a small ball of the meat and whack it between your hands to melt the fat further, and bring the burger together.
Put the ball of meat in between two pieces of greaseproof paper and press firmly with a burger press. Chill for a minimum of four hours.
Step 5
Bring a heavy-based pan to a high heat and fry the burger on both sides for 3 minutes, for medium burgers. Season well before flipping, and then season the second side well too. Once ready leave to rest for five minutes.
Step 6
Add lettuce to the bottom of each bun, top with the burger, then the onion relish. Serve with chips.
Hamburger recipe
Hamburger recipe