How to cook Tenderstem broccoli
Follow our simple guide on how to cook Tenderstem broccoli. Tenderstem broccoli can be boiled, pan-fried and roasted...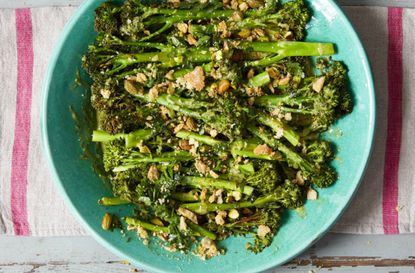 Tenderstem broccoli is nutritious and quick to cook. Find out the best way to cook this dainty green vegetable including lots of recipe inspiration too.
Tenderstem broccoli is the delightful result of crossing classic broccoli with Chinese kale. It was first introduced in 1993 and has become a favourite veggie for many ever since.
The slim tender stems have a delicate flavour that is sometimes compared to asparagus. It's a good substitute, especially in the summer months when the asparagus season ends and the British grown Tenderstem starts to thrive. Tenderstem is also sold in the frozen section of Asda, Iceland, and Ocado so you can buy it any time of year.
Just seven stems of Tenderstem count as one of your 5-a-day and it's bursting with folates, fiber, and protein. This nutritious vegetable is the perfect way to balance any dinner and makes a great snack too.
In this article, we focus on how to prepare and cook Tenderstem broccoli, including how to BBQ and how to steam in the microwave too...
How to prepare Tenderstem broccoli
Before cooking your broccoli give it a good rinse in cold water and shake off any excess if you're going to stir-fry or roast. For even cooking, if there are any large thick stems we like to cut them in half but you might not need this step.
Can you eat the whole Tenderstem broccoli?
You can eat the whole Tenderstem broccoli stem but you might want to cut the woody end off. This can be as little as 0.5cm. You can eat all of the classic broccoli too, the stem isn't as tender but it's great roasted.
If you have thick stems you may want to cut them widthways in half, or if they are particularly long, try cutting them in half lengthways too. This is a good choice if you're stir-frying.
Can you eat Tenderstem broccoli raw?
Tenderstem broccoli is a lovely addition to a crudités platter and makes a delicious snack. We like to serve it with hummus or homemade dips, but it's also a great addition to salads.
Wash the broccoli thoroughly and then pat dry before tucking in.
How to cook Tenderstem broccoli
The quickest way to cook it is to steam or boil the stems. Prepare the portion of broccoli you'd like to cook then bring a pot of water to the boil. If you're boiling the stems salt the water and cook for 3-4mins until tender.
To steam, once the water is boiling place the steamer over the water and cover. Cook for 3-4mins until tender.
How to cook Tenderstem broccoli: in the microwave
Cooking broccoli in the microwave is essentially a way of steaming the veg.
Place the broccoli in a microwave-safe container with a couple of tablespoons of water.
Cover with a lid and cook on high for around 4 mins.
Be careful when you remove it from the microwave as it will be very hot. Take caution when you remove the lid too as the steam escapes it's incredibly hot.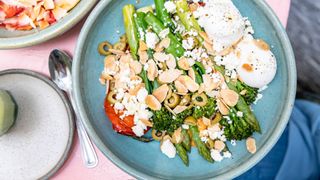 How to cook Tenderstem broccoli: stir-fry
Tenderstem broccoli is the perfect ingredient for a speedy stir-fry or veggie side dish. Food Director Elisa Roche says: 'I love the combination of Tenderstem broccoli and soy sauce. I like to chop the stems into rounds for even quicker cooking.'
Deputy Food Editor Rose Fooks has a similar approach. She explains: 'I love it as a side, stir-fried with a sploosh of soy sauce, and topped with sesame seeds if I'm feeling fancy.' Why not try it alongside our crispy duck or sesame salmon.
Wash the stems and shake off any excess water. If the stems are a little chunky, you might want to trim them down for even cooking.
Heat a little oil in your frying pan or wok and cook the broccoli over medium to high heat for around 5 mins.
You can use readymade stir-fry sauces or make your own. A simple splash of dark soy when cooked will help give it a boost of flavour with minimal effort.
How to cook Tenderstem broccoli: in the oven
Cooking broccoli in the oven gives it a delicious flavour, especially when the fronds char a little.
Preheat the oven to 200C/Gas 4. Prepare the broccoli and shake off as much water as possible.
Drizzle the broccoli with olive oil and sprinkle with salt and pepper. You could also add some chopped garlic, chilli flakes or some other of your favourite spices.
Cook for around 15-20 mins, turning once until the stalks are tender and the fronds crisp.
Food Editor Samuel Goldsmith recommends serving the roasted stems with a soft boiled egg for brunch. You could add some crispy bacon for added decadence.
How cook Tenderstem broccoli: BBQ or grill
When cooking Tenderstem on the barbecue, try and pick the thickest stems otherwise you risk them falling through the grill. Prepare the broccoli as you would for oven cooking, coating in olive oil, salt, and pepper or your marinade of choice.
Cook on the hot barbecue or under a grill for around 10mins.
Can you freeze Tenderstem broccoli?
Just like traditional broccoli, you can freeze Tenderstem broccoli and purple sprouting broccoli too. Trim the woody part of the stem and then wash the stems. Blanch in salted, boiling water for 3 mins then pat dry to remove as much moisture as possible.
Transfer to a freezer bag or container. We recommend using within three months but the sooner the better as Tenderstem florets are more fragile and can be easily damaged by freezer burn.
You can cook the broccoli straight from the freezer in boiling water. The broccoli might be too fragile for other cooking methods but it depends how thick the stems are.
Our best Tenderstem broccoli recipes:
Teriyaki chicken bowl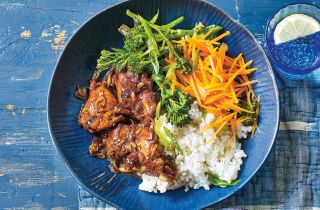 Full of flavour and easy to prepare, this is bowl food at its best. You can freeze individual portions for another day. This also makes a great dish if you're trying to create your own Japanese takeaway at home. It's cheaper and healthier than anything you can order.
Get the recipe: Teriyaki chicken bowl
Walnut broccoli and gruyere tarts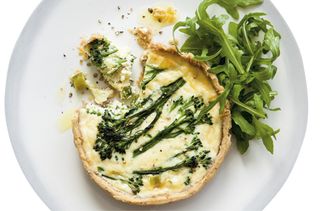 Ideal for lunch or a light dinner, these little tarts are also perfect for picnics and buffets. Delicious hot or cold, once you've made them once they are sure to become a favourite.
Get the recipe: Walnut broccoli and gruyere tarts
Ramen soup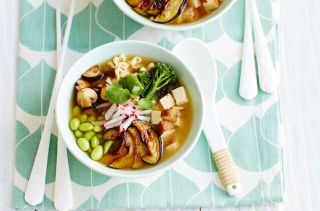 Wholesome, comforting, and low cal, this soup is ready in just 30mins and perfect for those cold winter evenings when you need something nutritious and easy to cook.
Get the recipe: Ramen soup
Sweet chilli swordfish with Tenderstem broccoli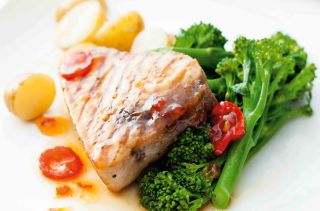 A healthy family dinner that's ideal in the warmer months. You could serve the broccoli with whatever fish you like or even a grilled chicken breast.
Get the recipe: Sweet chilli swordfish with Tenderstem broccoli
Roasted broccoli with parmesan and pistachios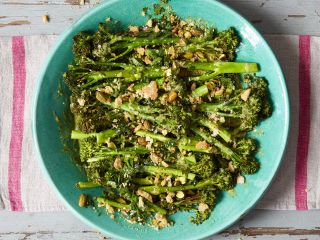 This roasted broccoli is the perfect accompaniment to your Easter lamb or classic roast chicken. It's a delicious addition to a buffet spread and is tasty hot or cold.
Get the recipe: Roasted broccoli with parmesan and pistachios
Fish and broccoli traybake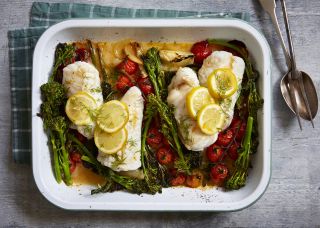 Get the recipe: Fish and broccoli traybake
Slimming World's Fettucine with Tenderstem broccoli