We earn a commission for products purchased through some links in this article.
Did you know that you can freeze cream? Did you know that you can make swirls out of the cream and then freeze them? No? Well, you're in for a treat! This simple food hack is going to change your hot chocolate-making lives.
Don't you just hate it when you squirt or scoop some cream on top of your hot chocolate and then it disappears within seconds?! Never fear! That annoyance has been solved. These frozen cream swirls are the answer to your hot chocolate prayers.
It really doesn't take much to make these fun little cream bites. All you need is some whipped cream, a piping bag with patterned nozzle and some greaseproof paper.
Whip your cream using an electric hand whisk. Scoop into your chosen piping bag with patterned nozzle and pipe the swirls onto a board or baking sheet covered in greaseproof paper.
Pop the swirls into the freezer for about 1 hour and remove when you want to serve them.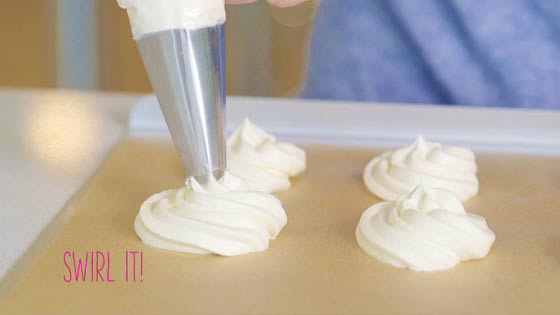 Pop on top of your freshly brewed hot chocolate, sprinkle with marshmallows and sprinkles and serve. Your frozen cream swirls won't melt straight away like other creams. Instead, they'll sit patiently on top of your cup waiting for you to scoop them up with a spoon and enjoy.
If you want to take this food hack to the next level, stir a few drops of food colouring to your whipped cream before putting into the piping bag. It'll give the frozen cream swirls a bit of colour.
These frozen cream swirls are not just for hot chocolate, you know! Add to this Eton mess recipe, pop on top of warm brownies or serve on top of milkshakes.