Ken Hom: How to cook Chinese food
We caught up with Chinese cookery guru Ken Hom to get all his tips for how to celebrate the Chinese New Year (10th February 2013) and how to incorporate the flavours and skills from Chinese cooking into your everyday meals.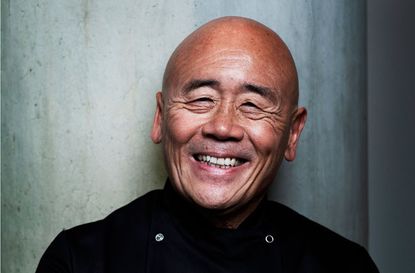 We love
Chinese food
in a restaurant, but we're always a little scared of trying to recreate the lovely flavours at home. We caught up with Chinese cookery guru Ken Hom to get all his tips for how to celebrate the
Chinese New Year (31st January 2014) and how to incorporate the flavours and skills from Chinese cooking into everyday meals. He's even given us some delicious new recipes and his tips on how to use chopsticks - you're spoiling us, Ken!
What is your favourite meal to cook at Chinese New Year?
A simple, uncomplicated one, like fresh steamed fish, so that I can enjoy the company of my guests. It is light, easy and always works well. Also fish is a symbol of prosperity - a must for Chinese New Year.
We love an excuse to celebrate - what 3-course meal would you suggest we try for a Chinese New Year meal?
For the starter I would say stir-fried noodles (a symbol of longevity) followed by steamed fish, Cantonese style (a symbol of prosperity) and fresh oranges slices (a symbol of fortune) for dessert, together with lots of champagne and wine!
What other traditional Chinese food is served at New Year?
Sea moss with dried oysters (a symbol of good things), roasted duck, (a symbol of fidelity), stir-fried chicken (a symbol of fortune) and stir-fried vegetables (a symbol of purity)
What are your top tips for making Chinese food at home?
Have all your ingredients chopped and ready to go.


Heat your wok until it is hot before adding the oil.


Add stock, wine or water instead of adding more oil when stir-frying.


Keep your heat on high at all times when stir-frying.


Finally, never panic!
What are your tips for making Chinese food healthy?
Use the minimum amount of oil.


Serve braised or roasted dishes and keep fried dishes to a minimum.


Serve soups for starters instead of fried options.
What are the essential store cupboard ingredients for Chinese cooking?
Ginger


Garlic


Chilli


Groundnut oil


Toasted sesame oil


Cornflour


Oyster sauce


Five spice powder


Shaoxing rice wine or dry sherry
What's the best way to cook rice and noodles.
For rice, use about 1in of water over the surface of the rice and boil it over high heat until all the liquid has evaporated. Turn the heat down to the lowest possible heat, cover and cook for 15 mins. For noodles, simply blanche in hot water, drain, rinse in cold water to stop it from cooking and toss with toasted sesame oil until ready to stir-fry.
How do you look after your wok?
If your wok's coated, you just need to give it a wipe after you've used it. If it's not coated, give it a wash with warm soapy water. Never, ever scour it and always rub with vegetable oil before you put it away to stop it from going rusty.
What's the secret to cooking perfect egg-fried rice?
The secret is using really cold, pre-cooked rice. I would make it the night before and keep it chilled in the fridge. Then you need a really hot wok, heated with some sesame oil. Throw in the rice and mix it around, then add some beaten egg and stir until the egg is dry. Chuck in some spring onion at the end and you've got the best egg-fried rice you've ever tasted!
What's the easiest Chinese dish to make?
It's got to be a simple stir-fry. You just need some crushed garlic, some hot oil in a pan, salt and pepper and your favourite vegetables. Super simple.
What's your favourite meal for kids?
There are a few secrets to cooking for kids. One is using colourful vegetables that capture their imagination, but also it's important to combine them with light ingredients like fish, chicken or seafood. The key thing is that it needs to be flavoursome. Kids are cleverer than we give them credit for and the reason a lot of children turn their noses up at food is because it's bland. Don't be scared to introduce them to flavours early on.
Ken Hom's top chopstick tips:
1. Hold one chopstick in the index finger, cradle the chopstick in between the index finger and thumb.
2. Place the second chopstick between the index finger and the second finger.
3. Make sure the two chopsticks are parallel, then keep the lower chopstick steady and move the top one to pick up food. Hold the chopsticks as high as possible. This will give you more leverage.
4. Never place chopsticks sticking up in a bowl of rice. This is bad luck and only done at funerals.
5. Never lick your chopsticks. Bad manners.
6. Remember, practice makes perfect. Try picking up peanuts with chopsticks for practice. Once you have mastered this, you will be perfect with chopsticks.
Try one of Ken's Chinese New Year recipes
Steamed Cantonese style fish Crackling Chinese roast pork
Warm mango compote Vietnamese spring rolls
For more information on hosting your own Chinese New Year celebration, additional recipes and details on Ken's meal range available in Tesco, visit: www.kenhom.co.uk
Where to next?
- Ken Hom answers your questions
- Ken Hom recipes (more!)
Jessica Dady is Food Editor at Goodto.com and has over 10 years of experience as a digital editor, specialising in all things food, recipes, and SEO. From the best food hampers to cookbooks, from the best cake stands to kitchen appliances, Jessica has a wealth of knowledge when it comes to must-have food products. A passionate baker, she spends some of her time creating celebration cakes for friends and family including her two lucky children.