Could you live on £1 a day? Our mummy blogger takes the Live Below the Line challenge
We challenged our mummy blogger Anneliese to take part in the Live Below the Line campaign of living off just £1 for five days to raise awareness to the 1.2 billion people living in extreme poverty. Anneliese did it for one day to demonstrate how it can be possible along with top tips if you're taking part in the campaign yourselves.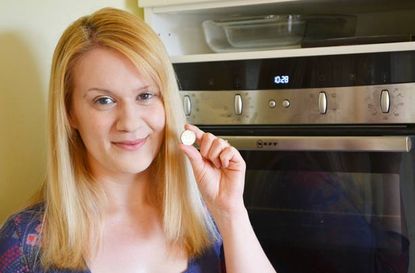 When blessed with plentiful food, it's hard to comprehend what it must be like to live on less than £1 per day. However, over 1.2 billion people, all over the world, do just that.
Unbelievably, that £1 isn't just for food and drink; it also has to stretch to housing, education and healthcare. Live Below the Line is here to make a difference and have set us all a challenge; to live on just £1 per day for 5 days.
Live Below the Line is not trying to imitate what it's like to live in extreme poverty, but rather to help us to understand the everyday struggles 1.2 billion people face. The aim is to connect us to the issue and to challenge us to think differently.
To raise awareness of Live Below the Line, goodtoknow challenged me to live on £1 for just one day. Yes, I feel I got away rather lightly! Yet, I hope that what I have learned over the course of just one day will serve as a constant reminder to me to appreciate the plentiful food in my cupboards and the food on my plate.
What I ate
Anneliese's food for the day, including pasta, porridge and Rich tea biscuits.
Breakfast: 125g of porridge oats with water. Cost = 11p (Aldi)
Snack: 2 x Rich tea biscuit. Cost = 3p (Aldi)
Lunch: Pasta salad - 100g dried pasta 7p (Sainsbury's), 1 inch cucumber 6p (Aldi), ½ tomato 7p (Aldi), ½ carrot 4p (Aldi), 20g salad cream 4p (Aldi). Total cost = 28p
Dinner: Veggie burger - made with 100g red kidney beans 6p (Aldi) ½ grated carrot 4p (Aldi), ½ onion 4p (Aldi) one heaped tbsp flour 1p (Aldi). Potato wedges = one 290g potato 18p (Aldi), half a tomato 7p (Aldi). 3 tsp oil for cooking 8p (Sainsbury's). Total cost = 49p
Total cost = 91p.
Although I ate three meals and had a snack over the course of the day, I felt hungry. I'm well aware that I have a large appetite but the portion sizes were small. The porridge, made with water, had no flavour and served purely to fill me up. I did not enjoy it! Lunch and dinner, however, were much enjoyed but I was left wanting more. My tummy was growling at bedtime and I wasn't surprised to find that I'd lost 1lb when I weighed myself the following morning!
Breakfast is served! Anneliese cut down the cost of her porridge by making it with water instead of milk
What I learnt from the challenge
This £1 challenge proved that we can indeed make a decent meal with just a few simple ingredients. What I ate was relatively healthy; there was fruit and vegetables but I still wasn't anywhere close to achieving my five a day. Carrots, kidney beans and pasta are within budget but the more expensive foods such as meat, cheese and most fruit etc are just not possible. As for a cup of tea or coffee, well, I did without and just drank water. I chose to have a little extra food instead of my usual caffeine fix!
For lunch Anneliese managed to rustle up this pasta salad for just 28p
Looking back at my Live Below the Line experience which, thankfully, only lasted for one day, I feel humbled. I realise how very lucky I am to go to bed with a full tummy every night; to know my children will not starve and, furthermore, that I can feed them AND afford to clothe them, look after their health and treat them to an ice cream and a meal out every now and then. To know that there are parents in this world who have to choose between a bag of rice and an immunisation for their child is truly heartbreaking.
A light dinner for one including potato wedges and a homemade veggie burger
£1 a day: My top tips
If you feel inspired to challenge yourself to living 'below the line' for five days or even just the one, like me, then here are my top tips!
1. Plan, plan and plan some more Writing out a meal plan is an absolute must. You need to know exactly what you will eat, right down to the finest detail.
2. Compare prices Check out where you can buy your food the cheapest. It might be at a supermarket or at the local market. Study the labels if you choose the supermarket and check the price per kg.
3. Use every last scrap Make your food stretch across the day. For example: use half a carrot in your lunch and the other half in your dinner.
4. Bulk out your meals Kidney beans, pasta and potatoes are filling and help to keep your tummy full for longer.
5. Drink plenty of water Drinking water between meals will keep you hydrated and will fill you up between meals.
To find out more about the Live Below the Line campaign visit livebelowtheline.com (opens in new tab)