These cooking habits are making you fat!
Cutting down on a few of these common mistakes will result in healthier meals, so even if you're not trying to lose weight, it can't hurt to make your meals as healthy as they can be.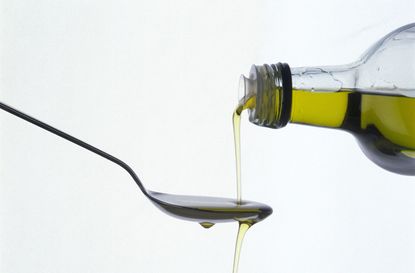 Cutting down on a few of these common mistakes will result in healthier meals, so even if you're not trying to lose weight, it can't hurt to make your meals as healthy as they can be.
Healthy eating is hard work. You can eat all the right things but you can get frustrated if the weight isn't shifting.
If you're trying to lose weight but are finding it tough going, it may be down to the way you are cooking. We pick up so many bad cooking habits that we probably don't even realise we're doing.
Cutting down on a few of these common mistakes will result in healthier meals, so even if you're not trying to lose weight, it can't hurt to make your meals as healthy as they can be.
Click through the bad cooking habits you didn't know were making you fat...
Too much oil
Do you impulsively reach for the oil when you're cooking? A couple of spoons of oil can increase the fat content of the meal you're cooking and you may not even need to use it at all.
Break the habit:
- Buy non-stick pans so you won't need to use oil to grease the pan.
- Use ingredients that produce natural oils (such as chorizo and red meat).
- If you really need to use oil, buy the calorie-controlled spray - it will really help you limit the amount you use.
Frying food
Frying your food is by far the unhealthiest way to do it and there is nearly always a healthier way to cook your food. Grilling or baking may take a little longer to do but it will reduce the fat content of your meal.
Break the habit:
- Ask yourself, 'Is frying the only way I can cook this?' An egg can be poached, hard boiled or scrambled and bacon is just lovely when it's left to crisp under the grill.
- If you really do want to fry, make sure you use as little added fat as you can and leave the food on a piece of kitchen roll to absorb excess fat.
Adding too much salt
Seasoning food is the best way to get a really powerful flavour so adding salt is important, but you may not need to add as much salt as you think. Salt affects the way your body digests food and can often leave you feeling dehydrated so it's best to use as little as you possibly can.
Break the habit:- Only add the salt at the end of cooking. Flavours develop over time so you may not need to add as much.
- Use natural flavourings such as herbs before seasoning. - Check to see if any products you are using are high in salt - consider cutting them out or using low-salt alternatives.
- Don't put salt on the table, if it's there you are more likely to use it instinctively.
Snacking
Being around all that food, it's very hard not to have a little nibble as you go along. While it is important to taste the food (well, you don't want to serve your family rubbish...), snacking on the ingredients before they even go into the pan is a bad habit you need to break.
Break the habit:- Before you start cooking, have a big glass of water to fill you up.
- Keep a small bowl of chopped veggies (like carrots or peppers) or fruit (like raisins) to hand so if you feel like eating a bit of that cheese you can grab one of those instead.
Portion control
'Whoops I've cooked too much, better serve it all up - waste not want not!' Portion control is hard to do. If you can, it's best to cook only the food you need. If you do end up with more food than you need, don't serve it all up - store portions in the fridge or freezer for a later date.
Break the habit:
- Measure out your food before cooking - pasta is often the hardest to judge but you can measure it by cups. - Have lots of Tuppaware to hand so you can portion out the leftovers before you serve up dinner.
Reaching for the ready made
Ready made sauces may save you time in the kitchen but they are not helping your healthy eating at all. High in salt, fat and additives, ready made sauces in particular are an easy product to eliminate - it's cheaper and much tastier to make your own from scratch.
Break the habit:- Think of all the products and ready meals you buy and try making them from scratch just once. You'll see how easy it is and you'll never go back!
Over boiling your veg
You're doing the good thing and having vegetables but you don't want to boil away all the nutrients. Over boiling vegetables is a common mistake to make - and you probably won't have even realised you're doing it.
Break the habit:Cooking your vegetables in one of these ways will give you more of the nutrients:
- Steaming
- In the microwave with a little water
- Boiling with a small amount of water
- Baking in the oven
Using the whole packet
If things come in pre-packed portions, it doesn't mean you have to use the whole packet. It can be so easy to cook the whole thing in one - but this will undoubtedly lead to more ending up on your plate - and in your mouth!
Break the habit:- Invest in some food bag clips. You won't have to worry about wasting the food so you can easily save it for another time.
Too much butter
Putting butter into your meals is literally adding fat to the dish so where you can, it's best to rethink.
Break the habit:- Buttery sauces can be made with lower-fat substitutions such as half-fat crème fraîche or natural yogurt.
- Use skimmed milk in your mashed potatoes rather than butter. - If you automatically butter your bread, you could use a natural fat such as avocado as a spread, simply mash down with a little lime juice. If your sandwich filling is quite moist you may not need any spread at all.
Leaving the skin/fat on
On meat, most of the fat is stored in the skin or, surprisingly, the fat. Although this can give the meat a nice flavour when cooked, it's best to take it off if you're trying to eat healthily.
Break the habit:- Make sure your meat is just as tasty without the skin - a simple marinade is an easy and healthy way to do this.
Topping with cheese
Pasta, pizza, cottage pie - what food doesn't taste delicious with a nice crispy layer of cheese on top? This instinctive habit is literally layering your food in fat.
Break the habit:- Substitute the cheese topping for a wholemeal breadcrumb or oat topping. - Try to replace the flavour achieved from cheese with other flavours and products. Tomato-based sauces are just as tasty with lots of herbs as they are with cheese.
- Look out for lower-fat versions of your favourite cheese.
- Buy a stronger cheese - you'll need to use a lot less to get the same flavour.
Drizzling with salad dressings
That salad on your plate is supposed to be healthy - so why would you cover it in a fatty sauce? Cream-based sauces, such as Caesar, have an oil and egg base which is very high in fat.
Break the habit:- Switch to a light oil and vinegar sauce such as French dressing.
- Make your own salad dressings - all you need is a little vinegar, lemon juice and some extra virgin olive oil.
- Pack you salad with flavoursome ingredients such as olives, capers and anchovies so you need less sauce.
- If you are going to use a shop-bought one, check our round up of the best and worst salad dressings for your diet
Piling on the condiments
They're on the side of your plate so you probably don't think to count them in the calorie count of you meal but condiments can add needless fat to your meal. Mayonnaise is made from a lot of oil and egg yolks while tomato ketchup has a high amount of added salt and sugar - neither of which is any good!
Break the habit:- Make a homemade sauce such as salsa or guacamole to go alongside you meal.
- Make meals that come with a sauce or use sauces from other recipes to make your meals less dry. A homemade pesto will go with most dishes.
- See our round-up of the best and worst sauces for your diet
Where to next? Foods that are making you hungry
Never be hungry again: 30 ways to stay fuller for longer