We earn a commission for products purchased through some links in this article.
Are you ready to laugh your socks off at these hilarious Bake Off gifs? We had a little bit too much time on our hands pulling this one together but we think you're going to love every single one…
1. We just love Mel, she's always stating the obvious and is not afraid to tell the bakers that their cake looks like someone's rear end – oops! 2. The dynamic duo at their best – we think they're the best pairing since jam and bread. 3. We all had a good chuckle when Deborah's cake was just not cooking how she wanted it to. Well… we hope she's talking about her cake. 4. Someone has definitely impressed the Berry! We'd love Mary to react like that when trying our lemon drizzle cake or Victoria sponge. We can dream can't we…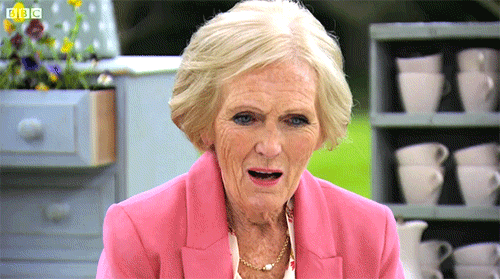 5. Aw we miss Rob from series four and his crazy dough techniques. He was always giving us a good laugh with this sci-fi inspired bakes. 6. Who would of thought there could be so much tension when it came to cooking a pie? Fight, fight! 7. The many faces of Bake Off's Ruby… Brace yourselves! 8. Oh Mel, always with the jugs. We just love a Bake Off innuendo! 9.We hope Mark is comparing sausage rolls and not the other kind of sausage… Ooh er! 10. What a saucy wink you've got going on there Mary. Has Paul been showing off his kneading skills again? 11. We're not sure if Paul and Mary would like you to keep looking at their bottoms, Christine – stop it! 12. The best of the best, Paul Hollywood struggling to open a jar… 13. A classic line by 2015 winner, Nadiya. It was hard. Very hard. 14. Now that's what we call multi-tasking. And they say men can't multi-task – Luis proves us wrong! 15. Oh er Mary! You saucy minx you. 16. Tamal pretending to eat cake. Yes, that's right. Visualise the cake before you bake it. We shall be trying this technique at home. 17. Nadiya being brutally honest. We respect that but don't tell Mary! 18. Sue's at it again. Any excuse… A special thanks to the world of Tumblr for keeping us thoroughly entertained with all these Bake Off gifs.