I hate the fiver party trend - here's my #1 gripe with it
Our Money Editor explains why she thinks fiver parties set another impossible standard for cash-strapped parents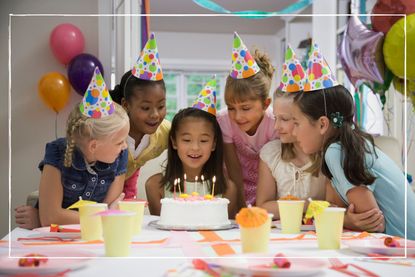 (Image credit: Getty Images)
Ever since the cost of living crisis took hold, we've all been searching for ways we can do things differently to save money - from ways to reduce your energy usage or ways to save money on food - and I am a big supporter of pretty much any safe way families can save money.
But there is one trend that keeps cropping up that gets my goat - the fiver party.
For those who haven't heard, a fiver party is a growing trend for kids' birthday parties, where instead of bringing one of the year's best toys as a gift, the children bring a $5 (or £5 note if you're in the UK) instead of a gift. The idea is that the recipient can use the money to choose their own present, maybe something bigger or more expensive that they wouldn't have been given as a gift. Pretty straightforward and simple, right?
I will admit that there are benefits to this type of party. It simplifies the present buying process, less chance of duplicate gifts and a sensible option for households that hate clutter. Also, spending $5 or £5 could be cheaper than buying a physical present, so it could help parents save money on gift buying.
What's wrong with fiver parties?
On paper, fiver parties seem like a great idea. But my gripe is that it sets an impossible standard for parents struggling with how to save money and make ends meet at a time when the cost of living is so high. It adds pressure onto all parents to give in the same way, but not everyone is in the same financial position.
For parents with multiple children, going to multiple parties in a single month, each of those fivers can quickly add up. Plus if one of more of those parties takes place before you've been paid, many parents just won't have the available cash.
This kind of party also takes some money-saving gifting tricks completely off the table. Savvy shoppers may have benefited from BOGOF sales on children's toys, with the idea of stocking up on gifts for birthday parties. You might have been given gifts in the past that aren't suitable for your family but are ripe for regifting - a fiver party takes away that option. Similarly, if you like to make homemade gifts, the fiver party doesn't lend itself to that.
Then comes the guilt. If you are struggling to afford the fiver, but you see others who can, it can lead to feelings of inadequacy and guilt. You might also feel it's necessary to decline invitations on your child's behalf when money is tight, leading to even more guilt around your child missing out. It's hard enough being a parent without adding these extra layers of difficulty.
But there is a way I think these parties can work
While I'm not a fan of the unnecessary pressure these parties can add, I think there is a way they can work. And that's adapting it to a fiver (or whatever you can afford) party. Allowing the money to be deposited somewhere anonymously, a decorated shoe box for example, rather than put in a card where it can be traced back to specific people would also be a solution.
It's also worth thinking if there are any free birthday offers that you might be able to take advantage of as a gift, because after all, it's always the thought that counts.
Sarah is Goodto.com's Money Editor. After segueing into the world of personal finance from the Homes sector, and acting as launch editor of Goodto's sister brand TheMoneyEdit.com, Sarah now focuses on family finance. She is passionate about cutting through confusing jargon to help people make sound financial decisions, avoid overspending and set themselves and their families up for a financially-stable future.