I'm a money expert and these are my 4 foolproof ways to get help with school costs
If you are struggling with the cost of sending your kids to school, make sure you're aware of the help available to you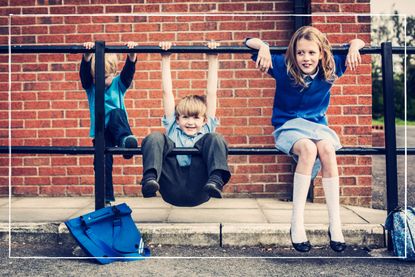 (Image credit: Getty Images)
Goodto Newsletter
Parenting advice, hot topics, best buys and family finance tips delivered straight to your inbox.
Thank you for signing up to GoodTo. You will receive a verification email shortly.
There was a problem. Please refresh the page and try again.
If you're finding yourself needing help with school costs, you're not alone. The cost-of-living crisis, isn't just increasing the cost of running our homes and keeping our cars on the road, it's increasing the cost of sending our children to school too.
According to research from the Liberal Democrats, the cost of school lunches has risen by a third in some parts of England. It means that a family with two children, could be shelling out more than £1,000 a year on school meals – a leap of around £200 in four years.
Goodto.com's Money Editor Sarah Handley says: "The cost of living crisis has impacted every aspect of family budgets, leaving more and more parents struggling to make ends meet. But so many families that are eligible for help aren't claiming it, meaning they are missing out on valuable support that they are entitled to."
High fuel prices are making school trips more expensive and even though the Cost of School Uniform Act should keep clothing costs down, parents are still shelling out an average of £315 a year kids at primary school, or £337 if they're at secondary school, according to The Children's Society.
However, if you're on a low income, it's important to know that help may be available. Find out what support you could be entitled to, from free school meals to school uniform grants.
1. Check if you qualify for free school meals
All children in reception, year one and year two get a free school meals, but families are required to start paying once they start year three. The average cost of a school lunch is around £2.40 a day, but as any parent with children at secondary school will tell you, costs can be much higher, with items priced individually. However, if you are on a low-income and claiming certain benefits your children could be eligible for a free school meal.
In addition to a free meal at school every day, the scheme also offers children access to free meals and activities during the school holidays. But despite this, estimates from the Liberal Democrats suggest that more than 230,000 children – equivalent to around one in 10 eligible pupils – are missing out on free school meals.
You can find out if you're eligible by entering your postcode into the government website and make an application through your local authority (the process and eligibility criteria may differ according to whether you live in England, Wales, Scotland or Northern Ireland).
You may also be able to claim for free school meals if you're on a low income but your immigration status prevents you from claiming benefits.
2. Get help with school uniform costs
The Cost of School Uniform Act means schools must ensure uniform remains affordable and to keep pricier branded items to a minimum. Schools should also ensure that second-hand uniform is available to buy and provide information about how to access it on its website.
Nonetheless kitting the kids out with all the gear they need is still expensive – especially when they're growing fast or skidding around in the playground. But support for low-income families may be available, depending on where you live:
England: You may be eligible for a grant worth up to £150, but as payments are set by your local authority, the amount you actually get will depend on where you live. Unfortunately some won't offer any support, while others will only offer payments in certain years – for example when your child starts primary or secondary school.
Scotland: School Clothing grants are available worth £120 a year for primary school children rising to £150 once they are at secondary school.
Wales: A School Essentials Grant is available worth £225 a year (or £300 in the year they start secondary school).
Northern Ireland: Uniform grants start at £42.90 for primary school children but rises to £61.20 when they start secondary school and go up again to £67.20 once they turn 15. An additional payment of £26.40 is available for PE kit for secondary school children.
You can also contact your head teacher if you cannot afford any items of school uniform or PE kit and they should be able to tell you about any available support. They may have uniform vouchers or use pupil premium funds to help with school uniform costs.
3. See if you are eligible for help with transport costs
The cost of getting your child to school can be expensive if you don't live close enough to walk or cycle. Your local authority may also be able to help with the cost, but what you're entitled to will depend on your distance from school, your child's age and whether or not it's your closest school.
Families on low incomes will get free transport for primary school children if they live more than two miles away, or between two and 15 miles if they go to secondary school.
Help may also be available if you aren't on a low income too. Free travel could be offered for under 8s if they live more than two miles from school, rising to three miles for those aged 8-16.
Separate decisions are made if your child has special educational needs (SEN) or is disabled.
Applications need to be made your local council. Find out more about your rights.
4. Check if you can get help with school trips
School trips can be great for your child's education, but they can also be really expensive, with entry fees and coaches to pay for and, if it's a trip where your child needs to stay over, costs can run into the hundreds.
However, while schools can charge you for overnight stays and food, they cannot force you to pay for activities during school hours. This is why you'll be asked to make a 'voluntary contribution' towards costs. But you'll also note that school letters ask you to get in touch if you think you might have problems paying for a trip.
So, if there is a trip you want your child to go on and you can't afford to foot the bill, it's always a good idea to have a chat with the school. In some cases, help may be available. For example, you should not have to pay board and lodging on a residential trip if your child has free school meals.
You can find out more about the laws for charging for school activities here.
If you don't qualify for any of the help mentioned here but are still struggling to make ends meet, then check out our guide on how to save money on back to school costs to see where else you might be able to save.
Parenting advice, hot topics, best buys and family finance tips delivered straight to your inbox.
As well as being a mum, Rachel Lacey is a freelance journalist with more than 20 years' experience writing about all areas of personal finance and retirement planning. After 17 years at Moneywise magazine as both writer and editor, Rachel now writes for a variety of websites and newspapers as well as corporate clients. She is passionate about financial education and simplifying money matters for all.