Average cost of school lunches, plus how to keep costs down
With the average cost of school lunches expected to rise, we reveal some top tips to cut costs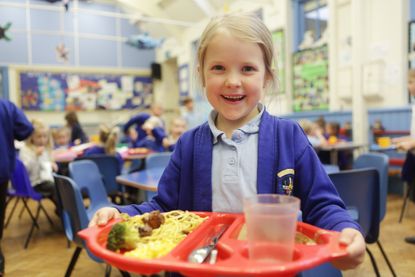 (Image credit: Getty Images)
Almost everything seems to be costing us more right now, and the average cost of school lunches is no exception.
Thanks to high inflation, household budgets remain under pressure and, unless your child qualifies for free school meals, you might be wondering how you can cut the cost of school lunches - or even whether it's cheaper to send your child into school with a packed lunch.
Statistics from the Department for Education show that in England, 22.5% of pupils were eligible for free school meals in 2022, up from 20.8% in 2021. This represents just under 1.9 million pupils and means the remaining 7.1 million pupils must pay for school dinners (or take a packed lunch).
Finance expert Janine Marsh, who runs the Thrifty Family blog, says: "Every parent wants to make sure that their child has a balanced and nutritious meal every day. Not only does this help with brain function while they're at school, but it will also help with moods. However, because food is becoming so expensive with the cost-of-living crisis, it is difficult to ensure that every child gets a balanced meal on a budget - whether that's through packed lunches or school lunches."
What's the average cost of school lunches?
The average cost of school lunches is around £2.40 a day. That works out to be £12 a week, assuming your child has a school lunch every day, or around £48 a month. Prices can vary depending on the region, the school and whether it's primary or secondary.
Given that schools are open for 190 days a year (not including the 5 inset days), that means you could be looking at costs of £456 a year - per child. So if you have three kids in school, you could be forking out £1,368 a year.
What's more, research by the professional body LACA, which represents the school food sector, shows that the price of school lunches is expected to rise further this year to an average of £2.65 a day.
What age do you start paying for school lunches?
The age you start paying for school lunches will depend on where you live and your financial situation. However, in England, most people start paying from Year 3, which is the year your child turns 8.
Hannah Whittaker, paediatric dietician and company director at bump2baby Nutrition, says: "Free school meals are available in England for children from families who are in receipt of certain benefits and are also available for all children in government funded schools in years Reception, 1 and 2."
In Scotland, children in Reception through to Year 5 qualify for free school meals, while in Wales, those in Reception currently get free school meals, but all children will qualify from September 2024.
If you live in Northern Ireland or your child is older than the ages mentioned above, you might also be eligible for free school meals if you receive benefits such as Income Support or Universal Credit.
Is a packed lunch cheaper than a school lunch?
A packed lunch isn't necessarily cheaper than a school lunch. In fact, a study by School Health UK revealed that the cheapest price for a packed lunch, using School Food Plan compliant foods, came in at £4.13 a day, or £20.64 a week. That's almost double the cost of the average school dinner.
However, exact cost comparisons will depend on factors such as how much your school charges for lunches, where in the UK you live and the type of foods you put in your child's packed lunch box. We've compared the cost of school dinners versus packed lunches and weighed up the pros and cons of each.
How to keep cost of school lunches down
The most obvious way to cut the cost of school lunches is to make the most of them while they are free. However, when your child no longer qualifies and you start paying for them, it's worth considering whether you'll be getting value for money.
The meals on offer each day can vary, and while paying £2.40 for a roast dinner might seem acceptable, you might not feel it's worth it if your child is only having a jacket potato or macaroni cheese for lunch - particularly if they leave half of it.
Some schools let you mix and match - in other words, you can choose to pay for school lunches some of the time and bring in a packed lunch the rest of the time. This can be a good compromise and might offer better value for money on certain days.
On days when your child is having a bigger, hot meal at school, this means you might not need to offer them as much in the evening, which can help reduce your overall food bills.
On the other hand, if your child is having a packed lunch at school every day, there are plenty of ways to cut costs. These include planning a menu in advance, shopping in the cheapest supermarket and switching to own brand goods.
Paediatric dietician Hannah Whittaker says: "When it comes to packed lunches parents can keep costs lower by purchasing products such as dried goods in bulk. They can also batch cook hot meals and freeze these for future use for lunch. Using a flask that can keep the food at the correct temperature for their child until they are ready to eat will ensure food safety."
Assistant content editor at MoneyMagpie, Isobel Lawrance, adds: "Making a little extra dinner and using it for lunches across the week can save you lots of cash. If you are making a spaghetti bolognese, pad out the sauce with lentils or veg, and cook a little extra spaghetti. It will only add pennies to the cost of your dinner to make, and save you big on lunches."
As well as being a mum of two, Rachel is a freelance personal finance journalist who has been writing about everything from mortgages to car insurance for over a decade. Having previously worked at Shares Magazine, where she specialised in small-cap stocks, Rachel developed a passion for consumer finance and saving money when she moved to lovemoney.com. She later spent more than 8 years as an editor at price comparison site MoneySuperMarket where she helped support the CRM programme, as well as the SEO and PR teams, often acting as spokesperson. Rachel went freelance in 2020, just as the pandemic hit, and has since written for numerous websites and national newspapers, including The Mail on Sunday, The Observer, The Sun and Forbes. She is passionate about helping consumers become more confident with their finances, giving them the tools they need to take control of their money and make savings. In her spare time, Rachel is a keen traveller and baker.