Money games for kids: 10 ideas for the whole family (and 5 of them are free!)
Our pick of the best money games for kids to help them gain financial independence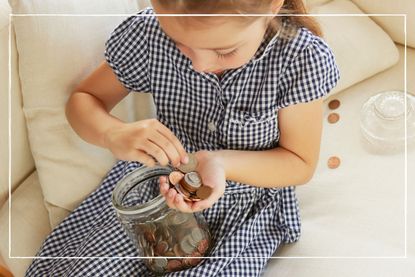 (Image credit: Getty Images)
Using the best money games for kids when educating your children about money from an early age will enable them to feel more confident about their finances as they move into adulthood. These games are also a great way to incorporate learning and play to keep little ones engaged.
Whether you're hunting out the best toys and games to help with your child's financial education or weighing up the pros and cons of pocket money, there are lots of activities families can enjoy together that will offer an engaging way to teach children about money management.
But helping your kids learn the value of money doesn't need to be boring - there are plenty of ways to teach your children these essential money lessons, while also having fun.
If you're unsure where to start, here's our pick of the best money games for kids.
1. Monopoly Junior
Age range: 5+ RRP: £20.99 Available from: Amazon, John Lewis, Game Star rating: 4.6 out of 5 (Amazon)
A much quicker game than the original Monopoly board game, this can be a great option for younger children. Players need to move around the board and buy properties, such as the movie theatre, ice cream parlour and zoo. When a player goes bankrupt, all other players need to count up their money to see who has the most. All banknotes are in ones, making it easier for younger children to do the maths.
What the reviews say:
"Absolutely fantastic game. It's a faster paced game than the original Monopoly and therefore great for young kids."
"Easy to follow, my 5-year-old grandson had no problem understanding the rules."
2. Sorting coins from a money box
Age range: 4+ RRP: Free
Pour the coins out of the money box and talk to your child about the different sizes, colours and numbers on them, as well as how many different coins and notes there are altogether. Sort them into different piles and add up how many you have of each.
This can be a really easy way to get your child used to recognising different coins and understanding that different coins have different value.
3. Pop to the Shops
Age range: 5 - 9 RRP: £12 Available from: Amazon, Hobbycraft Star rating: 4.7 out of 5 (Amazon)
This one is a firm favourite in our house and is an easy way to help children grasp the concept of buying and paying for items in a shop. Each player chooses the shop they wish to own and must then move around the board to collect six items from the different shops, using pretend money to pay for them. The winner is the player that collects all the items first.
In my opinion, Pop to the Shops is a great way for kids to practise money handling skills as they will need to count money and give change every time they need to buy or sell an item.
What the reviews say:
"The children have to deal with selling and buying, asking how much things cost, learning how to use money, making change, doing polite conversations…"
"Good for money skills and simple maths."
4. Coin Bingo
Age range: 4+ RRP: Free
Coin bingo is another great option for helping children to identify different coins, explains Ian Wright of finance publication Business Financing. He says: "The game requires them to recognise the coin from a calling card and place it on their matching square on a bingo sheet. These could be hand drawn or printed. Children can focus on the different shapes, sizes, colours and denominations, with the aim of getting a line or filling their card and winning the game."
If money is tight, you could always make the coins yourself, cutting similar shapes out of an old cereal box.
5. Money Match Cafe
Age range: 5 - 8 RRP: £14 Where to buy: Amazon, eBay Star rating: 4.7 out of 5 (Amazon)
In this game, children create a cafe scene using their own dolls and toys. They then need to use role play skills to add up the coins to match the price of a meal and serve it to the correct customer. The player to serve all their meals first is the winner. It can be a great way to make maths fun and develop number and counting skills.
What the reviews say:
"Amazing for my son who is learning about coins and money. This has really helped him and he has a real want to learn more and now even uses the knowledge he has gained to count his savings."
"Perfect game to teach children about money. They don't realise they're learning because they're having too much fun!"
6. Supermarket challenge
Age range: 4+ RRP: Free
Adding a gaming element to regular activities like grocery shopping can also prove valuable, according to co-founder of money app GoHenry, Louise Hill. She says: "Parents can ask kids to find items under a certain price or find all elements of a meal within a set budget. While doing this, kids can learn about needs versus wants and how to compare price, quality and quantity."
7. Buy It Right
Age range: 5 - 11 RRP: £29.99 Where to buy: Amazon, eBay Star rating: 4.6 out of 5 (Amazon)
This shopping board game is designed to help children develop a sense of financial awareness as it uses realistic looking play coins to encourage coin value recognition and place value skills. Players move around the town to buy items, donate to charity and use the ATM. Players need to fill their shopping trolley as they go, with the winner being the first to fill it.
What the reviews say:
"It is a great way of letting children get used to handling money and understanding whether they have enough to buy an item and how much change they should give or get back when buying items. We use scrap paper to show [my nephew] how to work out the sums properly on paper. Great game and fun too."
"It has helped my 7 and 9 year old become more confident with money, recognising different coins and working out what change is needed and working to a budget."
8. Coins game
Age range: 4-10 RRP: Free
Educational website Topmarks has a free online coins game designed for four to 10 year olds and there are three game modes to choose from. The first is a sorting activity that helps children recognise the different coins. The second involves arranging coins from the lowest to highest values. The third is a counting game that has eight different ability levels where children count the amounts of money in a piggy bank.
9. Pay Day
Age range: 8+ RRP: £17.98 Where to buy: Amazon, IWOOT Star rating: 4.7 out of 5 (Amazon)
This can be a good option for older children if you want to teach them more about earning money and budgeting. All the spaces on the board represent real life scenarios including paying the bills and birthdays. When players pass the pay day space, they collect their monthly salary from the bank. Money can be invested, borrowed or spent, just as it can in the real world.
What the reviews say:
"I love this game, also if you have children, it's really good for helping with money management and maths."
"This game is easy to play. The kids take turns to be the banker and this helps them with their maths, and the game teaches them about the concept of salary and expenditure."
10. Milo's Money
Age range: 4-7 RRP: Free
Milo's Money is another online game and features Milo the Dino. It's a free teaching resource designed for Early Years and Key Stage 1, with the aim of helping kids to develop a healthy relationship with money.
The idea is that children help Milo go shopping for his mum, work out how much the shopping costs and decide whether to save or spend the change.
As well as being a mum of two, Rachel is a freelance personal finance journalist who has been writing about everything from mortgages to car insurance for over a decade. Having previously worked at Shares Magazine, where she specialised in small-cap stocks, Rachel developed a passion for consumer finance and saving money when she moved to lovemoney.com. She later spent more than 8 years as an editor at price comparison site MoneySuperMarket where she helped support the CRM programme, as well as the SEO and PR teams, often acting as spokesperson. Rachel went freelance in 2020, just as the pandemic hit, and has since written for numerous websites and national newspapers, including The Mail on Sunday, The Observer, The Sun and Forbes. She is passionate about helping consumers become more confident with their finances, giving them the tools they need to take control of their money and make savings. In her spare time, Rachel is a keen traveller and baker.