7 essential money lessons ALL parents should teach their kids
We unveil the money lessons to help your children establish good financial habits early on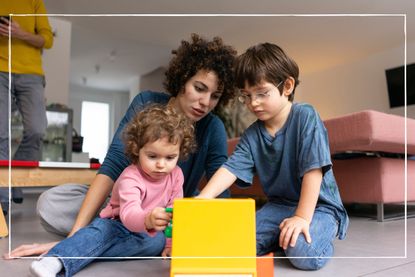 (Image credit: Getty Images)
Teaching your children about money has never been more important. At a time when the cost of living is soaring and family budgets are stretched to the max, helping your kids understand how to manage money more effectively can help set them up for success.
Finding the best bank accounts for kids (opens in new tab) is a good place to start and can help to give your child some financial independence. The best pocket money apps (opens in new tab) can also encourage good money habits and teach them how to save money.
We also asked some kids about money (opens in new tab) to gauge their understanding, and it highlighted a number of important money lessons that parents can teach their kids at home.
Chief learning officer at online learning platform Atom Learning, Anna Masterson (opens in new tab), told us: "Financial literacy is crucial for children's development, future success, and generally helping them to get their bearings in the world. Early money lessons can help them build essential skills and habits that will benefit them at school and throughout their lives. And, with the ongoing cost of living crisis, understanding money gives children a better picture of their society."
1. Where money comes from
A good first step is to sit down with your child and talk to them about the concept of money and where it comes from. How much detail you go into will depend on the age of your child.
You might want to explain that most people earn money by working. But it's also possible to get money by winning the lottery or a competition or by inheriting money from family members when they pass away.
You can also explain how a bank looks after people's money in separate accounts, which each account holder has access to. Additionally, it can be helpful to explain how interest is paid on savings accounts, giving savers a little extra money.
2. What money is for
The next step is to teach your children how money is used. Explain that it can be exchanged for goods that you need or want such as food, clothes, a car or a house. Show your child both coins and banknotes, but also ensure they understand the concept of digital money and paying for items with a debit or credit card.
Then, when you're out and about, try to show your children how you spend money to pay for goods and services.
Chief banking officer at Starling Bank, Helen Bierton (opens in new tab), says: "Think about taking your child grocery shopping as this is a great place to talk about the cost of household items. You can ask them to consider the cost of different products or brands and get their thoughts on where money is best spent."
You might even want to start a game to see who can find the cheapest loaf of bread or packet of cereal so that your children start to understand how prices vary.
For younger children, there are also board games like Orchard Toys' Pop to the Shops (opens in new tab) and Money Match Cafe (opens in new tab) that can help teach them about handling money and giving change.
3. How people earn money
Another important lesson is understanding that money is a limited resource that needs to be earned, usually through having a job.
Starling Bank's Helen Bierton says: "Help your child to see the value of money by setting them basic chores such as keeping their room tidy or cleaning up after the family pet, and only give them their pocket money when these tasks are complete."
Pocket money apps such as GoHenry and NatWest Rooster Money can help you with this as they enable you to easily set chores and tasks for your kids to carry out. Once they've completed them, they get paid.
4. How to budget
Knowing how to budget is an essential life skill, especially given rising costs, so make sure your children understand how to do it and what it means. You might want to show them how you budget the money you earn to cover certain expenses, for example.
Helen Bierton of Starling Bank adds: "Give your kids more autonomy in money-making decisions to help them understand its value. Try setting them the task of taking over the household budget for a day, or a specific task such as planning and budgeting for a family meal."
5. The difference between needs and wants
Budgeting can also help children distinguish between wants and needs, helping them to understand what is essential, such as clothing and food, and what we might like to have but can ultimately live without.
Atom Learning (opens in new tab)'s Anna Masterson says: "Drawing this distinction can also help to manage your child's expectations (which is especially useful when we're all feeling the pinch). There might even be a bonus lesson here about how advertisements online or on TV can shape our desires."
6. The value of saving
Opening a savings account for your children might encourage them to put some money aside from time to time, but to really benefit, they need to understand why saving is important. Setting savings goals, such as saving enough to buy a new game for the Xbox or spend on a day out, can help with this.
Paul Titterton (opens in new tab) from personal wealth business abrdn says: "Working with your children towards longer-term saving targets can be really rewarding and teaches them that resisting the temptation to spend immediately will mean you can do much more with your money.
"To help explain how saving and investing for the long-term works – and how it can ultimately help generate more money - try offering a 'bonus' to their savings goals when possible. For example, if they're saving for a new game that costs £25, say you'll give them the £5 if they can save £20."
You can also encourage your child to save by using a variation of the 1p savings challenge (opens in new tab) which can show them the benefits of saving regularly.
7. Why it's good to give back
Finally, it's a good idea to teach your children the value of sharing and giving back.
Louise Hill (opens in new tab), co-founder & COO of GoHenry, explains: "Teaching your kids about giving to charity can have a huge impact on their lives. It helps them develop empathy, compassion, generosity, and a sense of responsibility to their community. Plus, it feels pretty good to help others in need!"
Rachel is a freelance personal finance journalist who has been writing about everything from mortgages to car insurance for over a decade. Having previously worked at Shares Magazine, where she specialised in small-cap stocks, Rachel developed a passion for consumer finance and saving money when she moved to lovemoney.com (opens in new tab). She later spent more than 8 years as an editor at price comparison site MoneySuperMarket where she helped support the CRM programme, as well as the SEO and PR teams, often acting as spokesperson. Rachel went freelance in 2020, just as the pandemic hit, and has since written for numerous websites and national newspapers, including The Mail on Sunday, The Observer, The Sun and Forbes. She is passionate about helping consumers become more confident with their finances, giving them the tools they need to take control of their money and make savings. In her spare time, Rachel is a keen traveller and baker.