How do I check my National Insurance Contributions?
It's crucial to check your National Insurance contributions if you have taken time of work when having and raising children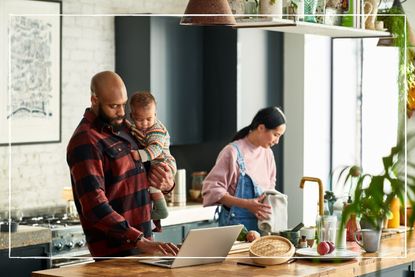 (Image credit: Getty Images)
If you have taken time off work to have children, it's important to check how many National Insurance Contributions (NICs) you have made.
National Insurance is a tax you pay on money you earn through employment. It is calculated as a percentage of your earnings. Both employees and self-employed workers pay National Insurance once their earnings go over certain minimum levels.
You pay NICs in order to qualify for certain benefits (such as Jobseekers' Allowance) and the State Pension. But you need to have a certain number of National Insurance 'qualifying years' in order to be eligible for the full amount. If you haven't made enough contributions, this will impact how much State Pension you receive and you could miss out on thousands of pounds.
MoneySavingExpert founder Martin Lewis recently issued an urgent warning for parents to check their NICs by 5 April 2023, but don't worry if you didn't have chance to check. The deadline has been extended until the end of July (more on that below).
Sarah Coles, head of personal finance at Hargreaves Lansdown, said: "Under the new flat rate State Pension, you usually need 35 years' worth of qualifying National Insurance Credits to claim a full State Pension. If you have gaps in your employment record, you may end up with a lower State Pension - or none at all."
How do I check my National Insurance Contributions?
Your NICs are tracked using your unique National Insurance number. You will have received a National Insurance card with your specific number on it, or you can find it on your payslip. Here's how to check your National Insurance contributions:
The government website can tell you:
what you've paid, up to the start of the current tax year (6 April 2023)
any National Insurance credits you've received
if gaps in contributions or credits mean some years do not count towards your State Pension
if you can pay voluntary contributions to fill any gaps and how much this will cost.
It's not just mums that need to check their NICs. You should also check your contributions if you've taken time out of the workplace to travel, live abroad, or care for an elderly relative. Self-employed workers should also check they have made sufficient contributions.
Personal finance analyst Sarah Coles adds: "If you have gaps, it's worth checking with Department of Work and Pensions as you may be able to claim benefits for these time periods that come with a voluntary National Insurance credit.
"Otherwise, if you can afford it, you can also buy credits – a full year costs around £800 and for each year bought you get 1/35th of a year's State Pension – around £275. This means you effectively earn your money back in around three years, so it can prove good value."
National Insurance credits are a way of maintaining your National Insurance record when you're not making National Insurance contributions. You will be entitled to NI credits in certain circumstances such as if you are claiming benefits due to ill health or unemployment, you're on maternity or paternity leave, or you're looking after a child under 12.
What are the new rules about voluntary NICs?
When it comes to voluntary contributions, you can normally only go back six tax years to fill gaps in your NI record.
But, as part of transitional arrangements to the new State Pension, the government has been allowing people to plug any incomplete years between April 2006 and April 2016. The original deadline to make voluntary NICs under this arrangement was 5 April 2023, but the government has extended the deadline to 31 July 2023.
Dean Butler, managing director for customer retail success at Standard Life, says: "Based on the 2022/23 rates, buying a full National Insurance year could boost your State Pension by £275.08 a year.
"If you start claiming at 66 and live for another 20 years, you'll have topped up your State Pension by around £5,500. This could make a massive difference to your future."
Why do I need to check my NICs?
The State Pension is available only to people who have paid, or been credited with, enough NICs. So, if you haven't paid enough NICs, you won't get the full State Pension. If you have made between 10 and 35 years of qualifying contributions or credits, you'll receive a proportionate amount of State Pension.
It's especially important for mums to check if they have paid enough NICs if they have taken time out of the workplace to bring up children.
Standard Life's Dean Butler, says: "Checking your National Insurance record should only take a few minutes but could be the most profitable few minutes you'll ever spend this year. Unfortunately, many people automatically assume they'll get a full State Pension but without enough qualifying years.
"Qualifying years are those in which you paid National Insurance while working, received an NI credit or made a voluntary contribution. Falling short of the full 35 years could leave you on course for a nasty surprise in retirement. So, if you've taken time out of the workplace to have a family, care for relatives, or just not been working you potentially could receive a lower State Pension if you don't have a credit for those periods."
How can I get my national insurance number if I can't find it?
If you don't know your National Insurance number, you'll be able to find it the following ways:
on your payslip
on a P60 form (which you should receive at around the end of each tax year) or a P45 form which you get when you leave a job
any letters about tax, pensions or benefits that you might have received from HMRC
through your personal tax account with HMRC
by asking HMRC.
Emma Lunn is a multi-award-winning journalist who specialises in personal finance and consumer issues. With more than 18 years of experience in personal finance, Emma has covered topics including all aspects of energy - from the energy price cap to prepayment meter tricks, as well as mortgages, banking, debt, budgeting, broadband, pensions and investments. Emma's one of the most prolific freelance personal finance journalists with a back catalogue of work in newspapers such as The Guardian, The Independent, The Daily Telegraph, the Mail on Sunday and the Mirror.