Save up to £60 a year with this simple toilet hack - we're obsessed!
We've worked out how much money you could save by following this popular TikToker's toilet tip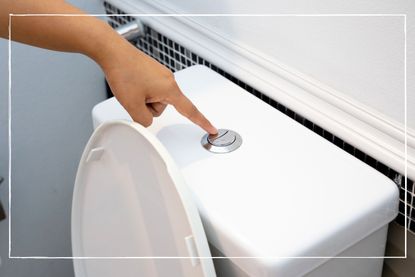 (Image credit: Getty Images)
The cost of living is still high and families are still doing what they can to save money everywhere they can. But a good thing that has come from families struggling to make ends meet, is there has been a real wave of people sharing their small and simple hacks that can make a big difference to your household bills.
While you might already know about how to save water, including using Martin Lewis' quick check to reduce your bills, there might be some smaller hacks that maybe you haven't thought of trying. And seeing as water bills went up for many people in April 2023, it's become all the more important for people to use water wisely and save where they can.
And that includes this toilet hack from @thatpropertyguy on TikTok.
TikTok toilet tip
Kyle, also known as @ThatPropertyGuy, who has a TikTok channel with almost 500k followers, shared a video with some quick and easy tips to help families reduce how much water they use, and if they are on a water meter, reduce how much they pay.
But it was the toilet flushing hack in the video in particular that got our attention. Kyle reveals that you can significantly reduce how much water you use by flushing with the smaller button on a dual flush toilet rather than the larger one.
Bathroom expert Warren Kinloch, from high quality bathroom supplier Bathroom Deal, rates the tip, saying: "This hack from TikTok's @ThatPropertyGuy is great, and not one that many people consider. There is a huge difference between the amount of water used, and the amount you're charged each month, when pushing the small or large buttons on a dual flush.
"The smaller button uses much less water, around 4 to 6 litres per flush, whereas the larger button can use up to 9 litres."
If you have a dual flush toilet and aren't really sure what the different buttons are for, you won't be alone. The smaller button provides a short flush and is designed to wash away liquid waste, while the larger button offers a longer flush for solid waste.
How much can you actually save with this toilet hack?
You could save almost £60 a year by following this hack and changing how you flush your toilet, but how much you actually save will ultimately depend on the type of toilet you have, how often it's used, where you live, how many people there are in your home and whether you have a water meter or not.
According to data from Southern Water, the average family of four uses 308 cubic meters of water per year (including waste water), which is 308,000 litres, at a cost of around £612. That works out at about £1.99 per cubic meter of water.
Assuming each person in this family used the toilet six times per day, it would cost you £157.21 a year if you all used the large button (9L) every time you flushed. You'd also use about 79 cubic meters of water each year.
Alternatively, if you only used the smaller button each time you flushed, you would reduce your water usage to 35 cubic meters per year, costing you only £69.65 (a saving of more than £87). But you might find that this kind of flush isn't suitable for solid waste, meaning you may flush the toilet more often, and end up using the same amount of water as when you used the larger button.
However, if you were really mindful about using the right button for the right kind of waste, for example, if each person used the smaller button four times a day, and the larger button twice a day, you'd use about 49 cubic meters of water a year at a cost of £97.51, saving almost £60!
You could also consider how to save energy in your home too to try and keep all of your bills as low as possible.
Sarah is Goodto.com's Money Editor. After segueing into the world of personal finance from the Homes sector, and acting as launch editor of Goodto's sister brand TheMoneyEdit.com, Sarah now focuses on family finance. She is passionate about cutting through confusing jargon to help people make sound financial decisions, avoid overspending and set themselves and their families up for a financially-stable future.