This is why the Renters Reform Bill is good news for the 1.3m families who rent
No fault evictions of families in private rental homes are set to be banned as part of an overhaul of housing laws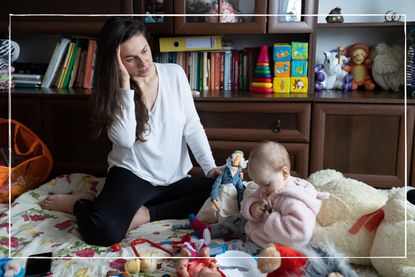 (Image credit: Getty Images)
Millions of tenants in England will benefit from 'safer, fairer and higher quality homes' thanks to the Renters Reform Bill that has been introduced to parliament.
The Renters Reform Bill proposes a number of changes to how private renting works, including abolishing no-fault evictions and ending bans on tenants with children or those who claim benefits. Families on benefits are some of the worst affected by the cost of living crisis, and have been struggling with rising costs all round, from how much their energy bills cost to high food prices and more. To help, those most vulnerable households will be eligible for additional cost of living payments throughout 2023 and into 2024.
Overall, it is expected that the reforms will benefit the 11 million private renters in England. According to Citizens Advice, this includes an estimated 1,337,190 households with children in the private rental sector.
The bill needs to be debated and approved by the House of Lords and the House of Commons before it is made law. There is no set time frame for that, although The Instititute for Government sets out an example timeframe on its website, suggesting a time frame of about five weeks to pass a bill through each house.
Housing Secretary Michael Gove said: "Too many renters are living in damp, unsafe, cold homes, powerless to put things right, and with the threat of sudden eviction hanging over them. Our new laws introduced to Parliament today will support the vast majority of responsible landlords who provide quality homes to their tenants, while delivering our manifesto commitment to abolish Section 21 'no-fault' evictions. This will ensure that everyone can live somewhere which is decent, safe and secure – a place they're truly proud to call home."
What is being proposed in the Renters Reform Bill?
The Renters Reform Bill proposes multiple changes to the rental property sector. This includes the abolishment of Section 21 or 'no-fault' evictions, bans on unjust discrimination based on families with kids, pets or those who receive benefits.
It will also apply the Decent Homes Standard to the private rented sector for the first time, giving renters safer, higher quality homes.
Landlords will also be given more power in certain circumstances, especially when dealing with anti-social tenants or those who breach their tenancy agreements.
The changes aim to ensure everyone has a decent and safe place to live, empower renters to challenge poor landlords, help target criminal landlords and encourage better relationships between landlords and renters.
Why the Renters Reform Bill is good news for families who rent
The Renters Reform Bill will empower families to challenge poor landlords, whether it's about the quality of the property or unfair rent increases, without worrying that they could be evicted without cause.
Currently, there is a piece of legislation called Section 21 which means a landlord doesn't have to have or give a valid reason for evicting tenants. This can leave families afraid to raise issues with their landlords for fear of losing their home. Not raising legitimate issues can not only impact family finances, but, in the case of damaged or neglected properties, can cause serious illness to those who live there.
Banning Section 21 evictions will mean that landlords must have a valid reason to evict their tenants.
Dan Wilson Craw, Acting Director, Generation Rent, said: "The Renters' Reform Bill is a huge opportunity to improve the lives of the 11 million people who now rent from private landlords in England. Arbitrary Section 21 evictions make it impossible for tenants to put down roots and report problems about their home with confidence. Abolishing them will take away much of the stress of renting and improve communication and trust between tenants and landlords."
There's good news too for those who have been banned from renting a property because they have children, pets or receive benefits. The bill aims to make it illegal for landlords or letting agents to have 'blanket bans' against those with children or on benefits to make sure no one is unfairly discriminated against when they are just trying to find a home.
For those who have faced real struggle to find a rental property that accepts pets, will be granted the legal right to request a pet in their rented home which a landlord cannot unreasonably refuse.
These changes will work towards giving families more peace of mind, especially as the cost of living crisis continues.
Sarah is Goodto.com's Money Editor. After segueing into the world of personal finance from the Homes sector, and acting as launch editor of Goodto's sister brand TheMoneyEdit.com, Sarah now focuses on family finance. She is passionate about cutting through confusing jargon to help people make sound financial decisions, avoid overspending and set themselves and their families up for a financially-stable future.