When will food prices go down? Plus what you can do until they do
Rising food costs have been a key driver behind soaring inflation, but when will food prices go down?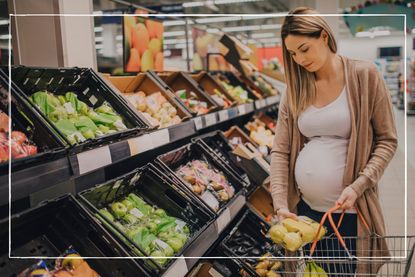 (Image credit: Getty Images)
As the cost of living remains high, families are wondering when food prices will start to go down.
Food prices rose sharply in 2022 and during the first few months of 2023 and were a key driver behind high inflation. Inflation currently stands at 10.4%, but food prices have gone up much more than that. Data analysts Kantar report that grocery inflation hit a high of 17.5% in March - adding more than £800 to the typical annual family food bill. So it's never been more important to understand how to save money on food.
A couple of easy ways to make sure you're not spending more than you need to on food is to shop at the cheapest supermarket and always take your supermarket loyalty card. (You can also see how I managed to save more than £100 on my monthly food shop.)
Goodto.com's Money Editor Sarah Handley says: "When combined with high energy bills and price hikes galore, rising food prices are really challenging for families. Especially when prices have been so high for so long. Budgets are stretched thin, so it's no wonder we all want to know when food prices are going to come back down again to ease the pressure."
When will food prices go down?
Right now, it is not clear when food prices will start to come down as there are multiple factors that will need to stabilise before prices can reduce. Andy Needham, managing director of Approved Food, said: "I'm not convinced that food prices overall will fall anytime soon. The rate of food inflation is over 18% at the moment and having seen the next batch of price increase notifications from manufacturers for this quarter, we still haven't reached a peak.
"The war in Ukraine needs to come to an end and then a period of stabilisation on all the other costs facing food businesses needs to take place before any meaningful reductions start occurring."
There are a lot of complex reasons food prices have been going up since last year. Rising labour, energy, and transport costs are major contributors to the increases, as well as the war in Ukraine and production difficulties caused by severe weather conditions.
Abigail Foster, founder of financial education company Elent, said: "The war in Ukraine has impacted commodities like wheat, grain and vegetable oils, while broader supply chain issues since the pandemic have also contributed.
"And then there's the cost of energy to manufacture food products. General inflation is currently 10.4% but for food, we are seeing inflationary increases of 17%+. Salary rises due to inflation have also not helped keep food costs down."
Small businesses that produce and sell food are feeling the pinch – many can only survive by putting up prices. Gillian Ferguson, owner at Twisted Empire Bakes, said: "If it doesn't change soon, there won't be many businesses left – many have already closed as a direct result of the cost of ingredients and raw materials, on top of the gas and electricity costs."
Will food prices remain high even if they stop rising?
The Bank of England predicts that inflation should fall in the middle of 2023. But this doesn't mean that food prices will start to fall. They could still rise, but probably more slowly than before.
The British Retail Consortium has warned that high levels of food price inflation were likely to continue in 2023, while the Food and Drink Federation says the medium-term outlook for the UK food industry is "worrying".
Karen Green, business-to-business sales expert and founder of Buyerology, says: "There is a misconception between prices stabilising and prices falling. The cost of goods in terms of energy, labour and raw materials is not going to go down any time soon but might stop going up.
"For food prices to go down, you will need to see deflation and that can actually more detrimental to a country than inflation. So, the Bank of England target rate of around 2% is most likely for us to revert to and so we need to work out how to live in our current financial position allowing for slight inflation."
Approved Food's Andy Needham said: "I personally think that food prices will stop increasing quickly but we will have reached a level of 'new normal' and they will predominantly stay at the levels they have reached now going forward."
What can you do to keep food prices as low as possible?
Switch supermarkets
Aldi and Lidl are loads cheaper than the like of Waitrose and Sainsbury's for your "big shop". Try and avoid convenience stores too - Tesco Express and Sainsbury's Local are more expensive than their bigger counterparts.
Save food from waste
Online discounter Approved Food sells food and drink that is short-dated or past its best before date, but still safe to eat. Alternatively, food waste app Too Good To Go sells surplus food from cafes, restaurants and supermarkets.
Plan your meals
Meal planning and batch cooking can help reduce the amount of food you waste. You can freeze portions to eat in the weeks ahead or for when you run out of fresh food.
Swap fresh for frozen
Contrary to popular belief, frozen fruit and vegetables are perfectly healthy as freezing helps to preserve the nutrients. Keep an eye on the best before dates on food in your fridge - if you think you're not going to use items before they go off, freeze them.
Ditch delivery services
Getting a takeaway or meal delivered might be a nice treat, but it's rarely cheap. Buying groceries via Deliveroo, Gorillas or Getir can be convenient, but it will cost you dear.
Emma Lunn is a multi-award-winning journalist who specialises in personal finance and consumer issues. With more than 18 years of experience in personal finance, Emma has covered topics including all aspects of energy - from the energy price cap to prepayment meter tricks, as well as mortgages, banking, debt, budgeting, broadband, pensions and investments. Emma's one of the most prolific freelance personal finance journalists with a back catalogue of work in newspapers such as The Guardian, The Independent, The Daily Telegraph, the Mail on Sunday and the Mirror.