Are train return tickets being scrapped? Our finance expert explains the plans
Return rail fares could be scrapped in a shake-up of the train ticket system – but will 'single leg pricing' be more expensive?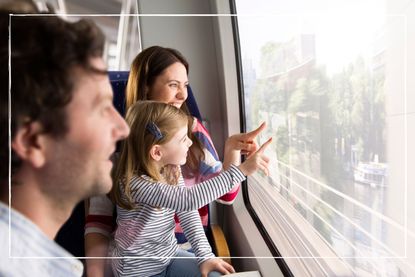 (Image credit: Getty Images)
With plans for return train tickets to be scrapped hitting the headlines, what does this mean for those of us who regularly travel by train?
Buying train tickets in the UK is not just pricey – it can be really complicated to get the cheapest ticket. Rail passengers planning a long journey have a overwhelming choice of advance, peak, off-peak, super off-peak, single and return tickets when they want to go from A to B and then back again.
Fortunately, there are several ways families can get cheap train tickets (opens in new tab). Train passengers are also entitled to a refund if planned journeys affected by the ongoing train strikes (opens in new tab). (You can read our article about how to get a refund for disrupted travel (opens in new tab) if commuting or family days out are impacted by industrial action.)
But does the proposed scrapping of return train tickets mean train travel will become cheaper?
Are train return tickets being scrapped?
It's not been confirmed yet but return train tickets are expected to be scrapped in a shake-up of the British rail system by transport secretary Mark Harper.
Rhiannon Philps, personal finance expert at comparison site NerdWallet, said: "With the news that return rail fares could be scrapped, the question on everyone's lips is whether this will mean cheaper train tickets.
"According to the rumoured new plans, the price of two single tickets will be the same price as a return ticket costs now. So, if you simply want to travel to and from a location, the cost of the train fare shouldn't change significantly. However, if you only want to travel one way, you may find your ticket is cheaper.
"At the moment, many single tickets cost almost as much as a return, so the new plans could cut the cost of one-way journeys by almost half."
The new system could be introduced alongside other changes, such as the end of paper tickets, which will be replaced by digital tickets, and UK-wide smartcards similar to Oyster cards used in London.
The government also plans to re-organise train travel in the UK by setting up a new body called Great British Railways which will take over responsibility for ticketing and timetabling from the Department of Transport.
What will replace return tickets?
If the plans go ahead, return train tickets will be replaced by single leg pricing where passengers buy one ticket for travelling from A to B and another to return from B to A.
This is how rail systems work across most of Europe – so the UK will be switching to a system similar to that used by many other countries.
"The new proposals could also mean that it's simpler to book tickets for more complicated journeys," said personal finance expert Rhiannon Philps.
"Rather than having to compare the cost of different ticket types and research whether it's cheaper to split a journey across multiple tickets, for example, the expected changes could make it simpler for passengers to find and book the tickets they want at the times they need."
The UK is drastically in need of a new pricing structure for long distance train journeys. According to the Rail Delivery Group there are about 55 million fares available within the UK, with many overlapping or contradicting one another, meaning people often pay more than necessary to travel by train.
Does this mean it will cost me more to travel by train?
So far, it seems that the plans mean that two singles won't cost any more than a return. But we'll have to wait and see.
Iain Griffin (opens in new tab), founder and CEO of train ticket app Seatfrog (opens in new tab), said: "When you buy a return ticket, you are buying two singles - they are just getting wrapped up in a return ticket. Getting rid of the return ticket will give people more flexibility, and it will make journeys cheaper as travellers won't be forced to buy a particular return on a particular day.
"Hopefully, this will make life less complicated for consumers but really nothing changes; now, you buy a ticket but instead of opting for a return, you select your journeys there and back.
"Different fare combinations mean that you should be able to reward somebody for buying two singles instead of just buying one. This development is a move towards this - which is positive. However, it's a basic human right to access a ticket that fits around your life - so these are positive changes - but it should have happened a long time ago."
These two examples show just how complicated the UK train fare system is. At the moment, two singles are more expensive on some journeys. For example, if you wanted to travel from Birmingham to Manchester on 5 April on the 12.22 train and return on 6 April at 12.35, single tickets would cost £42.10 each, a total of £84.20. But you could get an Off-Peak Return, valid on the same trains, for just £43.40.
You could cut the cost of the return journey from Manchester to £16.50 by using split ticketing – dividing your journey by buying separate tickets for different parts of the journey. But the total cost would still come to more than the cost of a return ticket. So, if return tickets were scrapped, you'd pay more for this journey.
But on other journeys, two singles might be cheaper than a return. For example, if you wanted to travel from London to Sheffield and back on 9 February, you could get a single for the outward leg for £23 and the return leg for £31.50 if you could commit to travelling on specific trains. This adds up to a total of £54.50. A super off-peak return, which gives you more flexibility, is £87.
What can I do to keep my train travel cheap?
Here are some ways to cut the cost of train travel:
Book 12 weeks in advance for the cheapest train tickets
Travel on off-peak trains where possible
Use split ticketing to divide your journey into cheaper legs
Use digital tickets rather than paying to have advance tickets sent to you
Avoid booking fees by shopping around for tickets
Use a Railcard to get a discount if you travel by train regularly
Consider taking a coach with National Express of Megabus instead
Use Delay Repay to get some or all of your ticket refunded if your train is delayed or cancelled.
Emma Lunn is a multi-award-winning journalist who specialises in personal finance and consumer issues. With more than 18 years of experience in personal finance, Emma has covered topics including mortgages, first-time buyers, leasehold, banking, debt, budgeting, broadband, energy, pensions and investments. Emma's one of the most prolific freelance personal finance journalists with a back catalogue of work in newspapers such as The Guardian, The Independent, The Daily Telegraph, the Mail on Sunday and the Mirror.