Ploov heated cushion review
Our Money Editor reviews the Ploov - a heated cushion that claims to help lower energy bills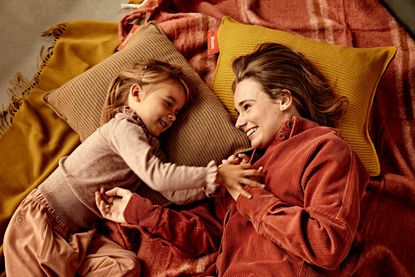 (Image credit: Stoov)
The Ploov is a great addition to the home for keeping warm while relying less on the central heating. It has a stylish, modern look with a range of choices available when it comes to size, cushion colour and fabric. Super easy to set up, as well as being really easy and comfortable to use. But, while it is undoubtedly effective for warming one person at a time, for families already struggling to afford their energy bills, its price tag could mean it's an unsuitable solution
Reasons to buy
+

Effective way to keep warm in winter that doesn't involve your central heating

+

Really easy to set up and use

+

Safer option for some than a hot water bottle

+

Looks stylish

+
Reasons to avoid
-

Quite pricey

-

Battery life at highest temperature isn't that long

-

Takes a while to charge

-

Can only heat one person at a time

-

Not suitable for those who struggle to regulate their body temperature
Why you can trust GoodTo Our expert reviewers spend hours testing and comparing products and services so you can choose the best for you. Find out more about how we test.
As Goodto.com's Money Editor, I was excited to review the Ploov heated cushion from Stoov (opens in new tab). We've all spent the last year or so worried about how much our energy bills will cost as we battle through the energy crisis, so any product that can help to reduce how much energy we use and the cost of our bills immediately gets me intrigued.
The Ploov heated cushion uses long-wave infrared heating technology to heat the person using the cushion rather than heating the air around the person (which is what a normal radiator would do).This type of infrared heating is said to be more effective than say, a radiator, and claims to have numerous health benefits including:
Improving circulation
Reducing pain
Helping with joint stiffness
Strengthening the cardiovascular system (including your heart and blood vessels)
Reducing inflammation
Better still, the Ploov is battery powered, providing an effective way to keep you warm in the winter, without having to rely on turning your thermostat up.
In fact, Stoov claims that by using a Stoov product (which could be a heated cushion or heated blanket) and turning your thermostat down by a single degree, the average household could save £130 per year on their energy bills.
What's included?
The Ploov arrived in a surprisingly small box and contained a cushion, cushion cover, battery pack, charger and instruction manual.
Set up
The Ploov was really easy to set up, you simply attach the battery as instructed, tuck it into a purpose built pocket on the cushion and then pop the cushion inside the cushion cover. (Make sure you follow the instructions on which way round to put the inner cushion in the cushion cover as it only heats up on the one side. If you put it in the wrong way round, you won't see the indicator lights on the cushion cover's smart tab).
I charged it for a couple of hours before using it for the first time. The charger has a indicator light on it that is red while the Ploov is charging and green when it's fully charged, which I thought was super handy.
It's available in a couple of different sizes and cushion cover options. I got the 45 x 45cm version with a pink velvet cover.
Then it was ready for me to test it out.
Ease of use
Once set up, the Ploov is really easy to use. One press of the button on the smart tab, turns it on and you have a choice of three temperature settings - low, medium or high. When turned on, the high setting is the default, with three lights showing. A quick press of the power button takes you down through the lower settings, before a final press turns the cushion off.
It takes just a couple of minutes to warm up and is lovely and warm (not not too hot, at least for me, even on the highest setting). When leaning against it, after a couple of minutes I didn't really notice I was leaning against a heated cushion, but I did feel nice and warm.
Once the battery is out of juice, you can simply plug the charger into the back of the cushion's smart tab and charge it up. That's a feature I really liked, because even though it was easy to set up, I didn't fancy having to wrestle the battery out every time I needed to charge it.
Effectiveness
Snuggling up against the Ploov, you undoubtedly feel a comforting and cosy sense of warmth - lean against it, cuddle it, rest cold feet on it, it'll warm you up like a lovely hot drink.
I preferred the temperature on the high setting, especially on days when the temperature outside struggled to get above 1°C, and I got around three hours of use out of it before it needed charging again. But I timed the recharge for the couple of hours when my heating came on, so I managed to avoid getting too chilly.
In terms of how warm it gets, according to Stoov, the lowest setting is 28-32°C, the mid level is 35-39°C and the highest setting is 38-42°C.
Value for money
With a price tag just under £100 for the 45 x 45cm Ploov with a velvet cushion cover, it's an investment. But when it claims to save £130 per year on your energy bills (combined with turning your thermostat down by a single degree), it seems like a very sensible one.
While the Ploov was very effective at keeping me warm, if you are trying to keep multiple family members warm at the same time, it's unlikely that a single Ploov will be enough. Then if you need to buy multiple Ploovs, the cost grows, while the saving on your energy bills remains the same.
If you can afford multiple cushions, then it's a great way to keep the family warm without relying on your heating, which feels very eco-friendly. But the price tag might mean that those already struggling to pay their energy bills can't afford the initial cost, despite the fact it could help to lower bills in the long run. An alternative Stoov product like the Big Hug heated blanket, that could potentially heat a couple of people at a time, might be a better solution.
Sarah is Goodto.com's Money Editor. Sarah is an experienced journalist and editor with more than 10 years of experience in the Homes industry, working across brands such as Homebuilding & Renovating, Period Living and Real Homes. After segueing into the world of personal finance, acting as launch editor of GoodtoKnow's sister brand TheMoneyEdit.com, Sarah became Editor in Future's Wealth division with a focus on property-related finance and household bills, working across brands including GoodtoKnow and Ideal Home. She is passionate about helping people cut through confusing jargon to make the right financial decisions when getting on the property ladder and turning a house into a home.