I can't believe how much it cost to keep two boys entertained for a week in the school holidays - how do people do this for 6 weeks?!
We challenged one of our money experts to keep a money diary for a week of the school holidays - here's how she got on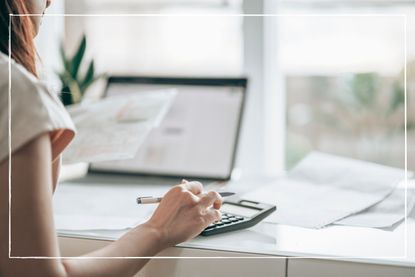 (Image credit: Getty Images)
Goodto Newsletter
Parenting advice, hot topics, best buys and family finance tips delivered straight to your inbox.
Thank you for signing up to GoodTo. You will receive a verification email shortly.
There was a problem. Please refresh the page and try again.
The school holidays are always a bit of a juggling act in our house, with my husband and I trying to keep our 12 and 14-year-old boys entertained while also staying on top of our respective workloads.
While we have a list of things to do with kids, with the cost of living still high it's important I keep track of how much we're spending so we have enough to last the summer. But keeping my boys entertained can be distracting, making it hard to keep on top of the budget. So, after seeing another mum keep track of her spending over a week, I decided to keep a money diary see how much I was actually spending.
I've excluded things like our mortgage, broadband and those other household bills that get paid via direct debit, and I was fortunate enough to have a full fuel tank and restocked food cupboards thanks to filling up the car and getting the food shopping done in the week before. I'm a fan of meal-prepping so am quite adept at making the food shop last.
I tracked the other costs from the week, and was shocked by how much I actually spent - especially when there were three days when I'd spent less than £1!
Monday - a no-spend day
Day one of the money diary and it's tipping it down. It's not going to be a particularly exciting day either as I need to knuckle down on a deadline for a new client. But at least budget-wise we're off to a good start.
My eldest optimistically heads to the park for football between showers, but rain scuppers play and he ends up at a friend's. He admits he did nip to Morrisons to buy a £4 meal deal - but he knows that if wants food when he's out he has to pay for it himself - one of the pros of pocket money!
My youngest whiles away a few hours on Fortnite with a friend, which doesn't cost anything.
So I'm happy - deadline met, kids happy and I haven't spent a penny. I take that as a win!
Spend: £0
Tuesday - little treat from the local bakery
Another work day for me, but both kids hang out with friends in the afternoon, so they're occupied for a few hours at least (and not spending any money).
The only thing I spend any money on is a gingerbread man in the bakers – but sadly it wasn't for me. I used it as bribery to get my youngest to come and run a few errands with me later in the afternoon (we do what we have to do, right?)
Spend: 99p on a gingerbread man
Wednesday - day out with my youngest
Today I'm not working so I take my 12-year old and a car full of his friends to Ninja Warrior to burn off a bit of energy. Thankfully, we find a pair of the compulsory 'Ninja' socks lurking in his drawers so we don't need to shell out an extra £2 for them, at least.
Spend: £33.70 (£14.95 entry, £2.95 coffee, £15.80 for four slushies)
Thursday - one-off holiday club
Now that the boys are older, my partner and I don't really need to take advantage of holiday clubs. But the summer holidays are long and we still need to work, so if I can find one the boys will enjoy I don't mind booking the odd day of holiday club.
My youngest loves gaming and is trying out a Minecraft coding camp today, but it's not a cheap way to keep him entertained.
Spend: £49 on the holiday camp
Friday - family afternoon out
A perk of my husband's job is a lunchtime finish on Friday afternoons during the summer. To make the most of it, we head to Camden on the train for food, Insta-friendly street art and shopping.
Camden Market is a big draw for the boys, but I'm always sure to check they've got their pre-paid cards with them. They know that if they want to buy something, they need to pay for it using their pocket money.
Spend: £137.20 (£4.20 - car parking at the station, £32 - train tickets, £30 - Festival Colours (street art exhibition), £15 – bubble teas, £40 - street food, £16 - round of drinks in the pub)
Saturday - golfing fun as a family of four
Another family outing today, this time to Top Golf, for some high-tech golfing action, with lunch in our bay between games.
Spend: £128 (£76 on Top Golf, £52 on lunch and drinks)
Sunday - a no spend day!
After a busy couple of days, we're all a bit knackered, so all we do is walk the dogs, get a few jobs done and relax at home.
It's the sort of weekend where I'd murder a pub roast, but after an expensive few days, I stick with the dinner on my meal plan - even if it was harder work than I needed!
Spend: £0
How much I ended up spending and what I learned
When I tot it up, my total spend for the week was £348.89! It was always going to be a bit of shock adding up just how much we were spending on summer holiday outings - how do parents manage this for six consecutive weeks?! I think there's a fair amount of working-parent guilt in there in our case – my husband and I aren't around much in the week, so we want to make the most of the times when we're all together at the weekend.
Top Golf was fun but worked out way more expensive than I'd thought – I now know that we didn't need to buy the £15 fast-track pass (to minimise the time we left our dogs!). And, if we'd managed to get up an hour earlier, we could have got a two-for-one deal. But I will remember that if we go again.
However, while we have spent a lot this week, I find it good to remind myself that we're not spending nearly as much as we used to on school holiday childcare. A few summers ago, we would have been racking up a holiday club bill of at least £200 a week before we even had any outings or days trips ourselves.
Aside from the odd activity here and there, the bulk of the money we spent was on family activities we all enjoyed, not just the kids. That said, we couldn't keep this pace up all summer – next week is going to have to be much cheaper!
If you're also trying to keep the kids entertained over the summer holidays, and have spent too much on days out, try some of the best kids movies on Netflix when you're trying to keep costs down.
Parenting advice, hot topics, best buys and family finance tips delivered straight to your inbox.
As well as being a mum, Rachel Lacey is a freelance journalist with more than 20 years' experience writing about all areas of personal finance and retirement planning. After 17 years at Moneywise magazine as both writer and editor, Rachel now writes for a variety of websites and newspapers as well as corporate clients. She is passionate about financial education and simplifying money matters for all.