31 Best kids movies on Netflix: Family movies to stream right now
Happy viewing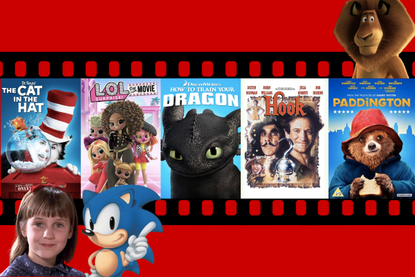 Watch together or leave them to be entertained on their own. We've shared our list of the 31 best kids' movies on Netflix.
We all love Netflix, but no one likes scrolling through the titles working out what to watch. Especially if you're a parent with an impatient child whose seeking some things to do with the kids (opens in new tab) to brighten up an otherwise dull afternoon.
Luckily Netflix have a dedicated children's section that's jam-packed with a whole host of movies to satisfy any little one's preference. Be it superheroes, animated animals, a sprinkle of magic or a beloved book adaptation - you can rely on the streaming giant to provide the perfect entertainment. And starting from just £4.99 a month (opens in new tab), Netflix works out a lot cheaper than other TV subscriptions that are otherwise going up in price (opens in new tab) at the moment too.
31 Best kids' movies on Netflix:
1. Paddington
Everyone's favourite Marmalade-loving bear gets given the big screen treatment in this charming family film. Voiced by Ben Whishaw (star of This is Going to Hurt (opens in new tab)), Paddington is forced to flee to London town after a terrible earthquake destroys his home in Peru. Arriving in none other than Paddington station, he quickly gets taken in by the Brown family and tries his best to adapt to urban life. But unfortunately a bear in the big city soon draws attention and the wrong kind at that in Taxidermist Millicent Clyde (Nicole Kidman). Queue chaos and a quest to save him from
Paddington earnt rave reviews when it came out in 2014 and even received two BAFTA nominations for Best British Film and Best Adapted Screenplay. It also boasts an incredible 97% rating on Rotten Tomatoes Tomatometer (opens in new tab).
2. Paddington 2
So good, audiences demanded a second outing - and they delivered. Paddington 2 sees Hugh Grant and Brandon Gleeson join the animated adventure. Paddington takes up a job to earn money and save up to buy the perfect gift for his Aunt Lucy's 100th birthday. But then disaster strikes - the present gets stolen. It's up to Paddington and the Brown family to uncover the culprit. Cue the usual hilarious drama!
"Paddington 2 honors its star's rich legacy with a sweet-natured sequel whose adorable visuals are matched by a story perfectly balanced between heartwarming family fare and purely enjoyable all-ages adventure," reads the Critic's Consensus on the Rotten Tomatoes (opens in new tab). It boasts a 99% critic rating and an audience score of 88%.
3. We Can Be Heroes
In We Can Be Heroes, alien invaders capture all of Earth's superheroes, and their kids must learn to work together to save their parents — and the planet. Feel-good viewing with plenty of crime-fighting to keep kids happy, the Netflix original film stars Priyanka Chopra and Christian Slater.
"This was clearly made for kids, not critics, and the design and action are vibrant enough to divert them," writes reviewer Brian Lowry for CNN (opens in new tab). "Rodriguez is well-versed in superhero tropes for parents who can appreciate comic-book satire." It has a 74% critic rating on Rotten Tomatoes and some have claimed it to be director Robert Rodriguez's best film yet.
4. Gnomeo and Juliet
Based on Shakespeare's classic play, Romeo and Juliet, this animated film transports the story to garden gnomes living in neighbouring gardens. The adorable film stars the voices of James McAvoy, Emily Blunt and Michael Caine.
Ken Marks of the New York Times sums this sweet film up best: "'Toy Story' goes Shakespearean in this animated retelling of the tale of the star-crossed lovers of Verona". Gnomeo and Juliet has a respectable audience score of 54% on Rotten Tomatoes (opens in new tab).
5. SING
It's an animal world - humans just live in it. SING sees struggling theater owner Koala Buster Moon stage a singing competition in an effort to prevent his theater from closing down. 5 singers enter: a mouse, a timid elephant, a pig, a gorilla and a punk-rock porcupine. But as the competition intensifies, the contestants find it increasingly interferes with their personal lives.
Wendy Ide of the Observer (opens in new tab) awarded the film 4 stars, writing: "SING is by no means the first animation to incorporate the talent-show format into its narrative, but it's certainly the most successful. On Rotten Tomatoes (opens in new tab) it has a 72% audience score. It's success led to a sequel in 2021...
6. Kung Fu Panda
Panda Po (Jack Black) might just take the crown as the laziest and clumsiest panda in the Valley of Peace. But that doesn;t stop him from dreaming of one day becoming a Kung Fu legend. As luck would have it, Po gets his chance when the Valley comes under attack from evil snow leopard Tai Lung. Determined to defend his homeland he trains hard under Master Shifu to help tackle Tai Lung for good.
This Dreamworks original proved very popular when released in 2008. So much so that a second and third film followed. It features the vocals of Angelina Jolie and of course the legendary Jackie Chan. It currently records 87% on the Tomatometer (opens in new tab) too.
7. How to Train your Dragon
The animated action takes place on the fictional island of Berk - where dragons are part and parcel of everyday life. Norse teenager Hiccup is soemthing of a misfit in his hometown, despite dad's status as Chief of the Clan. In an effort to prove himself and his true Viking heritage, Hiccup throws himself into dragon-fighting school. And it's friendshipw ith injured dragon Toothless that really sets the course in motion for change.
We all know a kid or two who can't get enough of these prehistoric creatures. And this enchanting tale is sure to strike a chord. "Boasting dazzling animation, a script with surprising dramatic depth, and thrilling 3-D sequences, How to Train Your Dragon soars," reads the critics consensus on Rotten Tomatoes (opens in new tab) (where it has a 99% rating).
8. The Adventures of Sharkboy and Lavagirl
Kids seeking a superhero fix will love this caped adventure film. In an attempt to beat the bullies, young Max dreams up his own parallel universe which follows the adventures of Lavagirl (Taylor Dooley) and Sharkboy (Taylor Lautner). But one day he finds his visions come to life and Max sucked into to the action on Planet Drool. There he must help his friends save their homeland and fend off his real-life bullies.
Julie Terpstra had positive words for the film on Google reviews (opens in new tab). "Good kids film," she wrote. "I tend to have lower standards but I really liked it when I was younger and I still like it today."
9. Madagascar 3: Europe's Most Wanted
Their favourite bunch of Zoo animals are back for a third installment - and still trying to make their way home to New York's Central Park Zoo. During their inbound journey, Alex (Ben Stiller), Marty (Chris Rock), Melman (David Schwimmer) and Gloria (Jada Pinkett Smith) are forced to take a detour via Europe to pick up those pesky penguins and cheeky chimps. But unluckily for them, they've caught their friends at an unfortunate time (post Monte Carlo casino robbery). And French animal-control officer Capitaine Chantel DuBois (Frances McDormand) is onto them. Seeking out a safe place, they end up finding refuge with a traveling circus. And of course the same old chaos ensues.
Three films down and this chapter didn't disappoint critics. "Dazzlingly colorful and frenetic, Madagascar 3 is silly enough for young kids, but boasts enough surprising smarts to engage parents along the way," reads the critic consensus on Rotten Tomatoes (opens in new tab). It boasts a 'Fresh' Tomatometer score of 78%.
10. Slumberland
A Netflix original starring Jason Momoa and newcomer Marlow Barkley. Young girl Nemo discovers a secret map to the dreamworld of Slumberland, and with the help of eccentric outlaw Flip, she traverses dreams and flees nightmares, with the hope that she will be able to see her late father again.
"The story's great, the acting is solid, and the visuals are dazzling -- don't sleep on Slumberland." reads the audience consensus on Rotten Tomatoes (opens in new tab) who gave this Netflix original an 85% rating.
11. Stuart Little
A charming family tale about a quirky and confident mouse. It has an all star cast with Gina Davis and Hugh Laurie as the parents and Michael J Fox voicing the furry fan favourite. Upon getting adopted by the Littles, Stuart the mouse is unwelcomed by his new brother George. So, when Stuart begins to feel low the family helps him find his real parents.
"A likeable, highly entertaining film that endears in spite of the odd spot of Disney-esque schmaltz," wrote Richard Luck in his Film4 review (opens in new tab). It was a hit with audiences who gave it Rotten Tomatoes (opens in new tab) who gave this Netflix original a 41% rating.
12. Cloudy with a Chance of Meatballs
When hard times hit Swallow Falls, its townspeople can only afford to eat sardines. Flint Lockwood, a failed inventor, thinks he has the answer to the town's crisis. He builds a machine that converts water into food, and becomes a local hero when tasty treats fall from the sky like rain. But when the machine spins out of control and threatens to bury the whole world under giant mounds of food, Flint finds he may have bitten off more than he can chew.
"Quirky humor, plucky characters and solid slapstick make this family comedy a frenetically tasty time at the movies." reads the critics' consensus on Rotten Tomatoes (opens in new tab) who gave this film an 85% 'fresh' rating.
13. Alvin and the Chipmunks
After their humble tree home gets cut down in LA, three singing chipmunks - by the name of Alvin, Theodore and Simon - have to seek accomodation elsewhere. Luckily they stumble upon songwriter Dave Seville and the situation seems to benefit both - as he introduces the vocal trio to a record executive who signs them on the spot. But amongst the concerts, money and fame - true loyalties are tested.
Warning - they may look sweet but their chirpful tunes are sure to be in you and your kid's heads for days. This being said, the first film (there's a further two sequels) seemed to go down well with audiences who gave it a rating of 64% on Rotten Tomatoes (opens in new tab). "An endearing effort that will appeal to under-10s with its slight tale of the three all-talking, all-singing rodents," says critic Karl French, then of the Financial Times.
14. Matilda
Another one of Roald Dahl's books that has been made into a film, Matilda tells the story of a little girl who discovers she has secret powers that she can use to stand up to the bullies in her life, including her head teacher Miss Trunchbull, and her awful parents and brother.
A real crowd-pleaser of a film. "This Danny DeVito-directed version of Matilda is odd, charming, and while the movie diverges from Roald Dahl, it nonetheless captures the book's spirit," reads the Critics' consensus on Rotten Tomatoes (opens in new tab). Who gave it a strong 90% rating on their Tomatometer.
Wanting to watch the new one? You'll be pleased to know that Matilda the Musical is coming to Netflix (opens in new tab) this year.
15. LOL Surprise: The Movies
Legendary LOL Surprise doll sisters Queen Bee and Royal Bee are making their first movie together. But they need a little help from their fashionable friends to film it. A magical doll-world adventure.
Of course, this is essential viewing for any kids who are fans of the LOL Surprise dolls. "This movie was so fun and my six year old daughter loved it!" wrote one IMDB reviewer (opens in new tab). "She is obsessed the Queen B girl. Couldn't stop talking about her in the movie. This was such a sweet movie and it really focused on teamwork and friendship."
16. Spy Kids
Imagine your parents have been living a double life as secret agents your whole life and you had no idea? That's the premise of this fun and action packed kids movie which stars Antonio Banderas and Alexa Vega. When their parents are captured, Carmen and Juni must work together with their newly found state of the art gadgets to save them (and the world). In what turns out to be one hell of an adventure.
"Fulfills kids' empowerment fantasies and features enough techno-wizardry and cool f/x to satisfy those weaned on videogames," says Vairety critic Lael Loewenstein. A cult kids film, it's been given a rare 93% 'fresh' tomatometer rating on Rotten Tomatoes (opens in new tab).
17. Hook
Robin Williams stars as a now grown-up, workaholic version of Peter Pan in Hook. The film sees him return to Neverland to save his kids from the clutches of vengeful pirate Captain Hook (played by Dustin Hoffman).
Magic, Robin Williams and a classic kid's tale. It doesn't get much better than this. Audiences gave this 76% on Rotten Tomatoes (opens in new tab). "I try to make it a point to watch this movie at least once a year, or when I feel myself getting too cynical," wrote one IMDB reviewer (opens in new tab). "This is because if you are looking for fun movie that really does pull at the kid inside you, then this is definitely it. Robin Williams is just the right kind of goofy for my tastes, and makes an excellent Pan. Captain Hook was perfectly fit by Dustin Hoffman."
18. Chicken Run
Mel Gibson is Rocky to Julia Sawalha's Ginger in this hilariously funny Aardman Animations produced caper. Rocky, a rooster, and Ginger, a chicken, decide to escape from a chicken farm when they learn that their owner is plotting to have them killed. Cue chaos.
"Chicken Run has all the charm of Nick Park's Wallace & Gromit, and something for everybody. The voice acting is fabulous, the slapstick is brilliant, and the action sequences are spectacular," reads the critic's consensus on Rotten Tomatoes (opens in new tab), who gave it a 97% 'fresh' rating.
19. Bee Movie
Starring Jerry Seinfeld, Renee Zellweger and Matthew Broderick. Bee Movie tells the story of Barry, a worker bee stuck in a dead-end job making honey. When Barry discovers that humans have been stealing bees' nectar all along, he gets angry and tries to sue them.
"Occasionally too silly for words, probably by intention," writes one IMDB reviewer (opens in new tab). "But lots to take in with superb animation, good gags, and quirky, memorable characters. Comedy is uneven at times, but still serves as acceptable entertainment for kids and adults alike.
20. The Smurfs
Neil Patrick Harris, Katy Perry and Hank Azaria star in this film adaptation of those popular blue-hued cartoons. While trying to escape the evil wizard Gargamel, the blue-skinned Smurfs get sucked into a vortex that teleports them to New York. Thereafter, they try their best to find a way back home.
"The Smurfs will likely be the best, most enjoyable kid film of 2011. And, yes, adults have been catered for. Dive in," says critic Jim Schembri of The Age (Australia) (opens in new tab)
21. The Willoughbys
Maya Rudolph and Ricky Gervais star in this Netflix original film about four siblings with horribly selfish parents. The children hatch a plan to get rid of their mum and dad for good and form a perfectly imperfect family of their own.
This fairly recently released film went down quite well with critics - earning a 91% 'fresh' rating on Rotten Tomatoes (opens in new tab) critics' tomatometer. "There's a taste of Roald Dahl, a hint of Despicable Me and a dollop of Mary Poppins," writes Richard Crouse of CTV News (opens in new tab). "But, all spun together, they form a delightfully dark (but not too dark) story about finding the true value of family."
22. Puss in Boots
Antonio Banderas returns as the furry friend from the Shrek franchise in a leading man capacity. Puss teams up with his friends, Humpty Dumpty and Kitty Softpaws, in order to defeat two criminals, Jack and Jill, and retrieve the magical beans that they possess.
"It's all amiable stuff, with a perfectly decent script, and the feline hero lapping his milk gets an indulgent laugh," write's critic Peter Bradshaw in his review for The Guardian (opens in new tab).
23. Daddy Day Care
Eddie Murphy, The White Lotus cast member (opens in new tab) Steve Zahn and a young Elle Fanning. This is a fun movie that adults will enjoy too. After getting fired from their jobs, Charlie and Phil start a day-care facility to make ends meet. Once their business starts to pick up, a rival day-care centre in town plans to bring them down.
Eddie Murphy is called "charming" by critics on Rotten Tomatoes (opens in new tab), which has an audience rating of 48%.
24. Over The Hedge
Another one of our favourite kids movies on Netflix is Over The Hedge. In this animated film, a group of forest animals - voiced by the likes of Bruce Willis and Steve Carell - awake from their hibernation to find their greatest fear has come true, and humans have moved in.
With a 75% 'fresh' rating on the critic's Tomatometer via Rotten Tomatoes (opens in new tab), Over the Hedge is overall a relative success and easy, fun watch. "The story has a loony, slapstick verve, and the star-studded voice work is uniformly entertaining," wrote Bruce Diones of the New Yorker.
25. Shrek the Third
The much-loved Shrek and Princess Fiona - voiced by Mike Myers and Cameron Diaz - return with Eddie Murphy's Donkey for the third film in the Shrek series. In this sequel, Shrek has to find an heir to the throne when Fiona's father, King Harold, falls ill.
It's a must watch for those who have seen and loved the first two films and the beloved characters. "A satisfying sequel that has its charm but isn't quite up to par with its predecessors," wrote critic Micheal Compton of Bowling Green Daily News. Whilst not a critic knockout, it did receive a 52% audience rating on Rotten Tomatoes (opens in new tab).
26. The BFG
Based on Roald Dahl's book of the same name, The BFG is about a little orphan, Sophie, who meets a kind giant, who is supposed to eat her, but instead protects them both from the other terrifying giants. Thus, he's actually a Big Friendly Giant!
"The BFG minimizes the darker elements of Roald Dahl's classic in favor of a resolutely good-natured, visually stunning, and largely successful family-friendly adventure," reads the critic's consensus on Rotten Tomatoes (opens in new tab). Where it also received a 74% 'fresh' rating on the famous Tomatometer.
27. Madeline
To save her boarding school from being sold, a mischievous little French girl, Madeline, uses her wits to discourage any prospective buyers.
Legendary film critic Roger Ebert gave this a 4 out of 5 stars back when it was released. "Madeline' is a quietly charming movie, for kids not too hyped on action and candy," he wrote. "It's assisted mightily by the presence of McDormand and Hawthorne, who play their roles precisely, not broadly, and come across as people, not caricatures." His fellow critics seemed to agree, giving this an average rating of 65% on Rotten Tomatoes (opens in new tab).
28. Bratz: The Movie
Based on the Bratz dolls, when high school hierarchy divides four best friends into different cliques, the girls defy expectations and try to bring their groups together.
"I liked it! I thought it was a nice movie for young women and teens," wrote one audience reviewer about Bratz on Rotten Tomatoes (opens in new tab). "Its a movie about friendship, staying true to yourself and being who you want to be."
29. Annie
In this 2014 remake of the Broadway musical, Jamie Foxx plays Daddy Warbucks - a millionaire who takes in orphan Annie and saves her from the clutches of Miss Hannigan and her orphanage.
The appeal of this version, as one Rotten Tomatoes audience reviewer (opens in new tab) puts it, is it's 21st century update. "I feel like kids can relate to this more because the remake is held in modern stanzas."
30. Swan Princess
Wicked sorcerer Sir Rothbart curses the beautiful Princess Odette by turning her into a swan - in the hopes of gaining control of her father's kingdom. The cure? The promise of true love. But as ever the path to finding it doesn't run smooth.
This came out way back in 1994, but many adults today may remember it well and want to pass it onto their kids. Even if the animation is a little dated. "The movie isn't in the same league as Disney's big four, and it doesn't have the same crossover appeal to adults," writes acclaimed critc Roger Ebert. "But as family entertainment it's bright and cheerful, and it has its moments." Audience members seemed to agree giving it a score of 66% on Rotten Tomatoes (opens in new tab).
31. Emoji Movie
Sir Patrick Stewart, Anna Faris and James Corden lend their voices to those familiar emoticons we see everyday on our small screens. Gene, a multi-expression emoji, gets sentenced to be deleted after he messes up a message his user Alex sends to his crush. Gene escapes the agents sent to destroy him and accepts his uniqueness.
So it doesn't exactly boast the best critic or audience rating on Rotten Tomatoes (opens in new tab) - but we've no doubt that kids being so familiar with the Emojis of today will certainly enjoy a viewing.
Video of the Week
Emily Stedman is the Features Editor for GoodTo covering all things TV, entertainment, royal, lifestyle, health and wellbeing. Boasting an encyclopaedic knowledge on all things TV, celebrity and royals, career highlights include working at HELLO! Magazine and as a royal researcher to Diana biographer Andrew Morton on his book Meghan: A Hollywood Princess. In her spare time, Emily can be found eating her way around London, swimming at her local Lido or curled up on the sofa binging the next best Netflix show.