Treat yourself to these air fryer fish tacos - perfectly paired with a crisp glass of white wine after a long busy week.
Soft, flaky cod fillets coated in a golden, homemade coating, wrapped in soft tacos filled with fresh ingredients such as tomatoes, lettuce, red onion, and more. Drizzled with a six-ingredient sauce of mayo, Greek yogurt, sriracha, lime, paprika, and garlic powder. A flavoursome Friday night dinner - all cooked in the air fryer.
Ingredients
600g cod fillets
300ml water
1 egg
180g plain flour
1 tsp baking powder
1 tsp lemon pepper seasoning or lemon zest
salt and pepper, to taste
For the sauce:
6 tbsp light mayo
3 tbsp Greek yogurt
2 tbsp sriracha
juice of 1 lime
1 tsp paprika
1 tsp garlic powder
To serve:
soft or hard-shell tacos
lettuce
tomatoes
red onion
coriander
guacamole
Method
Season the cod fillets with salt and pepper. In a bowl, beat the water, egg, flour, baking powder, and lemon flavouring.
Coat the fish in the batter, then cook in a preheated air fryer at 200°C for 14–16 minutes – it's important that the air fryer is piping hot as the fish goes in. Check after 10 minutes to ensure nothing burns – mine usually takes 15 minutes.
While the fish is frying, combine all the sauce ingredients in a bowl and prep your filling ingredients.
Assemble the tacos with the fish, salad, and guacamole and top with the sauce.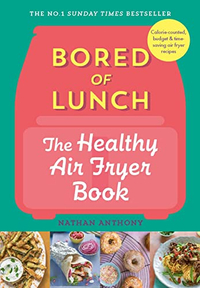 Bored of Lunch: The Healthy Air Fryer Book by Nathan Anthony (Ebury Press, £18.99) Photography by Clare Wilkinson
Top tips for making air fryer fish tacos
"I absolutely love tacos, and given my choice of filling, I'll always go with cod. These are simply gorgeous and feel so fresh with the zesty lemon and lime flavours. You can really play around with this recipe – change the protein, add mango or chilli, make them totally veggie – the possibilities are endless," says Bord of Lunch cookbook author Nathan Anthony.
You might also like...
Blogger and cookbook writer
Nathan Anthony is a home cook and the no.1 bestselling author and creator of the hit food platform Bored of Lunch. His Bored of Lunch cookbooks include both popular air fryer, and slow cooker recipes that you can make at home. Nathan set up his food blog during lockdown to encourage people to eat a little healthier and get cooking their own home meals. He's a popular home chef with over 1.3 million followers on Instagram and can often be seen on ITV's This Morning.