Deliciously sweet bites of French toast cooked quickly in the air fryer in just 10 minutes.
You've never had air fryer French toast like this before. Bored of Lunch: The Healthy Air Fryer Book cookbook author, Nathan Anthony, has used sourdough in this recipe, but you can use whichever bread you prefer. He has also drizzled the French toast in Biscoff spread before serving but Nutella or simply melted chocolate would work just as well.
Ingredients
1 good sourdough loaf or bread of your choice
2 eggs, beaten
200ml milk
1 tsp vanilla extract
1 tsp ground cinnamon
low-calorie oil spray
1 tbsp caster sugar
2 tbsp smooth speculoos spread (Biscoff)
Method
Cut up the sourdough or bread of choice into chunks – you can get rid of the crust if you prefer it softer.
Combine the eggs, milk, vanilla, and cinnamon. Dip the bread chunks into the mixture to lightly coat, shake off the excess, then spray really well with the low-calorie oil and air-fry at 190°C for 6–7 minutes.
Once cooked, sprinkle with the sugar.
Melt the Biscoff spread in a microwaveable bowl in the microwave for 50–60 seconds, then drizzle over the toast bites.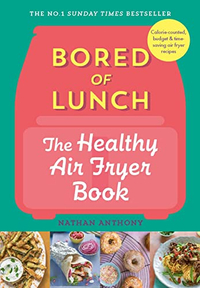 Bored of Lunch: The Healthy Air Fryer Book by Nathan Anthony (Ebury Press, £18.99) Photography by Clare Wilkinson
Top tips for making air fryer French toast
"I dread to think just how many times I have made French toast, it's probably beyond normal, and I'm ok with that. I do change up the sauce for these – you can just use a chocolate hazelnut spread or even a berry compote instead of the speculoos if you want to take your French toast to a whole new level," says Bored of Lunch cookbook author Nathan Anthony.
You might also like...
Blogger and cookbook writer
Nathan Anthony is a home cook and the no.1 bestselling author and creator of the hit food platform Bored of Lunch. His Bored of Lunch cookbooks include both popular air fryer, and slow cooker recipes that you can make at home. Nathan set up his food blog during lockdown to encourage people to eat a little healthier and get cooking their own home meals. He's a popular home chef with over 1.3 million followers on Instagram and can often be seen on ITV's This Morning.