These easy banana oat bars are the perfect snack before or after a workout and could also be enjoyed at breakfast.
Flapjacks are usually very calorific but our banana oat bars use many of the same ingredients and come in at just 199 calories per portion with 1.5g saturated fat. They are easy to make ahead and will store for a week in an airtight container so you can have a little sweet treat every day.
Ingredients
275g (10oz) rolled porridge oats
1 banana, peeled and thinly sliced
2 small plums, stoned and cut into small pieces
25g (1oz) dried apricots, chopped
25g (1oz) sultanas
225g (8oz) spread e.g. Lighter Spreadable
175g (7oz) demerara sugar
75g (3oz) golden syrup
Method
In a large bowl combine the oats, banana, plums, apricots and sultanas.
In a small saucepan place the butter, sugar and syrup and melt gently together over a low heat.
Pour the melted syrup mixture into oats and stir together until all ingredients are evenly coated.
Spoon into a non-stick or greased and lined tin (30 x 20cm tin) and flatten out mixture until smoothed into all the corners of the tray.
Place in a hot preheated oven at 160C (140C fan, Gas 3) for 25-30 minutes, or until the mixture is golden brown.
Allow to cool a little, then mark the surface into portions. Once the bars are completely cool, remove from the tin and cut into squares.
Top tips for making banana oat bars
Our oat bananas are very easy to make but if you would like advice on how to store them or when best to eat them we have plenty of information below.
How many calories in a banana oat bar?
If you use our recipe, each banana oat bar is 119 calories. There is 1.5g saturated fat which is also considered low. This makes our bars a tasty, healthy treat which will also satisfy your sweet cravings.
How long do banana oat bars last in the fridge?
The bars can be stored at room temperature in an airtight container for around a week. If you store them in the fridge they will have a firmer, drier texture but may last a couple of days longer.
What is the best time of day to eat bananas?
You can enjoy bananas in the morning for a healthy, sweet snack that will provide a stable release of energy throughout the rest of the day. You can eat our banana oat bars for breakfast too or enjoy them as a snack in the afternoon when you need a little boost in energy or you are craving something sweet. Ripe bananas are high in soluble fibre which helps sustain a healthy digestive system.
For this recipe we suggest using a rectangular tin that it approximately 30 x 20cm. If you don't have one, consider adding this KitchenCraft roasting tin to your kitchen equipment.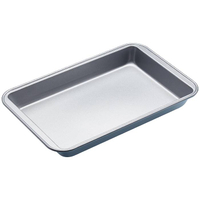 KitchenCraft Roasting and Baking Tin with Non Stick Coating, 31 x 20cm - View at Amazon
This versatile tin is great for baking but could also be used for savoury cooking. The non-stick coating will help ensure the oat bars don't stick and it will make them easier to lift out. We still recommend lining with a sheet of baking paper to assist in the removal process. It will also make washing up a little easier.
This recipe is very similar to our banana flapjacks. For something a little more classic, check out our easy oatmeal bars. You might also like our healthy flapjack recipe which is under 100 calories per portion and makes a great option for breakfast.
Parenting advice, hot topics, best buys and family finance tips delivered straight to your inbox.