This beef and Guinness pie takes 20 minutes to prepare and is 530 calories per portion.
Cooking with a stout such as Guinness gives the gravy to your pie filling a gorgeous colour and rich flavour. It helps to tenderise the meat, as does the nearly two hours of cooking. It's the perfect comforting dinner and can be enjoyed with mashed potatoes or chips on the side.
Ingredients
3 tbsp plain flour
500g braising steak, cut into bite-sized chunks
2 tbsp olive oil
300g pack shallots
2 sticks celery, chopped
330ml bottle Guinness or stout
Hot beef stock
2 bay leaves
190g shortcrust pastry sheet
Method
Season the flour in a bowl, add meat and coat. Heat oil and brown meat. Set the meat to one side, then brown shallots. Add the celery and cook for 2 minutes.
Return meat to the pan and add stout. Top up with some hot beef stock until the meat and vegetables are submerged.
Add the bay leaves, bring to boil then simmer for 1 hour.
Transfer the filling to your pie dish and leave to cool a little. Meanwhile, heat the oven to 200C (180C fan, Gas 6).
Roll out the pastry and cut out a lid for the dish, plus two long strips. Brush the rim of the dish with milk and press the strips around the edge. Brush with milk and put the pie lid on top. Use the prongs of a fork to seal the pie edges neatly and use a sharp knife to make a hole in the centre.
Cook in the centre of the oven for 40-50 minutes until the pastry is golden and puffed up and the filling is piping hot.
Top tips for making a beef and Guinness pie
If the stout flavour is too strong, you could swap for an ale instead. If you'd prefer not to use alcohol, replace it with the same quantity of fresh beef stock.
What to eat with steak and Guinness pie?
Mashed potatoes are an excellent choice but for an Irish twist, why not serve the pie with Colcannon. It's buttery mashed potatoes with cabbage mixed through. You could also serve the pea with some steamed carrots and peas to boost your veg intake for the day.
How many calories in a beef and Guinness pie?
Our recipe for beef and Guinness pie is 530 calories per portion. This does not include side dishes such as mashed potatoes or chips.
Can I make beef and Guinness pie in the slow cooker?
You could make the filling for the pie in a slow cooker and then finish in the oven with your pastry lid. This is a good idea to do in big batches and then you can freeze portions for another day. Slow cooker cooking will give you more tender results and is more energy efficient than most ovens.
If you like the idea of making this recipe using a slow cooker, be sure to read food editor Jessica Dady's GreenPan 6L Slow Cooker review.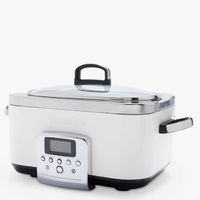 GreenPan Slow Cooker, 6L, Cloud Cream - View at John Lewis
Reliable and multi-functional, this slow cooker can help you cook large family meals or bulk cook for more affordable meals. It can also function as a steamer and can keep food warm for a long period of time too.
Try the Hairy Bikers steak and ale pie if you like this pie. You might also like our chicken pie recipe or this turkey and mushroom pie.