Our blackberry flapjacks are moist, juicy, and incredibly moreish. They are best made when blackberries are in season from late August to October but you can use frozen berries if needed.
Any flapjack recipe can be used to make a wonderful afternoon snack but we think these blackberry flapjacks make an excellent dessert. If you bake them in late summer, or early Autumn and you're lucky enough to forage your blackberries, the satisfaction levels will be even higher when they come out of the oven!
Ingredients
300g (10oz) eating apples, peeled, cored and diced
397g can ready-made caramel
200g (7oz) porridge oats
2tsp cinnamon (optional)
300g (11oz) fresh or frozen blackberries or forest fruit mix
For the crumbly topping:
55g (2oz) porridge oats
15g (½oz) butter, finely cubed
55g (2oz) toasted flaked almonds
Method
Heat the oven to 180C (160C fan, Gas 4). Prepare a square or rectangular tin with baking paper. We usually use a 20cm square tin.
Tip the peeled, cored and diced apple into a saucepan with 6tbsp of water, cover with a lid and cook until soft. This will take around 5-6 minutes.
Drain the excess water and puree in a blender or mash with a potato masher.
Tip 200g (7oz) of the oats and the cinnamon into a large bowl and add the cooked apple and two-thirds of the caramel. Mix well.
Spread two-thirds of the oat mixture onto the base of the prepared tin and push into the corners with the back of a spoon for a completely smooth layer.
Scatter the blackberries on top of the base. Beat the caramel in the can to get a runnier consistency then drizzle over the berries.
To make the crumbly topping: add 55g (2oz) oats to the remaining mixture in the bowl and mix well. Using your fingers rub in the butter until everything is combined and resembles a topping you would use on an apple crumble. Add the almonds and stir together.
Dot the final oat mixture over the berries and press down slightly to stick all the layers together. Bake for 25-30 minutes until golden brown. Leave to cool completely before cutting into squares.
Top tips for making blackberry flapjacks
For ideas on how to serve blackberry flapjacks as a dessert or how to prepare them ahead, we have lots of tips below. We also have advice if you want to make the recipe suitable for vegans.
How can you prepare blackberry flapjacks ahead?
You can bake blackberry flapjacks completely ahead, even if you want to serve as a dessert. Keep the flapjacks at room temperature and then serve with warm custard for something comforting. If the weather is hot you might prefer the combination of yogurt, ice cream or clotted cream.
If however, you'd like to serve the blackberry flapjacks hot from the oven it's possible to assemble each element separately and then assemble and bake when you're about 30 minutes from being ready to serve. The apple puree can be made ahead and you can split the oat mixtures too.
We recommend leaving the assembly until the last minute otherwise the berries could leak too much into the mixture and will ruin the satisfying distinctive layers. That being said, the flavour won't be affected at all; it's purely from a presentation perspective.
What can I use instead of blackberries?
If you can't get hold of fresh blackberries feel free to substitute with frozen. It's best to thaw them out before using otherwise they will add too much liquid to the flapjacks and create a soggy bake. You could also use a frozen mix of forest fruits which often includes berries like blackcurrants, cherries and raspberries.
How can I make vegan blackberry flapjacks?
To make this recipe suitable for vegans, swap the butter in the oat topping for a plant-based alternative or coconut oil. You can also now buy a vegan version of Carnation's condensed milk tins from most big supermarkets. Use this to make a homemade vegan caramel sauce.
If you would like to serve these flapjacks as a dessert, consider baking them in a dish which is attractive to bring to the table. Then you can bring the hot flapjacks from the oven, place the dish in the middle of the table on a heatproof mat and everyone can help themselves. Food writer Jessica Ransom likes this one from Le Creuset as it can also be used for other recipes like tray bakes or even serving your roast potatoes in for a Sunday lunch.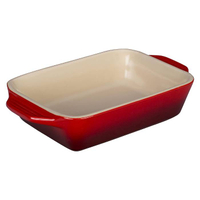 Le Creuset Stoneware Shallow Rectangular Dish 18cm - View at Amazon
This timeless stoneware dish comes in an attractive graduated red colour and has handles on either side for ease when putting in and taking out of the oven. Be sure to grease the dish to make it easier to spoon the flapjacks out but there is no need to line with baking paper. The dish is dishwasher safe so if there are any stubborn bit stuck to the side, they should be washed away when you put it in for a cycle.
For another flapjack recipe with added fruit, check out our banana flapjacks or if you're baking during British apple season be sure to try our apple flapjacks. This healthy flapjack recipe is also a good low calorie option which can be enjoyed at breakfast or throughout the day for a boost in energy.