This bonfire cake is the perfect treat if you're hosting a fireworks night party and it takes just over an hour to make.
We've made our own buttercream and chocolate sponge cake but you could use ready made versions if you're short on time and then use our recipe to perfect the decorations. If you can't find chocolate Matchmakers you could use pretzel sticks to look like wood logs instead. They will add a delicious flavour to the mix too!
Ingredients
200g caster sugar
200g butter, softened
1 tsp vanilla
4 eggs, lightly beaten
200g self-raising flour
1 tsp baking powder
75g cocoa
For the buttercream:
250g butter, softened
650g icing sugar
2 tbsp cocoa powder
To decorate:
6 each red, orange, yellow hard-boiled sweets
Matchmakers or similar chocolate sticks
Method
Heat the oven to 180C (160C fan, Gas 4). Grease and line two 20cm cake tins.
In an electric mixer beat the sugar, butter and vanilla together until light and fluffy. Add the eggs one at a time until combined. Sift in the flour, baking powder and cocoa and beat again briefly until just combined.
Divide the mixture between the cake tins and bake for 25 minutes, or until cooked-through and springy to the touch. Leave to cool for five minutes before removing from the tins and allowing to cool fully.
For the buttercream, beat the butter until soft. Add the icing sugar and cocoa and beat until smooth.
To make the boiled sweet flames line an oven tray with baking paper. Crush the sweets in a sandwich bag, using a rolling pin. Sprinkle onto the baking tray in a few mounds and bake for 2-3mins, until just melted. Remove from the oven and work quickly, using a cocktail stick, drag out the edge to create flame. Leave to cool, then peel off the paper.
To assemble the cakes, fill and cover with buttercream. Pile the Matchmakers on top and arrange your 'flames' around the edges.
Top tips for making a bonfire cake
It's that time of year, when kids are wondering who is Guy Fawkes and you're wondering how to make a cake more seasonal and fun. If you want to make this further in advance, you can freeze the ready-made sponges. Simply allow each sponge to cool fully then wrap twice in clingfilm. When ready to use, defrost overnight, ice and serve. Continue reading for more tips and advice.
What are the best sweets to use for the flames?
Any clear boiled sweets will work for this. Ideally you want a sweet that is translucent and you can see clearly through, to give the best flame effect. We've used Fox's Glacier Fruits as well as own brand supermarket boiled sweets before.
How can I make my bonfire cake flames look realistic?
Some tutorials recommend making large pieces of candy flames and breaking them up into shards, but we found the effect is better if you try to shape the candy before you melt it and as it cools. That way you can get realistic 'licking' flames. Don't worry if some bits break off as you remove the paper - they won't show on the finished cake.
What is the cake for Guy Fawkes night?
Traditionally Parkin cake is enjoyed on bonfire night. It is a lightly spiced cake from Yorkshire with oatmeal and molasses for a rich, caramel flavour.
If you'd like to introduce some of those flavours into our bonfire cake, you could add 1-2tsp ground ginger to the sponge and buttercream. You could also compliment it with some ground cinnamon. You might also like to include a drizzle of molasses in the buttercream for a deep, rich colour and flavour.
It's best to use an electric mixer or stand mixer to beat the sugar and butter for the cake batter and to soften the butter for the icing. It's much quicker than doing it by hand and means you can do a little clean down while you wait for it. Check out this KitchenAid Stand mixer review by food editor Jessica Dady.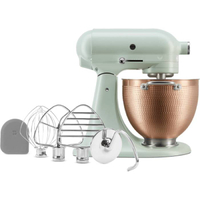 KitchenAid Mixer Design Series 4.7l Blossom Artisan - View at KitchenAid
You'll look and feel like a professional baker while using this chic stand mixer. We love the combination of colours but there are plenty more to browse if this doesn't fit in with your kitchen interior.
If you'd prefer a smaller bake, try these Bonfire cupcakes or browse some more of our Halloween food ideas here. We also have a guide on what to do with leftover pumpkin to help ensure food waste is at a minimum.
Parenting advice, hot topics, best buys and family finance tips delivered straight to your inbox.