This giant rainbow cupcake is a real showstopper, with nine rainbow layers hidden inside a huge cupcake.
Unlike a lot of giant cupcake recipes, you don't need a special mould for this cake. You simple bake the layers separately and carve them into shape to create the tiered centre of the cake. This is a great cake to try if you fancy a fun challenge - the payoff when you do the reveal is more than worth the effort. It makes a brilliant occasion cake, for a special birthday or celebration. It cuts into 8-10 tall slices, so that everyone gets a full rainbow effect, and some chocolate fingers, too.
Ingredients
510g caster sugar
510g softened butter
510g self-raising flour
9 eggs
7½ tbsp milk, room temperature
3tsps vanilla extract
2¼ tsp baking powder
For the reduced-sugar buttercream:
480ml milk
120g plain flour
Pinch of salt
220g vegetable fat
220g unsalted butter
440g caster sugar
2 tsp vanilla extract
Rainbow food colours
For the decoration:
3 packets of chocolate fingers or Kitkats.
Rainbow sprinkles
Coloured sweets to decorate
You will also need:
3x 7inch sandwich tins
Greaseproof paper
Piping bag with a star tip
Bread/sharp knife for carving
Method
For the cakes: Preheat the oven to 180°C/350°F/Gas Mark 4 and grease and line the cake tins. You need to make 9 separate coloured sponges so you can reuse 3 tins 3 times or whatever suits the number of tins you have.
For 3 tins worth of mixture, divide the ingredients in 3. Cream 170g of the butter and 170g of the sugar until light and fluffy. Add one egg and roughly a third of the 170g of flour and beat; repeat until all the 3 eggs and flour have been mixed. Add ¾ of a teaspoon of baking powder and mix. Add a few drops of vanilla and mix again. This should give you 660g of batter. Divide the batter into 3 bowls and colour.
Bake in the oven for 15 minutes. Remove and cool in the tins for 10 minutes before turning out onto a wire rack. Repeat twice more until you have 9 layers of coloured sponge.
Wrap the sponges individually in cling film and pop in the freezer for 1 hour. This makes the sponge easier to carve.
For the buttercream: Whisk the flour and salt into the milk in a small saucepan and heat gently over a low heat until you have a smooth ball of mixture. Don't worry if it has lumps, just pop it through a sieve. Leave it to cool, then pop it in the fridge for half an hour.
Beat the other ingredients together in a large bowl with an electric whisk until light and fluffy. When the flour mix is cold, add it to the rest of the ingredients spoon by spoon, continuing to beat the mixture with the electric whisk while you drop it in.
Beat for a few minutes until smooth and shiny. If you can still feel the sugar when you test a bit you'll need to beat some more and keep beating until it's smooth and has the texture of whipped cream.
To assemble and decorate: Cut a 6'' and 5'' circle from greaseproof paper.
Stack the 4 bottom coloured sponges in the opposite way you would like them to display – with the bottom colour at the top. Place the 6'' circle on the top of the sponges and cut away from the edge of the circle in a diagonal line to the furthest outside edge of the cake to get the curve of the base, this is called tapering. Flip the sponges so the smallest one is now at the bottom and sandwich together with a thin layer of raspberry jam and buttercream.
Place the top 5 sponges in the order you would like them to display (no need to flip here) and repeat the process with a 5" circle. Sandwich the two sections together with raspberry jam and buttercream.
Top tip for making this giant rainbow cupcake
Don't throw the trimmed sponge away, you can make rainbow cake pops or just have it with custard.
You might also like...
Parenting advice, hot topics, best buys and family finance tips delivered straight to your inbox.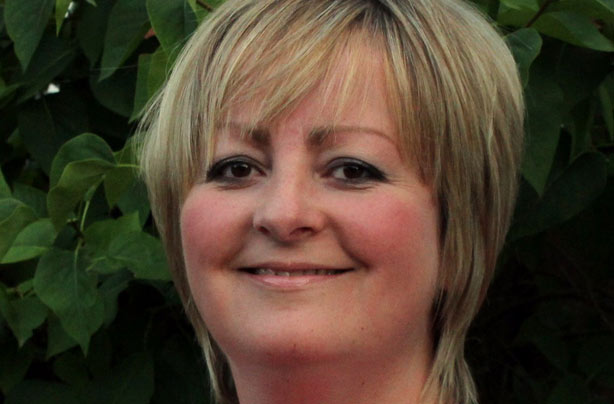 Victoria Threader is 'the queen of cupcakes' and a contributing Recipe Writer at GoodTo. Not only can she bake delicious cupcakes, she can decorate them too - with each of Victoria's cupcakes topped with handmade edible toppers. Some of her most popular cupcakes include: rainbow cupcakes, hidden shape cupcakes and even giant cupcakes.