Goose fat roast potatoes are popular at Christmas but they are delicious at any time of year. This easy recipe takes an hour 20 minutes to make and serves 10.
If you love crispy roast potatoes, you're going to love this recipe. Goose fat gives the potatoes a wonderful rich flavour without compromising on a fluffy inside and crunchy exterior. The recipe couldn't be easier as you need just two ingredients and a generous sprinkling of salt for seasoning.
Ingredients
2kg (4½lb) large potatoes for roasting (eg, Maris Piper, King Edwards, Desiree or Kestrel), peeled and cut into chunks
4 tbsp goose fat
Method
Put the potatoes into a large pan of cold water, bring to the boil and then cook for 8 minutes until tender. A cutlery knife should easily be inserted into the outer 1cm of the potato. Drain well, keeping the water for cooking the other vegetables or making the stock for the gravy later on. Steam dry for a couple of minutes.
Meanwhile, set the oven to 200C (180C fan, Gas 6). Spoon the goose fat into a large, shallow roasting tin and put in the oven for at least 10 minutes to heat up.
Put the drained potatoes back in the pan, place over a medium heat and shake the pan to "rough up" the edges (this will help them turn nice and crispy in the oven later on.)
Carefully tip the potatoes into the hot fat in the roasting tin and turn them so that they're nice and evenly coated in fat. Roast for 30 minutes, then turn them and cook for a further 30 minutes or more, until they're nice and crisp.
Top tips for making goose fat roast potatoes
Always heat the fat and the roasting tray before you add the parboiled potatoes to it. This is non-negotiable for perfect crisp roasties.
Can you prep goose fat roast potatoes ahead?
You can parboil and fluff up the potatoes ahead. Allow to cool then place on baking tray that fits in your freezer and is lined with baking paper. Arrange the potatoes in a single layer and freeze until solid. Once solid, transfer to a freezer bag for easy storage. Cook within a month.
They can be cooked from frozen. Simply put the potatoes straight into the hot oil and cook as per the original recipe. They will take a little longer to cook, approx 1 hour 30 minutes total.
Do you need to parboil potatoes before roasting?
Parboiling potatoes for 5-7 minutes before roasting will help give them crisp, golden outer layers. If you skip the parboiling, your roast potatoes will likely be tougher and less crunchy.
Why is goose fat so good for roast potatoes?
Goose fat has a lovely smooth feel and a high smoke point, both of which make it idea for roasting potatoes to just the right level of crispiness. It has subtly richer flavour than olive oil which really suits a roast dinner.
What are the best potatoes for roasting?
Maris Piper and King Edward are the best varieties for making roasties, with Desiree coming in third. These are what are known as 'floury' or 'starchy' potatoes. White potatoes are cheaper and will still make good roasties if you parboil them until the are just fluff-able on the outside but holding their shape still in the middle, and give them a good shuddering in the pan before you toss them in hot fat to roast them.
Waxy potatoes (salad potatoes, Charlotte, new potatoes, Jersey Royals, Maris Peers) are not as good for roasting. That's not to say you can't cook them in this way. They will still cook - and taste nice - you just won't get that crisp edging and fluffy centre texture that epitomises the perfect roastie.
For this recipe you need a large baking tray. We recommend a non-stick one as it's easier to clean and will ensure none of your roasties get left behind.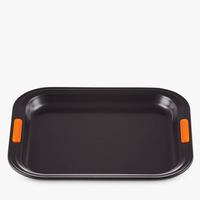 Le Creuset Non-Stick Oven Tray, 31cm, Black - View at John Lewis & Partners
This 31cm baking tray is ideal for ensuring your potatoes are all in a single layer. The wide rim makes it easy to take in and out of the oven and it's deep enough to ensure the hot goose fat doesn't overspill.
For something a little different, try these roasted sweet potatoes. You might also like our garlic roast potatoes or for something zesty these lemon roast potatoes are delicious.
Parenting advice, hot topics, best buys and family finance tips delivered straight to your inbox.