This easy lemon sponge pudding takes 20 minutes to prepare and can be steamed ahead if you like.
A subtle twist on our lemon pudding. Hugh Fearnley-Whittingstall's version uses brown sugar for a subtle caramel-flavour. He says: 'We love the way the lemon and sugar mixture forms a sweet but tangy goo at the bottom, which then becomes the top of the pud. Fridge-cold double cream is a must.'
Ingredients
Finely grated zest and juice of 2 lemons
25g light muscovado or soft brown sugar
100g unsalted butter, softened
100g caster sugar
2 medium eggs
100g self-raising flour, sifted
Method
Generously butter a 850ml pudding basin. Stir together the juice of 1 lemon and the brown sugar until the sugar dissolves, then tip it into the basin.
Cream together the butter, lemon zest and caster sugar until very light and fluffy. Beat in one egg at a time, adding a spoonful of flour with each, then fold in the remaining flour. Finally stir in the rest of the lemon juice.
Spoon the mixture into the basin. Tie a double layer of buttered foil or baking parchment, buttered side down, over the top of the basin. Stand the pudding on a trivet inside a large saucepan. Pour in boiling water to come about halfway up the side of the basin, then cover the pan and bring to a very gentle simmer. Steam for 2 hours, topping up the boiling water a couple of times along the way.
Remove the foil and loosen the edges of the pudding with a knife. Place a plate on top, then invert the plate and basin and un-mould the pudding. Slice up with a large spoon and serve piping hot, with chilled double cream, if liked.
Top tips for making lemon sponge pudding
The lemon juice and sugar mixture will rise up the side of the basin - don't worry about this, and don't attempt to stir it in with the batter, it is what creates the delicious lemon topping of the pudding. Un-mould the pudding at the table and let everyone enjoy the moment the sauce trickles down the sponge like hot lava. For more tips on how to serve or cook this pudding, read our tips below.
How do you microwave a lemon sponge pudding?
If you steam the pudding in a pan of water ahead, you can then microwave to reheat and serve. Alternatively, to cook the pudding only in the microwave, make sure your pudding basin is microwave safe. Assemble the pudding as per the recipe but don't love it with foil. Instead use a scrunched sheet of greaseproof paper and secure it with some string. Don't tie it too tight as the pudding will expand. Cook in the microwave on a medium heat for around 12 minutes.
Can I make lemon sponge pudding with oranges?
Yes! You can flavour the pudding with orange if you prefer. Depending on how juicy the orange is you may only need half as they are a little bigger than lemons. You can also use a combination of lemon and orange if you like.
Can you eat lemon sponge pudding cold?
We don't think it's as tasty but once the pudding has been steamed it is perfectly fine to eat cold. Consider serving with some warm custard. You could also use leftover sponge for the base of a trifle if you like.
With this pudding there is an opportunity for some at table theatre as you un-mould it. Make sure you use an attractive serving plate to do your dessert justice!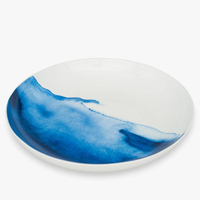 Rick Stein Coves of Cornwall Constantine Bay Serving Dish - View at John Lewis
This stunning plate will make your lemon sponge pudding look even more impressive. It is the perfect size for sharing desserts but can also be used to serve crisps and dip or other party nibbles. It will also look nice simply displayed on the side when you're not using it.
You might also like our lemon cake pudding which has blueberries in it. Another comforting option which is great on a cold evening is our clever lemon self saucing pudding. If you'd prefer a classic bake, Mary Berry's lemon drizzle cake is a no-brainer.