This treacle cake is rich and indulgent. It looks impressive but is surprisingly easy to bake and using a bundt tin instantly makes it look more professional.
The sweet sticky sponge of this treacle cake is very satisfying and we love the nuggets of crystallised ginger on top although they are totally optional. For the most attractive results we recommend baking in a bundt tin but a regular cake tin will also work.
Ingredients
250g butter
250g dark muscovado sugar
150g golden syrup
100g black treacle
275ml milk
2 large eggs, lightly beaten
375g self raising flour
1tsp bicarbonate of soda
2tsp ground ginger
For the drizzle:
250g icing sugar
3tbsp limoncello
Juice and zest 1/2 lemon
60g crystallised ginger, finely sliced
Method
Heat the oven to 160C (140C fan, Gas 3). Grease a 2.5 litre bundt tin with some butter or a flavourless oil. Heat the butter, sugar, syrup and treacle in a saucepan for about 5 mins until the sugar has dissolved and the mixture is smooth. Stir in the milk, then allow to cool a little before you beat in the eggs.
Mix the flour, bicarbonate of soda and ground ginger together in a large bowl and make a well in the centre. Pour the melted treacle mixture into the well, then gradually draw the dry ingredients into the wet with a wooden spoon, until you have a thick, smooth batter.
Pour the batter into the prepared tin and bake for 50 minutes or until risen, firm and a metal skewer comes out clean when inserted. Leave the cake to cool in the tin for 20 minutes, then turn out onto a cooling rack to cool completely.
To make the drizzle, sift the icing sugar into a bowl and add the limoncello, lemon juice and zest, stirring until smooth and thick. Drizzle over the cool cake and scatter with the crystallised ginger as you go.
Top tips for making treacle cake
This cake is wonderful and moist and will last for a few days after baking without drying out. Just make sure you store it in an airtight container. If you have to slice it to fit in your container that's fine but it will dry out quicker. If you're thinking of making this recipe but feel unsure about the purpose of treacle and whether it's worth buying a jar, read our tips below to help make your mind up.
What does treacle do in cakes?
Treacle adds a wonderful rich flavour to your cakes and bakes. It is very sweet but has a caramel-like intensity. It also keeps your cake lovely and moist. This recipe uses two types of treacle, golden syrup and black treacle.
Is Lyle's black treacle the same as molasses?
Lyle's is one of the most famous treacle brands but lots of supermarkets sell their own-brand tin or tube treacle. Lyle's black treacle is made using a combination of cane molasses and syrup. It can be a good alternative to molasses in recipes but it does have a slightly sweeter taste and is runnier than molasses too.
What can I use instead of limoncello in the icing of this treacle cake?
If you want to keep the icing boozy, consider using gin or vodka. Rum and whisky would also make nice options and if you use one with spicy notes it will compliment the treacle. To make the icing booze-free simply swap for more lemon juice or just use water.
Bundt tins are available in all sorts or designs and shapes. We like this classic style from ProCook as it means you can bake cakes for all occasions.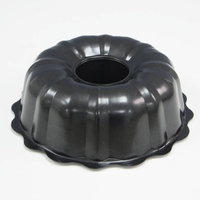 ProCook Non-Stick Ring Cake Tin 24.5cm - View at ProCook
This non-stick ring-shaped tin will give your cake an instant glow-up. The non-stick coating will make it easy to remove the cake from the tin and it can also be washed in the dishwasher.
Our treacle flapjacks are another great bake if you want to use up the tin of treacle or try our treacle and lemon tart for something fancier. Treacle toffee is also delicious mixed into cookiers or packaged as an edible gift. If you'd prefer a quick and easy bake for the afternoon you can't go wrong with our lemon drizzle cake.
Parenting advice, hot topics, best buys and family finance tips delivered straight to your inbox.