Our treacle flapjacks take just 15 minutes to prep and can easily be cut into squares for lunchboxes, picnics or for a convenient afternoon snack.
We have elevated the humble flapjack recipe by swapping golden syrup for its thicker, richer sister - black treacle. It provides a lovely deep colour and an intense sweet, sticky texture. Cookery editor Sue McMahon says regular economy oats work best for this recipe as they help the finished flapjacks stick together better compared to jumbo oats.
Ingredients
250g (8oz) butter
250g (8oz) light soft brown sugar
175g (6oz) black treacle
500g (1lb) rolled oats
Method
Set the oven to 180C (160C fan, Gas 4). Line a 18 x 28cm tin with baking paper.
Cut the butter into cubes and place it in a saucepan along with the soft brown sugar and treacle. Place the pan over a low heat and stir until all the butter and sugar have melted.
Pour the melted mixture into the oats and mix well. Tip the mixture into the lined tin. Spread into an even layer and press it down firmly.
Bake in the centre of the oven for 40-50 minutes, until it's starting to turn a darker colour around the edges.
Remove the tray bake from the oven and mark it into 12-14 fingers, then leave the flapjack to cool in the tin.
When cold, use the lining paper to lift the flapjack out of the tin and then cut or break along the marked lines.
Watch how to make treacle flapjacks
Top tips for making treacle flapjacks
We have some clever tips and tricks to reduce your washing up while making treacle flapjacks. We also help to resolve why your flapjacks may be falling apart and have some easy tips for you to follow next time you bake.
What is the best method for weighing treacle?
Cookery editor Sue McMahon recommends measuring your syrup straight into the saucepan as it is very sticky. Remember to tare the scales before you start pouring the treacle in.
Why don't my flapjacks hold together?
If your flapjacks are falling apart you may not have thoroughly mixed the treacle and butter into the oats. It's also possible that you didn't compact the mixture into the tin enough. Sue recommends using a palette knife to press the mixture into the sides and corners of your tin and to level the flapjacks on top. She suggests using quite a lot of pressure to ensure the oats stick together properly while baking.
How should I store flapjacks?
Flapjacks can be stored at room temperature in an airtight container. They will last for four or five days which makes them an excellent get ahead bake. You can also freeze the cooked flapjacks and then defrost in portions for future consumption.
For this recipe you need to melt butter, treacle and sugar together. A light coloured pan can help you easily see if your mixture is sticking or burning at the bottom of the pan. Food writer Jessica Ransom highly recommends the Le Creuset 3-Ply Stainless Steel Lidded Saucepan.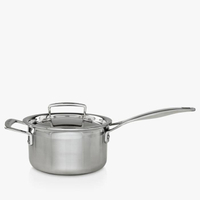 Le Creuset 3-Ply Stainless Steel Lidded Saucepan 16cm - View at John Lewis
We like the 16cm pan but there is an 18cm and 20cm version if you prefer something bigger. The pan is made from stainless steel which looks timeless and chic in any kitchen. The saucepan comes with a lid which is useful when boiling vegetables and you want to speed up the process of the water getting hot enough.
Craving another classic flavour combination? Try our golden syrup flapjacks for another sugar hit. Alternatively, try our chocolate flapjacks for something decadent or our peanut butter flapjacks if you like the taste of peanut butter and oats or it sounds like something you want to try!