Our vegetarian pie is delicious warm or cold and only takes 15 minutes to prepare.
Serve this pie with salad, grilled chicken or salmon or your favourite roast vegetables. Leftovers make a great lunch as it's easy to slice and transport to the office. If you don't like olive tapenade you can swap for pesto or some harissa paste.
Ingredients
2 peppers, deseeded and roughly chopped
2 medium-sized sweet potatoes, cut into 2cm pieces
1 red onion, finely chopped
2 courgettes, roughly chopped
2tbsp extra virgin olive oil, plus extra to brush
200g mushrooms, roughly chopped
250g pack ready-to-eat puy lentils
3tbsp green olive tapenade
Small handful of fresh parsley or oregano, roughly chopped
5 filo pastry sheets, each measuring about 32 x 38cm
Method
Put the peppers, sweet potato, onion and courgettes in a large roasting tin. Toss through the oil and season well. Roast the vegetables in the oven for 15 minutes, turning them to coat. Add the mushrooms and cook for 15 minutes more. Set aside to cool completely.
Rinse the lentils and stir through the tapenade and parsley or oregano. Check the seasoning and gently mix with the roasted vegetables.
Heat the oven to 200C (180C fan, Gas 6). Brush one side of each sheet of filo pastry with oil then arrange, oil-side down, in a 20cm round springform tin, leaving no gaps at the base or sides (let the excess filo hang over the edges).
Spoon the vegetable filling into the pastry and press down firmly to level. Cover the filling with the overhanging pastry, scrunching it up. Bake the pie in the oven for 20 minutes, then unclip and remove the metal rim. Bake for 10-15 minutes more, until deep golden.
Top tips for making a vegetarian pie
Save time and use leftover roasted vegetables for the pie filling. You can also add any beans you like. Cannellini work well and chickpeas add a lovely flavour too. If you have leftover meat you could also shred that and mix it into the filling or keep it vegetarian and include some crumbled feta instead.
Continue reading for tips on how to adapt the recipe depending on the occasion.
How to make vegetarian pie with shortcrust pastry?
If you prefer shortcrust pastry to filo, simply roll out enough pastry to line your tin and create a lid. Or if you don't want a closed lid, you could cut strips of pastry and create a lattice pattern on top. Glaze with some beaten egg or a little milk. Heat a baking tray in the oven and place the tin directly on top when you're ready to bake. This will help the base of the pie to bake evenly.
Why is my vegetarian pie soggy?
If the vegetables in your pie filling are not roasted properly, they might release excess water and moisture and make your pie soggy. Vegetables like courgette and mushrooms have a high water content so it's important to cook them thoroughly before putting in your pie.
Alternatively, you could mix in a little dried couscous to the filling which will absorb the moisture as the pie cooks and bulk out the filling too.
How can I decorate a filo pie?
We think the scrunched filo sheets on the top of the pie look very attractive. For an extra pop of colour and flavour you could sprinkle over some chilli flakes, a pinch of paprika or a generous scattering of sesame seeds before baking too.
We recommend using a 20cm spring form cake tin for this recipe. This will enable you to construct the pie and support it before it's fully baked. Then remove the outside ring for the sides to get some colour and crisp up.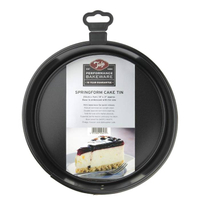 Tala Performance 20cm Springform Round Cake Tin - View at Amazon
Use this professional, quality tin to make sponge cakes such as Victoria Sponge or a classic chocolate cake. Alternatively, you can use it to easily make cheesecakes or even bread.
You could make this chicken pie recipe with meat-free chunks if you want a vegetarian version or we have lots more vegetarian recipes for you to explore. You might also like Simon Rimmers mushroom and Stilton pie, it can make a great dinner party show stopper.