Simon Rimmer's mushroom and Stilton pie serves four people and is under 700 calories per portion.
Mushrooms and blue cheese are a delicious pairing and even meat-lovers will be satisfied. You can add vegetarian-style meat chunks if you like but we prefer to use a mixture of button and portobello mushrooms for the best texture.
Ingredients
For the pastry:
225g (8oz) plain flour
100g (3½ oz) butter
1 egg
A little milk to bind, if needed
Egg wash, to glaze
For the filling:
2tbsp vegetable oil
1 onion, sliced
500g (1lb 2oz) button mushrooms, halved
1tbsp tomato purée
1tbsp soy sauce
1tbsp green peppercorns in brine, drained
250ml (9fl oz) vegetable stock
200g (7oz) Stilton cheese
Method
For the pastry, pulse the ingredients together to form a dough, adding a little milk if needed. Wrap in cling film and chill for at least 30 minutes.
To make the filling, start by heating the oil in a large pan and fry the onion and mushrooms until soft.
Add the tomato purée and cook for 5 minutes, then add the soy sauce, peppercorns and stock, bring to the boil, then reduce heat slightly and cook until the liquid has reduced by half. Season to taste.
Divide the mixture between four individual pie dishes. Crumble the Stilton and divide that between the dishes too.
Heat the oven to 200C (180C fan, Gas 6). Cut the pastry into four pieces and roll into four circles, just bigger than the dishes.
Damp the rim of the dishes with water and cover the pie dishes with pastry, trim the edges and cut a little hole in the top. Brush all over with beaten egg to glaze.
Bake the pies for about 20 minutes until crisp and golden.
Top tips for making mushroom and Stilton pie
Simon recommended serving the pie with mashed potatoes and green beans but you can choose your favourite vegetables. Some people also prefer to have chips or roast potatoes with their pie instead.
How do I bulk out my pie filling?
You could add some parboiled diced potatoes and carrots to the filling. The easiest thing is to increase the mushroom quantity and use a variety of sizes like baby button mushrooms, chestnuts and bigger wild mushrooms too.
What can I use instead of Stilton?
Crumbly blue cheeses work best in the pie because they have a strong punchy flavour and won't melt completely while the pie bakes in the oven. Shropshire blue is an easy substitution and Blacksticks Blue is another good option. Food writer Jessica Ransom also recommends Stitchelton. It's a raw cow's milk blue cheese which is made on the Welbeck Estate in Nottinghamshire.
How can I prepare these mushroom and Stilton pies ahead?
You can make the pastry up to two days before, just make sure it's tightly wrapped in clingfilm. You can also freeze raw pastry and defrost in portions for future use. For the filling, we recommend cooking it up to the end of step three.
Wait for the filling to cool completely then store in the fridge for a couple of days. Add the cheese to the pie dishes just before you want to cover with pastry and bake.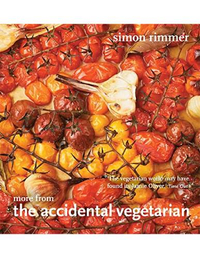 More from the Accidental Vegetarian (Paperback) by Simon Rimmer (Mitchell Beazley, £9.99) - View at Amazon
Taking inspiration from global flavours and cuisines, Simon's book includes tasty recipes such as Hot and Sour Soup and a comforting Banoffee Pie for those with a sweet tooth. There are plenty of options to try depending on the occasion. From entertaining to weeknight meals in minutes, there's something for everyone.
For another meat-free option, try our vegetarian pie. Alternatively our turkey and mushroom pie is hearty and easy or this chicken pie recipe is a good healthy choice.