Bugaboo Fox 3 Review
We asked new mum Grace to put the Bugaboo Fox 3 to the test. What did she think?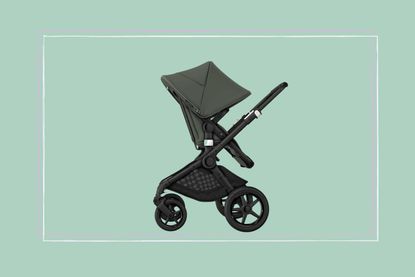 (Image credit: Bugaboo)
'An incredibly manoeuvrable pushchair with a host of clever design features for brilliant and long-lasting usability. It's so comfortable - both my daughter to sit in and for me and my family to use - that I would recommend it without hesitation.'
Reasons to buy
+

Spacious, padded, and extremely comfortable

+

Incredibly easy to steer and push

+

Easy-to-use brake
Reasons to avoid
-

Tricky handlebar retraction

-

Not compact when folded
Grace and her baby tested out the Bugaboo Fox 3.
The Bugaboo Fox 3, which is the newest model of pushchair from Bugaboo following on from the Fox 2, is an all-terrain pushchair with - the brand claims - advanced suspension and ergonomic design. It's suitable for newborns right through to toddlerhood. Read on for the rest of our Bugaboo Fox 3 review to see if it's the best pram for you and your most precious cargo.
Our tester, Grace, who tested the Bugaboo Fox 3 for this review, had high expectations of it based on the fact that it's a top-of-the-range pram with a price tag to match. Happily, it met with her approval almost instantly. 'The first time I take my 10-month-old daughter out in the Bugaboo Fox 3, I have to stop in the middle of the street and message my husband to tell him that it feels like I'm not pushing anything - it's as if it drives itself,' says Grace.
From there, the Bugaboo Fox 3 continued to impress Grace during the testing period for this review. 'I wouldn't change from the Fox 3 now for any reason, and if it got stolen at the play area I would repurchase another,' she says. 'It is so comfortable for both my daughter to sit in and for me and my family to use and manoeuvre. Given this, along with all its clever features and the overall execution, I would recommend it to other mums and dads without hesitation.'
Design
Weighs: 9.9kg | Age: Birth to 4 years
When the Bugaboo Fox 3 arrived with our reviewer, it was sizeable and heavy. Various pieces were wrapped in plastic packaging, though not excessively, and everything was well-padded and securely held in place with foam blocks.
'I roped my husband into the job of unpacking everything, and inside the box, we found the chassis, 4 wheels - 2 small and 2 large - the basket, the canopy, the bar, and various separate pieces to make up the carrycot and the pushchair seat, along with a rain cover with the bag attached so we wouldn't misplace the bag, which I thought was clever,' explains Grace.
'It took quite a while to put together, partly because there were so many parts, and partly because the instruction manual, though clear and well-laid out, relies predominantly on images and diagrams without captions. We ended up looking up a few things on YouTube to save time. Safe to say that assembling it is certainly not something you want to try and do when you're rushing out of the house.'
On lifting out all the pieces, the first thing that struck our reviewer was how sturdy the wheels are, and the second thing was how soft and generously padded the seat unit is is. 'Once it was all together, we sat our 10-month-old into the pushchair attachment and clipped her in - none of the harness pieces need to be fitted together before being secured, which makes life a lot easier,' Grace says. 'Once again, the harness is generously padded in all the right places, and we love how much extra space there is around our daughter's head and shoulders. This is somehow achieved without making the pushchair noticeably wider than our previous one, which had sometimes felt a little cramped in this area.'
The padding and comfort stretches to the carrycot too, which Grace put to the test when a friend with a baby under six months old came to visit. 'In terms of the size and design of the carrycot, we felt that there was the ideal balance between being cosy enough to feel safe without feeling too cramped,' says Grace. 'It's lovely being able to lay the baby down in the pram knowing they'll be comfortable; they even had a snooze!'
Comfort and features
As for features our tester loves about the Bugaboo Fox 3, the first is the variety of sitting positions on the pushchair seat. 'On one end of the spectrum, I can sit my daughter straight up, almost as if she's sitting in a chair, and then pretty much horizontal for naps - plus a couple of extra recline positions between' Grace explains. 'The ability to lean my daughter backward or forwards simply by holding down a white lever at the back of the seat is so appreciated. Some pushchairs require you to go around to the front to lean over and make seat angle adjustments, but with the Fox 3, it's so easy and smooth.'
What about the sun canopy? It's smaller design details like this that are often in a class of their own with a premium pram. 'I love that the sun canopy goes really far over, and if you unzip further it covers ¾ of the pram, which is fab for naps and means you may not need an additional shade or cover attachment for naps,' Grace reports. 'I also really enjoy the design of the brake, which is a button that you press to activate and release. It's not tucked away in the centre under the handle bars as with many pushchairs and prams, meaning it's never hard to reach and doesn't require you to wear suitable footwear!'
There are several other design features that Grace feels combine to make using the Bugaboo Fox 3 such an enjoyable experience. 'Notable are the 'memory buttons' for when you want to lift the pushchair on and off the chassis, the padded leather handlebar that can be adjusted, plus a central wrist strap for extra security,' says Grace. 'I also used this to hang clothes hangers off while shopping - handy! It is also designed with a roomy basket underneath, which you can get items into from tje front, back, and sides - and it can hold up to 10kg so you don't need to worry about overstuffing it!'
As for the downsides, our tester wishes the pram could be folded with the seat unit in parent-facing mode rather than only in the forward-facing position. And while Grace loves how spacious the pram is for her baby, she notes that it does require a reasonable amount of space in your car boot - although it's not overly large or cumbersome to handle. 'But in exchange for that you get ample room for baby and it's still narrow enough to fit down the average shop aisle,' Grace says. 'It is also not lightweight, obviously, but at 9.9kg with the pushchair seat attached to the chassis, it's not ridiculously heavy either. '
The one and only featureour tester found a little bit tricky to use was the clips on either side of the pushchair that allow you to adjust the height of the handlebar. 'Both clips must be undone to allow the handlebar to slide down, but it wasn't entirely smooth to do so, and occasionally I had to adjust the height I had chosen in order to get the clips closed,' she says. 'On the plus side, the fact that the handlebar retracts right down is super useful when you need to save a bit of space, and meant I could easily feed my daughter milk and snacks without a handlebar getting in the way.'
Value for money
It goes without saying that an expensive pram isn't the right choice for everyone. it might be outwith your budget - in which case many other more affordable prams offer lots of similar functionality for a fraction of the price - or perhaps you just prefer not to spend this much on an item like a pram.
But if the Bugaboo Fox 3 is on your wish list and you're scrolling reviews to see if it's really worth the money, we can say with authority that you're not likely to be disappointed if you decide to invest in it. 'The features are so well thought out and perfectly executed along with all the little extras like the side position of the brake, the height adjustable handlebar, the wrist strap, etc,' says Grace. 'There is very little you could do to improve on this pram. It's ideal for someone who wants an easy-to-push and manoeuvre pushchair that doesn't compromise on additional handy features or aesthetics.'
As a parenting specialist for more than 15 years, Heidi has written for most national newspapers and for a wide range of consumer magazines, including Mother & Baby where she was the Shopping Editor for six years, looking after regular consumer features including buying guides and gift roundups.