DockATot Moses Basket Review - our Editor gives it top marks
Read our Editor's DockATot Moses basket review to find out why it wowed her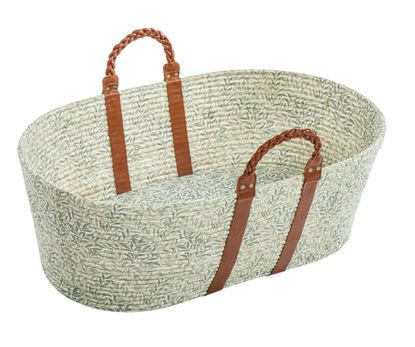 (Image credit: DockATot)
'I live in Walthamstow - the birthplace of William Morris - so I'm very familiar with his designs,' says our Editor, Anna, who was sent this Moses basket (designed in collaboration with renowned British design house William Morris) by DockATot to review with her baby daughter. 'He famously said, "Have nothing in your houses that you do not know to be useful or believe to be beautiful." The DockATot Moses basket is most definitely both.'
Reasons to buy
+

Stunning, timeless design

+

Long-lasting and durable

+

Sustainable and eco-friendly
Reasons to avoid
-

High price point

-

Heavier than most Moses baskets
Why you can trust GoodTo Our expert reviewers spend hours testing and comparing products and services so you can choose the best for you. Find out more about how we test.
Our Editor Anna Bailey and her baby daughter Freddie tested out the William Morris Moses Basket from DockATot.
The DockATot Moses basket is a thing of luxury: make no mistake.
Designed to soothingly recreate the closeness of the womb and provide a safe, comforting place for your baby to sleep from birth, the DockATot Moses basket comes with a coconut coir mattress - carefully selected for its moisture-resistance and non-toxic, eco-friendly properties - which will retain its shape over time.
Design
Dimensions: 31.5" (80 cm) x 19.7" (50 cm) x 11" (28 cm) | Maximum weight: 20 lbs (9 kg)
The woven basket has a chic decoupage-style look and you can choose from a variety of beautiful William Morris prints, designed in collaboration with Morris & Co. Our Editor chose the 'Willow Boughs' design. Should you wish to move the basket from room to room between uses, robust leather handles make it easy to do so.
'I live in Walthamstow - the birthplace of William Morris - so I'm very familiar with his designs,' says our Editor, Anna, who was sent this Moses basket by DockATot to review with her baby daughter. 'He famously said, "Have nothing in your houses that you do not know to be useful or believe to be beautiful." The DockATot Moses basket is most definitely both.'
'The DockATot Moses basket is absolutely beautiful - as well as being a luxurious place for Freddie to sleep, it's a really stunning centrepiece and has taken pride of place in our living room,' adds our Editor and tester, Anna. 'It's a real interior design investment piece.'
While our tester's choice of print - Willow Bough - is colourful, she feels it's also an on-trend neutral look. 'With such a classic, timeless, and elegant design it's perfect for both a modern home and somewhere with more traditional decor,' adds Anna. 'It feels like it would work well with most design schemes. And it definitely has that Instagrammable 'wow-factor'.'


Comfort and features
Anna found the DockATot very spacious compared to other Moses baskets, and satisfyingly sturdy thanks to its heavy base and solid frame. 'It feels pretty cosy, with a thick removable mattress and padded protector - hopefully making Freddie feel very cocooned and safe,' she says.
'Although the sides are woven rattan, they are completely rigid and strong which makes it feel very durable - it'll certainly last for a few years and long enough for a second and third baby if you wanted, or for use as toy storage for many years to come,' Anna adds. 'The leather straps also give it a long-lasting and premium feel.'
On the flip side, the robustness of the DockATot Moses basket makes it one that Anna is less inclined to move from room to room. 'Being so heavy does make it harder to carry up and down the stairs,' she says. 'I couldn't do it one-handed while carrying my daughter at the same time. You'd need to do a couple of trips.'
Value for money
At £450 there's no doubt this is a premium piece of baby gear - but our Editor says it's hard to imagine a more luxurious place for her baby to sleep. 'You're also paying for peace of mind as it feels incredibly sturdy,' Anna explains.
'Built to last, the DockATot Moses basket could easily be used for years to come and passed on to family and friends. I intend to use it as toy storage later on just so I can keep using it. It's so beautiful, I'll really miss it when Freddie outgrows it, so will definitely find another use for it somehow.
The ultimate test of any item of baby gear - is this Moses basket one our tester would recommend to friends? 'On the basis of price, no, they'd think I was insane,' Anna tells us. 'It's beautiful but too expensive for most budgets. However, it's the ultimate Moses basket for style-conscious parents who don't want their home filled with purely functional baby clutter or items that will fall apart after a few months.'
This gets our vote as one of the best Moses baskets (opens in new tab) money can buy - but you might also like to read our best Moses basket buying guide. And don't forget to check out the rest of our baby product reviews (opens in new tab) to help you choose the very best for your baby.
You can also read about how we test and review products (opens in new tab)to find out how we chose the best Moses baskets to feature in our guide.
As a parenting specialist for more than 15 years, Heidi has written for most national newspapers and for a wide range of consumer magazines, including Mother & Baby where she was the Shopping Editor for six years, looking after regular consumer features including buying guides and gift roundups.