ergoPouch Cocoon Swaddle Bag Review
Swaddle your baby the easy (and safe) way with the ergoPouch Cocoon Swaddle Bag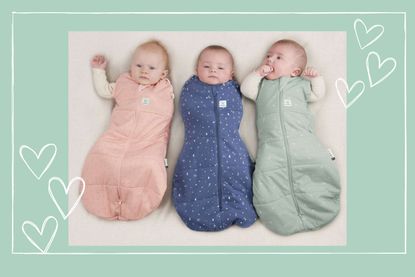 (Image credit: Ergopouch)
"The perfect solution if you want to safely swaddle your baby but don't know where to start. Forget fiddling about with a swaddling blanket at bedtime - this zip-up swaddle couldn't be easier to pop your baby in, plus it's ergonomically-designed, hip-healthy and even tog-rated for warmth. This is swaddling made easy!"
Reasons to buy
+

Tog-rated for the right temperature

+

Soft, breathable, organic fabric

+

Zip-fastening for easy use
Reasons to avoid
-

Keep away from heat and flame (as it's organic, it's not treated with chemical fire retardants)
Why you can trust GoodTo Our expert reviewers spend hours testing and comparing products and services so you can choose the best for you. Find out more about how we test.
We asked new mum (and Editor of Goodto) Anna Bailey to put the ergoPouch Cocoon Swaddle Bag to the test with her baby daughter Freddie. Here's what she thought...
Swaddling is a way of gently wrapping a baby in a breathable blanket to help them sleep. It's an ancient practice that parents have used for centuries and experts say it helps to recreate the sensation of being safely cocooned in the womb.
The ergoPouch Cocoon Swaddle Bags are brilliantly designed to be safe and easy ways to swaddle your baby before sleep - without needing to wrangle with a blanket or worry about the baby wriggling loose.
'I took the ergoPouch Cocoon Swaddle Bag to the hospital with me when I had my daughter Freddie, and I'm so glad I did,' says our Editor Anna Bailey, who thinks it's one of the best baby sleeping bags (opens in new tab) you can buy. 'I had no idea the maternity ward would be so warm, and this lightweight material was perfect. She was totally snug, without being too warm thanks to the 0.2 tog - and she received a lot of compliments from the midwives for her stylish swaddle!'
The ergoPouch Cocoon Swaddle Bags have a zip for easy fastening and for quick nighttime nappy changes - and for ensuring that your little one can't escape.
They're also TOG-rated for warmth to help keep your baby at the right temperature and avoid the risk of overheating. In a room with a temperature between 21-24°C / 70-75°F you can use the 1.0 TOG on its own without the need for any other blankets, making this a safe sleep option for a baby.
The ergoPouch Cocoon Swaddle Bags come with a free room thermometer and 'what to wear' guide included so that you can dress your child appropriately. ErgoPouch also sells a range of TOG-rated Layers and Bodywear that are perfect for dressing your baby underneath the Swaddle Bag.
Design
Star rating: ⭐⭐⭐⭐⭐ | Materials: 55% Organic Cotton / 40% Bamboo Viscose / 5% Elastane | Age: 0-3, 3-6m and 6-12m
The clever thing about the ergoPouch Cocoon Swaddle Bag is that it's made from natural fibre GOTS-certified organic cotton and bamboo - but with a touch of elastane. That means it's brilliant at lightly restricting your baby's startle reflex but there's still plenty of stretch and 'give' in the fabric, allowing for movement and growth. Your baby's chest isn't restricted by the fabric and they can even move their hands into a comfy self-settling position inside the Swaddle Bag.
The natural fibre organic cotton and bamboo fabrics is as soft as can be, but it's also breathable, certified non-toxic, and dyed with water-based dyes so it's suitable for delicate newborn and sensitive skin.
As your baby reaches the rolling stage - or if they prefer to have their arms free of the Swaddle Bag, you can use the arm poppers to release their arms and turn it into a standard sleeping bag.
The ergoPouch Cocoon Swaddle Bag has a distinctive bell-shaped design that promotes proper joint development in the hips and shoulders and has been approved 'hip healthy' by the International Hip Dysplasia Institute.
'Figuring out how many layers to dress Freddie in, which tog sleeping bags and swaddles to use, and at which temperature all felt a bit of a minefield - I was really worried she'd be too hot or cold,' says our parent tester, Anna.
'So I was really glad this came with a room thermometer and a dressing guide. I keep this propped up in her nursery, which has been so handy - and has given me one less thing to worry about while caring for a newborn.'
Comfort and features
With sleepwear to suit every stage of your child's development from birth right up to age six, the whole ergoPouch range is made from premium organic and natural fibres, and is ergonomically designed for comfort. With an ergoPouch, you don't need any additional blankets in your child's sleep environment, supporting safe sleep guidelines.
'Like all newborns, Freddie did the 'startle' or mono reflex a lot - causing her to stretch out her arms suddenly, new mum Anna tells us. 'I noticed when she was wearing other wrap-around swaddles they'd sometimes come loose when this happened and she'd wake up. But, when she was wearing the zipped-up ergoPouch she'd stay wrapped up and settled back down again more quickly.'
Value for money
Overall, the ergoPouch Cocoon Swaddle Bag a brilliant buy if you're preparing for a new arrival and want to make swaddling a doddle. It's the perfect blend between a swaddling blanket and a sleeping bag, taking all the guesswork out of dressing your baby for a sweet (and safe) sleep.

'Freddie is only five weeks old at the moment and is bound to outgrow a lot of her things pretty quickly, but it's great she'll continue to use this as a sleeping bag as she gets older and starts to roll around,' adds our tester, Anna. 'For me, that longevity gives it real value for money.'
As a parenting specialist, Heidi has written for Prima Baby, Gurgle and Practical Parenting and was baby gear editor of Mother & Baby magazine for six years, looking after regular consumer features for the shopping pages as well as specialist consumer content such as buying guides and gift guides.