HALO Ideal Temp Swaddle Review
We asked new mom Joyce Ren and baby Noah to test out the HALO Ideal Temp Swaddle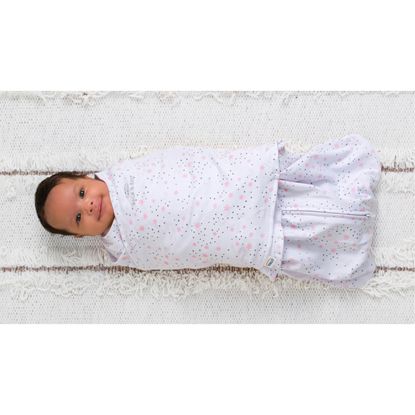 (Image credit: HALO)
'Temperature regulating fabric takes some of the worry out of the newborn days.'
Reasons to buy
+

Temperature regulating

+

Versatile wearing options

+

Easy diaper changes
Reasons to avoid
-

Loud Velcro

-

Fiddly zipper

-

Limited color options
One of the scariest parts of new parenthood can be navigating safe sleep guidelines.

The HALO Ideal Temp Swaddle is made from a temperature-regulating smart textile that promises to reduce the risk of overheating, making it our choice of the best swaddle for newborns. Studies have shown that overheating increases the risk of Sudden Infant Death Syndrome (SIDS), so keeping your baby at a comfortable temperature is vital. The premise is impressive but simple: when the baby gets too warm, the fabric absorbs and stores excess heat. Later, when the baby cools down, the fabric releases the stored heat. Reducing temperature spikes in this way means you can feel reassured and your little one should sleep better.
Our reviewer Joyce thinks the temperature-regulating fabric is a great feature. 'In the early days after bringing Noah home, we were really careful about the temperature – we had thermometers in every room of the house,' she says. 'So this kind of swaddle makes sense a lot of sense with a newborn.'
Design
Size: newborn or 3-6 months | Fabric: polyester-rayon blend with 'Intellithread' technology
Here's a swaddle featuring exceptionally strong velcro panels – perfect for little escape artists who love to find a way to wiggle their arms free. In fact, many moms online credit the HALO with being the only swaddle capable of keeping a mini-Houdini's arms in place.
Although Joyce appreciated the velcro's sturdiness, she felt it was almost too strong. 'Because the swaddle velcros together on the outside, it takes BOTH of my arms to un-velcro it in order to lay the baby in, which can be tough because sometimes I'm holding the baby while getting the swaddle ready,' she says.
Comfort and features
If you find yourself changing diapers in the middle of the night, this swaddle is a great option. The inverted zipper and roomy leg sack mean you can change the diaper without fully unswaddling your baby.
Another perk of this swaddle is its adaptability. 'I really like that the design means it's versatile enough that we can have one arm out for now but both arms out of the swaddle eventually,' says Joyce. 'It means the swaddle can grow with the baby.'
Newborn hips need extra special treatment and plenty of room to move. Reassuringly, the HALO Ideal Temp Swaddle is approved by the International Hip Dysplasia Institute.
Value for money
At $29.99, the HALO Ideal Temp is a mid-range swaddle. Doubling up as a transitional swaddle makes it better value for money, although the sizes (newborn and 3-6 months) mean that the length of wear will be limited.
With Velcro that our reviewer found almost too strong, this swaddle should certainly stand the test of time. Swaddles featuring flimsier Velcro panels don't always survive the regular washes that baby sleepwear necessitates.
HALO makes similarly designed swaddles that retail for around $5 less. But we were impressed by this swaddle's high-tech fabric and think it's worth paying a few dollars more for.
Freelance Contributor (US)
Rosie Hopegood is a journalist, editor, and writer with many years of experience writing about lifestyle, including parenting, for a broad range of magazines and newspapers. Now based in Brooklyn, New York, Rosie has written for Daily Telegraph, Al Jazeera, The Observer, The Guardian, The Independent, Vice, Telegraph Magazine, Fabulous Magazine, Stella Magazine, Notebook Magazine, Saga Magazine, Reader's Digest, Sunday Telegraph, Sunday Mirror, S Magazine, and Stella Magazine. She spent five years on staff at the Mirror, where she was Deputy Features Editor on the magazines team.