Best swaddles 2023 - tried and tested by moms and babies
In search of the best swaddles and swaddle blankets, our panel of tired moms tested out 10 of America's most loved designs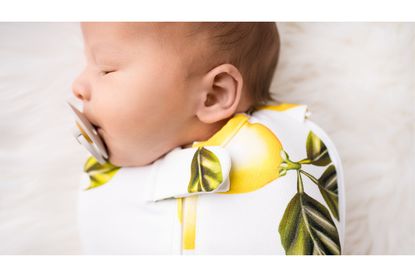 (Image credit: Woombie)
With hundreds of options to choose from, it can seem impossible to work out which is the best swaddle for your baby. And while the nurses on the maternity ward make using classic swaddle blankets look easy, they can be a major faff during an emergency nighttime diaper change. Modern swaddles, on the other hand, feature useful Velcro panels and zips to make bedtime swaddling speedier and easier. So which is the best swaddle or swaddle blanket for you?
To make the choice simpler, we enlisted a panel of new parents to try out ten of the best swaddles you can buy, since sleep-deprived parents can find themselves cycling through different designs in the quest for how to get a baby to sleep. And to make sure we're giving you sound advice, we reviewed the latest guidelines on safe swaddling from the American Academy of Pediatricians and consulted Lindsay Sinopoli, a certified pediatric sleep consultant, lactation counselor, and newborn care specialist. To give you lots of options to choose from, our line-up of market-leading swaddles includes classic swaddle blankets, zip-up swaddles, and 'transitional' or arms-up swaddles for when your baby begins to show signs of rolling.
Best baby swaddles
1. Woombie Grow with Me 5 Stage Swaddle
Best swaddle overall – a quick and easy swaddle that can be adapted and worn for up to 18 months
Specifications
Fabric: Cotton/spandex
Age range: 0-18 months
RRP: $38.99
Reasons to buy
+
Grows with baby
+
Easy on
+
Two-way zipper
Reasons to avoid
-
Expensive
-
Only one TOG option
-
Not the softest fabric
Tested by: Miriam Litvac and baby Gideon, aged 11 weeks.
The clever design of this swaddle means it can be worn for up to 18 months. Once your baby is showing signs of rolling, simply undo the side snap closures and the Woombie becomes an arms0out swaddle. Swaddle becoming a little snug? Just undo the side zips for extra wiggle room. When it's time to switch to a sleep sack, there's a zipper at the bottom that converts the swaddle into a roomy sleep sack for toddlers up to 33 inches tall.
'The Woombie has been a complete revelation for our family,' says our tester Miriam. 'It's the easiest swaddle I've ever used. Simply pop the baby in and zip - you're done! It's even easier than putting on zippered pajamas.'
There's plenty to love about this swaddle. Middle-of-the-night diaper changes are simple, thanks to the two-way zipper. The stretchy but snug cotton-spandex mix fabric allows enough movement to mimic the comforting environment of the womb. Plus there are no Velcro panels to snag on clothes, dig into delicate skin, or get worn in the wash.
At $38.99, the Woombie is a mid-range swaddle, but our tester thinks it's worth its price tag because of its premium features and longevity. 'If you've got a baby like mine who works hard to get his arms out and then cries for you to put them back in (and rinse and repeat), the Woombie is by far the best swaddle of the many brands I've tried,' she says.
---
2. The Ollie Swaddle
The best swaddle with Velcro – a good looking swaddle made from high tech fabric
Specifications
Fabric: spandex/polyester
Age range: newborn to first signs of rolling
RRP: $65
Reasons to buy
+
Grows with baby
+
Easy on
+
Two-way zipper
Reasons to avoid
-
Pricey
-
Only one TOG option
-
Limited designs
Tested by: Lauren Woosey and baby Iggy, aged 14 weeks.
The Ollie Swaddle is the only swaddle featured in our top ten of the best swaddles that doesn't cover the baby's shoulders. This is a bonus as it means it easily converts to a transitional swaddle simply by fastening below the little one's armpits, leaving the arms free.
It took our tester Lauren a few tries to position her baby Iggy correctly, but once he was in place the swaddle was easy to do up with a few sturdy Velcro panels and an elastic loop at the bottom. 'The Ollie takes about ten seconds to do up, although the pace changes depending on how wriggly my baby is feeling,' she says. 'I liked the straightforward, intuitive design.'
Available in five pretty but muted shades, it's an understated but attractive swaddle that seems to be popping up all over Instagram. 'It's definitely a nice-looking swaddle, and the quality feels very good as if it will last a long time,' says Lauren.
The super soft fabric is woven with patented moisture-wicking threads which claim to reduce the risk of overheating. 'It's great that you could use the swaddle year-round because the fabric isn't too thick or too bulky,' says Lauren. 'But it's still substantial enough to keep the baby cozy.'
A major selling point is easy access for diaper changes. Simply undo the elastic loop and open up the swaddle – there's no need to fully unswaddle your baby. Some online reviewers note that they're even able to manage diaper changes on a sleeping baby wearing this swaddle.

This isn't a cheap swaddle by any means, but the design means that you could get a good few months of use from it. In contrast, many of the other swaddles we tested are sized and thus offer a short window of wear. We like that the Ollie Swaddle will continue to fit your baby as they grow.
---
3. Aden and Anais Boutique Cotton Muslin Swaddles
The best muslin swaddle blanket – beautiful multipurpose swaddle blankets in breathable muslin
Specifications
Fabric: 100% cotton muslin
Age range: newborn to first signs of rolling as a swaddle
RRP: $54.95
Reasons to buy
+
Multiple uses
+
Natural material
+
Sweet designs
Reasons to avoid
-
Fiddly
-
Takes practice
-
Less secure
Tested by: Joyce Ren and baby Noah, aged 10 weeks.
Here's a swaddle fit for a newborn photoshoot. Aden and Anais Classic Swaddle Blankets come in the widest range of prints of any of the swaddles we tested. From whimsical animal designs to sweet florals, these are pretty enough to gift even the fussiest of friends - definitely one of the best swaddles for a baby shower gift.
Our tester Joyce, mama to baby Noah, loved the 100% cotton, open weave cloth that features a high thread count. 'The fabric looks really breathable and feels very high quality,' says Joyce. 'I also really like that it's so large – even with my baby weighing 12 pounds, there's still plenty of fabric to swaddle him.'
Old school swaddle blankets like this can take a while to get the hang of, but Joyce was surprised at just how easy it was to use – easier, in fact, than some more modern swaddles with multiple zippers, pouches, and Velcro strips to negotiate.
A bonus to swaddle blankets is their versatility. Pop one in your diaper bag and you have a blanket for impromptu tummy time, for mopping up messes, or simply for keeping baby snug. Aden and Anais' version definitely feels high-end – we like that the blankets had a lived-in softness right away but still felt like they will stand the test of time. Many online reviewers say that their little ones still love their Aden and Anais blankets years after they stopped being used as a swaddle - and our Consumer Editor can vouch for that.
'A friend gifted me an Aden and Anais swaddle blanket when my daughter was born and it literally came everywhere with us from day one,' says Goodto Deputy Editor, baby gear expert, and mum-of-three Heidi Scrimgeour. 'It was amazing for naps and nighttime swaddling and I loved that it doubled as a nursing cover when we were out and about. My daughter became delightfully attached to it and although we've had to replace our original Aden and Anais swaddle blanket a few times over the years, she still snuggles up with it at bedtime almost ten years on!'

Aden and Anais blankets are free from azo chemical compounds and come in fully recyclable packaging. Combined with their heirloom quality, longevity, and versatility, we think this swaddle is a good choice for a sustainable swaddle.
---
4. HALO Ideal Temp Swaddle
The best swaddle for a newborn – a swaddle made from temperature regulating smart fabric that can be worn three ways
Specifications
Fabric: polyester-rayon blend with 'Intellithread' technology
Age range: newborn or 3-6 months
RRP: $32.99
Reasons to buy
+
Temperature regulating
+
Versatile wearing options
+
Easy diaper changes
Reasons to avoid
-
Loud Velcro
-
Fiddly zipper
-
Limited color options
Tested by: Joyce Ren and baby Noah, aged 10 weeks.
Newborn babies, especially those born prematurely or with a low birth weight, can struggle to regulate their body temperature. The HALO Ideal Temp Swaddle is made from a unique textile called Intellithread that can help keep a little one's temperature consistent. When baby is warm, it stores some of the heat. When baby cools, it releases back some of the stored heat. The claim? Sounder, safer sleep.
Our reviewer Joyce, mom to ten-week-old Noah, likes the versatility of the swaddle, which can be worn in a variety of ways. As well as the classic arms-in swaddle, the HALO Ideal Temp can be worn as a transitional swaddle with either one or both arms out for when your baby begins to show signs of rolling. The swaddle can also be worn hands-to-face for babies who like to self-soothe with their thumb or finger.
'My son Noah seemed happy in the swaddle and slept well, napping comfortably for an hour at a time,' says Joyce. But she did find it a bit tricky to get him in and out of it easily. 'Because the swaddle zipper doesn't zip both ways, you need to line up the zipper nicely at the top before pulling down. It takes a few seconds to get lined up correctly, which can agitate Noah and wake him up.'
Although the zipper was a bit fiddly, Joyce appreciated that the inverted design allowed for straight forward diaper changes. Finishing touches such as scratch-free zipper covers and a roomy, hip-healthy leg sack make this one of the best swaddles for newborns.
---
5. Miracle Blanket
The best swaddle for 'Houdini' babies – a zipper and Velcro free swaddle that will keep baby's arms wrapped snuggly
Specifications
Fabric: cotton
Age range: 0-14 weeks
RRP: $29.95
Reasons to buy
+
Holds arms snugly
+
No zippers or Velcro
+
Soft cotton
Reasons to avoid
-
Learning curve
-
Fiddly
-
Hit or miss prints
Tested by: Miriam Litvac and baby Gideon, aged 11 weeks.
With more than two million sold, the Miracle Blanket is a cult baby product. As well as being loved by new parents, the brand also claims to be the number-one most pediatrician-recommended swaddle in the world.
There are no zippers or Velcro panels to snag or dig in. Instead, the swaddle works by containing baby in a cozy pouch, with each arm tucked down in the 'batwing' position and secured with a strip of cloth, then wrapped snugly in a final outer layer.
Our reviewer Miriam, mom to 11-week-old baby Gideon, found it fiddly and time consuming to put on. But once little Gideon was wrapped up, she was impressed with the swaddle's staying power. 'The difficulty of putting it on is definitely a major disadvantage, but if you have a baby who is constantly breaking his or her arms out of swaddles and waking up miserable because of it, this will fix that issue,' she says. 'Since mine has been breaking out of swaddles for a few weeks now, this swaddle really was a miracle.'
We were impressed with the softness of the cotton and liked that the swaddle can be used to wrap baby with arms down, in, or out, as well as hands to heart for self-soothing. The swaddle is available in a wide range of different prints, although some feel a little dated.
If you can get past the fiddle of wrapping your little one, you just might get some extra sleep. Miracle Blanket is so confident that their product is a 'cure' for sleep deprivation, that they offer a money-back guarantee.
---
6. Sleepea Swaddle by Happiest Baby
The best swaddle for speedy wrapping – a doctor designed, five second swaddle made from organic cotton
Specifications
Fabric: organic cotton
Age range: multiple sizes, up to 33lb
RRP: $32.95
Reasons to buy
+
Speedy
+
Organic cotton
+
Quiet Velcro
Reasons to avoid
-
Baby outgrows quickly
-
Pricier
Tested by: Erika Michelle and baby Isabel, aged16 weeks.
Chances are that if you're an exhausted new parent, you've probably heard about the Snoo Smart Sleeper – you may have even been tempted to buy one. The beloved bassinet – essentially a robot rocker that costs well over a thousand dollars – has been a bestseller since it hit the market in 2016. The Sleepea swaddle, from the makers of the Snoo, features an almost identical design to the ones that clip into the bassinet.
The Sleepea was invented by one of America's leading pediatricians, baby whisperer Dr. Harvey Karp (most famous for being the creator of the baby soothing technique the 5 S's). It works by strapping baby's arms down with sturdy Velcro strips, securing them with an additional Velcro panel between the legs, and then zipping baby up in an outer layer with a two-way zipper.
'I'll be recommending this swaddle to all my new parent friends from now on,' says tester Erika. 'I love the coziness of the fabric and the ease of securing the baby in the swaddle. My daughter didn't struggle at any point, and once she was in there was no way for her to 'Houdini' her way out, unlike with some other swaddles we've tried.'
Features that we love include the soft organic cotton and the mesh panels that ensure the baby doesn't get too hot. The two-way zipper means that middle-of-the-night diaper changes are possible, although we've seen better swaddles for diaper access as changes in the Sleepea involve unfastening the Velcro panel between the legs, which naturally slows things down.
---
7. Love to Dream Swaddle Up
The best arms-up swaddle – an arms up swaddle to allow for self-soothing and better sleep
Specifications
Fabric: 97% Cotton, 3% Elastane
Size: multiple sizes, up to 19lb
RRP: $32.95
Reasons to buy
+
Arms up design
+
Range of TOGs
+
Speedy
Reasons to avoid
-
Short size window
-
No transition option
-
Looser design
Tested by: Natalya LaGrange and baby Sasha, 11 weeks.
When babies fall asleep unswaddled, they most likely lie with their arms up above their heads. This is the most natural, comfortable sleeping position for little ones, and comes with the added benefit of hand access for thumb or finger sucking, cheek stroking, and general self-soothing. The Love to Dream Swaddle Up is designed to allow this preferred sleeping position, with the added benefit of gentle swaddling pressure around the torso plus comfy snugness on the arms.
'My baby Sasha slept very well in this position,' says our tester Natalya. 'She seemed to feel very secure and comfortable while wearing the Swaddle Up. I loved the smooth stretchy fabric – it feels like it will wear well and hold up to regular washing.'
This bestselling swaddle is loved by parents of babies who hate having their arms constricted, but still need the comforting snugness of a swaddle. It's won consistently high reviews across sites like Target, Amazon, and Buy Buy Baby, with many parents labeling it a 'life saver' and a 'game changer.'
Perks of the Swaddle Up include a two-way zipper for diaper changes, pleasingly smooth cotton fabric, and a range of sweet designs. Love to Dream also offers one of the widest ranges of TOG ratings we've come across. We also like the straightforward design that features a single zipper and no fiddly Velcro panels or pouches to place the baby in.
---
8. Zipadee Zips Zippy Swaddle
The best swaddle for diaper changes – a swaddle with a roomy leg sack and speedy zip for easy diaper changes
Specifications
Fabric : cotton
Sizes: two sizes, up to 18lbs/25 inches
RRP: $21.95 for one, $37.95 for two
Reasons to buy
+
Fast diaper changes
+
Cheaper
+
100% cotton
Reasons to avoid
-
Less snug
-
Poor stitching
Tested by: Merel Vlasveld and baby Friso, aged12 weeks.
There's nothing like a bleary-eyed, middle-of-the-night diaper change to have you hating a swaddle that seemed great at nap time. Happily, the Zipadee Zips Zippy Swaddle offers the best diaper access of any of the products we tested. With a wide zipper at the base of the swaddle and a generous leg sack, diapers can be changed quickly and easily by simply unzipping and rolling the fabric up.
Our reviewer Merel, mom to 12-week-old Friso, thinks the zip function is the stand-out feature that makes diaper changes a doddle. 'The design is easy to use, and I love that it also leaves plenty of room for the baby to kick their legs,' she says. 'Plus, the fabric is nice and breathable, and I like that it's made of cotton.'
The swaddle is straightforward to use but does require following a few steps. Wrapping up the little one involves holding the baby's arms out of the way and using a thick Velcro waist strap to fasten, then wrapping a wing over and tucking it underneath the baby, before Velcroing a final outer layer. It isn't hard, but it's also not the speediest. At $21.95, this is one of the cheapest swaddles we tried. It's also available in multipacks, so it's one of the best swaddles to choose if you're stocking up on multiple swaddles to allow for spit-ups and blowouts.
If you're looking for a super speedy to wrap swaddle, this probably isn't for you. But if you find yourself changing a lot of diapers, this one promises to make life a lot easier.
---
9. Carter's Little Planet Swaddle Blankets
The best budget swaddle – a two pack of organic cotton swaddle blankets in beautiful prints
Specifications
Fabric: 100% organic cotton muslin
Age range: newborn until first signs of rolling as a swaddle
RRP: $16.95 for two
Reasons to buy
+
Timeless prints
+
Natural materials
+
Many uses
Reasons to avoid
-
Smaller size
-
Not enough stretch
Stock note: similar Carter's swaddles are available at Kohl's.
Tested by: Erika Michelle and baby Isabel, aged 16 weeks.
Pick the right swaddle blanket and you could be using it for years to come. These diaper bag heroes have multiple uses from burp cloths to breastfeeding covers, as well as making excellent good old fashioned swaddle blankets.
At $16.95 for two, these Carter's Little Planet Swaddle Blankets are particularly budget-friendly. They're also part of Carter's newest brand, the more environmentally friendly Little Planet. Carter's sells ten products for every child born in the US, so it's good news that they're now offering more eco-friendly options.
We really like that the minimalist packaging is made from recycled materials and that the blankets themselves can be used long after your baby outgrows the swaddle. Made from 100% organic cotton muslin, they're also gentle on newborn skin. Plus, GOTS certification means that all workers involved in making these swaddles were treated ethically.
For a budget swaddle, they're also surprisingly beautiful and could easily pass for a higher end product. 'These swaddle blankets are very pretty,' says our tester Erika, mom to baby Isabel, 16 weeks. 'I love the prints and patterns, particularly the Botanical Pinks ones I tried out.' We are also fans of the sweet panda print pack and the classic golden orchard designs.

However, Erika did find them to be on the small side, meaning they don't work as well for swaddling bigger babies. At 30" x 40", they're substantially smaller than the Aden and Anais swaddle blankets we also tried (47" x 47").
10. Love to Dream Transition Swaddle
The best transition swaddle – an arms up swaddle with zip off wings for when baby's ready to roll
Specifications
Fabric: 97% Cotton, 3% Elastane
Size: two sizes, up to 24lb
RRP: from $39.95
Reasons to buy
+
Easy transitioning
+
Arms up design
+
Two-way zipper
Reasons to avoid
-
Could lose zip off wings
-
Pricey
Tested by: Natalya LaGrange and baby Sasha, 11 weeks.
Transitioning out of a much-loved swaddle can be a daunting task. But as soon as your baby shows signs that rolling is on the horizon, it's essential to transition out of a traditional 'arms in' swaddle so that they can continue to sleep safely. A rolling, swaddled baby wouldn't be able to use their arms to reposition themselves, and because many babies lack neck strength, this places them in danger of suffocation.
Our reviewer Natalya agrees, and says her daughter slept exceptionally well with her arms out. 'I really like the versatility of the design – the ability to remove the arms is great,' she says. 'It's a high-quality swaddle, one I hope to use with multiple babies to come.'
Other features Natalya appreciated include a soft cover to keep the zipper away from Sasha's face, plenty of leg room for her to wiggle in and a tumble dryer-friendly design for easy care. While the two-way zipper allows for diaper changes, Natalya wasn't confident that it would be possible to change Sasha without making a mess.
Happily, this swaddle can be used to ease transitioning for babies used to wearing any type of swaddle and according to Reddit, it's particularly popular with parents of Snoo babies.
What to consider
Factors to consider
Essentially, swaddles work by mimicking the contained environment of the womb and suppressing the Moro reflex – the startle response that can wake a baby and cause them to cry out. 'In the womb, babies exist in a weightless environment that keeps their body curled into a cuddle-like fetal position,' explains certified pediatric sleep consultant and newborn care specialist Lindsay Sinopoli, Founder of Jolly Good Sleep. 'Once born, their startle reflex activates and without the cushioning of the womb, they feel panicked. By swaddling their arms and torso during sleep, babies are reminded of the cuddle-like embrace of the womb and can enter into a restful state.'
Educated and certified in numerous sleep behavior techniques and response methods, all of which are supported by positive psychology, Lindsay Sinopoli is the founder of Jolly Good Sleep. She provides bespoke sleep plans and follows an adaptable approach based on a child's temperament and your parenting philosophy since no two little ones are the same. Lindsay supports families nationwide and globally through virtual video consultations, and telephone and email support.
To choose the best swaddle for your little one, there are several factors to consider:
Temperature - Firstly, how warm is your home? You'll want to choose a swaddle with a TOG (thermal overall grade) rating that suits your home's temperature. Remember, the AAP recommends keeping the room temperature between 68-72 degrees Fahrenheit.
Diaper access - Next, consider how many night-time blowouts your baby tends to have. A beautifully wrapped swaddle blanket may work well for daytime sleep but might prove too much for a bleary-eyed night change. If you often find yourself changing diapers at night, look for a swaddle that has easy diaper access.
Fabric - For Lindsay, Velcro is another key factor in choosing a swaddle. 'Make sure the Velcro is of thick, good quality, to keep strong Houdini babies from bursting the fastening open,' she says. 'Thin Velcro panels do not hold up well with multiple washes.'
Quantity - You'll probably need to own at least three swaddles to ensure you always have a clean one to hand, so cost will also be a factor. Swaddles don't need to cost a fortune. 'Always choose quality over a bargain,' says Lindsay. 'If an expensive swaddle promises to get your baby sleeping through the night, it is always too good to be true. Don't waste your money.'
How long should a baby be swaddled?
When to stop swaddling
'As soon as the baby shows signs of rolling, it's time to get rid of the swaddle,' says Lindsay. Most babies will roll between the ages of four to seven months, but sometimes a baby may roll as early as two months. Swaddling a rolling baby is dangerous because it increases the risk of SIDs and suffocation, so it's important that you transition your baby out of a swaddle as soon as they begin to rock from side to side or show increased leg and hip strength.
'If your baby reaches 12 weeks with no signs yet, start to slowly wean the baby from the swaddle to avoid missing the first signs of rolling,' adds Lindsay. Check out the transitional swaddles reviewed below or swaddle your little one in a blanket with arms out. Lindsay recommends three nights with one arm out, then three more with both arms out but the chest and torso swaddled. 'They'll adjust quicker than you'd think!'
Disadvantages
What are the disadvantages of swaddling?
Swaddling a baby incorrectly can increase their risk of developing hip dysplasia, a condition that can cause painful hips and mobility problems later in life. The key is to ensure your little one's legs aren't pressed together or wrapped straight down. 'Make sure baby's knees can still separate into a froggy position,' says Lindsay. 'Look for a swaddle that has been approved by the International Hip Dysplasia Institute, and if using a traditional swaddle blanket, make sure the wrap is loose around the baby's legs and hips.'
You'll also want to make sure your baby is at a comfortable temperature, as swaddling could contribute to overheating. Choose a season-appropriate fabric and go for breathable natural fabric such as cotton or muslin.
Lastly, never size up with a swaddle, no matter how fast your little one seems to be growing. 'Sizing up with a swaddle can cause the swaddle to ride up over baby's face and put them at risk of SIDS,' explains Lindsay. 'Go by the weight and height range of the product, instead of S/M/L sizing or age guidelines.'
Weighted swaddles
Weighing in on weighted swaddles
In the Summer of 2022, the AAP updated their safe sleep guidelines to include the advice that weighted swaddles are 'not safe and not recommended.' This came as a surprise to many parents, who have long enjoyed weighted sleepwear from popular brands such as Nested Bean and Dreamland. In line with the AAP's advice, we've chosen not to include any of these swaddles in our guide.
How we test
How we test the best swaddles
The Goodto best swaddles review process is editorially independent and not influenced by any brands, retailers, or third parties.
Our editorial team conducted thorough market research to shortlist the swaddles that we wanted to review. Our shortlist is based on a range of factors such as which swaddles are popular with parents, which ones have attracted positive online reviews, and whether they're items that members of our team have used personally with their children and loved, or heard great things about from other moms. We also keep abreast of new parenting product launches and trends, and try to include the latest designs and newest models in our buying guides.
We source our review samples directly from brands or retailers.
Our Editor, Deputy Editor, Family Editor, and Food Editor are all moms so we know a thing or two about great (and not-so-great) parenting products. Across the in-house editorial team, we have seven children (!) and more nieces, nephews, and godchildren than we can count. We draw on all this firsthand experience of parenting products when we're compiling our baby gear buying guides and product roundups.
Our baby gear buying guides are commissioned and sub-edited by our Deputy Editor, Heidi Scrimgeour, a mom of three who has been a parenting journalist since having her first baby… 18 years ago.
To make sure we get a wide variety of honest, first-hand feedback on the products we feature, we always assemble a new pool of mom testers for each buying guide. We tested the best swaddles by giving them to moms with babies of the relevant ages and asked them to complete our in-depth product review questionnaire and submit comprehensive feedback on their experience.
We asked our mom testers if they think any of the swaddles they tried are deserving of the award for best swaddle overall, best budget swaddle, or best premium swaddle. Our Deputy Editor gets the final say on these three 'winning' categories but we never apply them to a product unless the tester thinks it's a worthy winner.
This process allows us to create honest, authoritative, and trustworthy reviews based on real-life experiences with the products we write about so that you can make an informed decision about which is the best swaddle for you.
Our testers reviewed the swaddles and swaddle blankets with the following factors in mind:
Design - Is the swaddle intuitive to use or fiddly to get to grips with? Does it require lots of practice or can you use it with confidence right away? Is it a stylish or appealing item that you'd be happy to give or receive as a gift?
Comfort - Did the tester feel their baby was comfortable, cozy, and secure in the swaddle? Can the baby escape easily or does the swaddle remain safely in place?
Features - Does the swaddle have any extra features that make it stand out from other similar products in the market?
Value for money - If it's a budget buy, will it last for a reasonable period of time and wash / dry well? If it's expensive, is the price tag justifiable? And if it's a mid-range product, is there anything that makes it a better value buy than the cheaper or more expensive swaddles or swaddle blankets?
Goodto testers: who are we?
Goodto reviewers are a carefully-selected pool of moms who have specifically volunteered to test swaddles. They know all too well how disruptive broken sleep can be and they're keen to find products that help them - and their babies - get more sleep.
Our testers are not paid for their reviews which means we can be sure their feedback is impartial. If they wish, they'll usually get to keep the item they review or gift it to a friend/charity. Perhaps they've struggled to find a swaddle they like or they're curious to see if the swaddle that celebs and influencers love will live up to their expectations.
We've made sure that our tester's babies are the appropriate age/weight to try out the swaddles they're reviewing. Where possible, we try to match a product to a mom's particular problem or need. If she's tired of tricky nighttime diaper changes with a fiddly swaddle, for example, we'll ask her to review one designed to make that easier to find out how it compares.
Freelance Contributor (US)
Rosie Hopegood is a journalist, editor, and writer with many years of experience writing about lifestyle, including parenting, for a broad range of magazines and newspapers. Now based in Brooklyn, New York, Rosie has written for Daily Telegraph, Al Jazeera, The Observer, The Guardian, The Independent, Vice, Telegraph Magazine, Fabulous Magazine, Stella Magazine, Notebook Magazine, Saga Magazine, Reader's Digest, Sunday Telegraph, Sunday Mirror, S Magazine, and Stella Magazine. She spent five years on staff at the Mirror, where she was Deputy Features Editor on the magazines team.