Lollipop Smart Baby Camera Review
The Lollipop Smart Baby Camera wowed our tester, Charlie, who tried it out with her little boy. Here's why...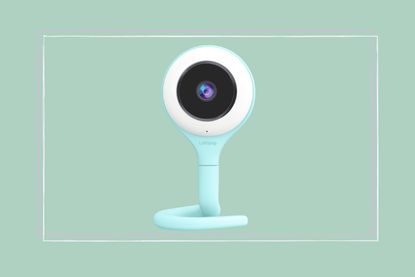 (Image credit: Lollipop)
'I already had a baby monitor that I was very happy with, but the Lollipop Smart Camera exceeded all of my expectations. It's a beautifully designed video montor that delivers excellent picture quality and the app, which you download to a smartphone, is easy to navigate and packed with useful features. I'm so glad we tried it.'
Reasons to buy
+

Flexibility - super easy to position anywhere

+

Simplicity - easy-to-use app with great features

+

Quality - superb picture quality, in any light
Reasons to avoid
-

It's reliant on decent WiFi

-

Paid-for extras - some of the features on the app have to be purchased via a monthly subscription
Why you can trust GoodTo Our expert reviewers spend hours testing and comparing products and services so you can choose the best for you. Find out more about how we test.
Charlie and Seb tested out the Lollipop Smart Baby Camera.
The Lollipop Smart Baby Camera is a baby monitor for the 21st century. It's beautifully designed and packed with clever functionality so if you like stylish, contemporary product design and prefer your baby gadgets to look sleek rather than clunky and functional, this is one of the best baby monitors (opens in new tab) for you.
The accompanying app, which you download to your smart phone, has a raft of handy features, some of which you have to pay for on a monthly subscription, such as the ability to monitor your baby's breathing without requiring a wearable sensor. But even without paying for these extras, the Lollipop Smart Baby Camera does everything a modern parent needs it to - and more.
No matter where you are, you can view the live feed from your baby's room on your tablet or smartphone. The cry detection feature means you'll get an alert on your phone if your baby cries but the monitor can distinguish between ambient noise and your baby's sounds with up to 96% accuracy so you don't need to worry about false alarms. The Lollipop Smart Baby Camera (opens in new tab) also has a data history mode that lets you track patterns in your baby's schedule, such as whether they wake at the same time each day, helping you to pinpoint if something like the sound of the heating coming on might be disturbing them.
Design
Weighs: 1.2kg | Night vision: Yes | Two-way talkback: Yes | Lullabies: Yes | Pan and Tilt: No | Video Recording: Yes
The first thing you notice about the Lollipop Smart Baby Camera is its stylish, contemporary design - this really sets it apart from other baby monitors, which all tend to look alike. It has a sleek, minimalist look with a silicone finish in a range of appealing pastel colours. Unboxing it, you could be forgiven for thinking you'd taken delivery of the latest must-have smartphone rather than a boring baby gadget.
'Aesthetically, it looks great - it has a long stem and then a round camera on top - much like a lollipop, of course,' says our tester, Charlie, who put it to the test with her baby, Seb. 'And it's pretty lightweight, too. The stem can be bent and twisted into various positions, so you can loop it around the side of the crib, affix it to shelves or ledges, or put it anywhere you want to with a good view of your baby.'
While we love the flexibility of this design, it's worth noting that the Lollipop Smart Baby Camera needs to be plugged into the mains. So before you get carried away thinking about all the places you could place it, remember that it needs to be fairly close to a plug socket.
Comfort and features
You'll need fast and reliable WiFi to get the best from this baby monitor but if that's not a problem, you'll find it quick and easy to set up once you've downloaded the app to your smartphone or tablet. Charlie, our tester, found the process painless. 'The camera is operated via an app, which is super easy to use - we downloaded it and had set up an account and got the camera working all within a couple of minutes,' she says.
Charlie and her husband created one account and log in so that they could each use the app on their phones but could collectively see the updates and information. 'The app is really simple to use and has lots of great features - you can snap a picture of your baby if they're looking especially cute while sleeping and it saves to a gallery,' Charlie adds.
You can open the app to take a peek at your baby no matter where you are - and we love that you can even let the grandparents take a peek at your slumbering baby or send them a link to a cute video moment live from the cot or crib. However do factor in that running the baby monitor via your smartphone might take a toll on its battery, so you'll want to keep a phone charger to hand.
When Charlie put this to the test, she particularly liked the 'timeline' feature which shows you various points during the night and day. 'It's really handy if your baby is already awake when you wake up in the morning because you can go back and get an idea of what time they woke up, and also see their other movements throughout the night,' she says.
The camera has cry detection and also a decibel limit, so when the room is too noisy, the app sends you a notification. Charlie synced this to her smartwatch so she gets the notifications even when her phone isn't with her. 'Sometimes it'll tell you that your baby is crying when actually they're just making those lovely squeaking noises while happily rolling about,' she explains. 'But overall it's pretty good at detecting noise and it's good to know what your baby is doing whether they're crying or not.'
One of the best things about this monitor, according to our tester, is the fact that you don't need WiFi on your phone to view the feed. 'Obviously, the camera needs Wi-Fi to be connected up, but you don't need Wi-Fi on your phone so you could be in the garden and still easily check in on your baby, or maybe if you're away for the evening and want to see what they're doing, you can still access the camera from wherever you are without worrying about the WiFi connection,' explains Charlie.
'We have a wedding coming up and it's child-free so Seb will be staying with his grandparents for the first time. I feel so much happier knowing that if I wanted to, I could check he's asleep and not causing too much mischief for my mum in the night.'
Another feature we love about the Lollipop Smart Baby Camera is that you can choose to stream your baby's audio and video signal within your local WiFi network, meaning no one else can access it unless they have the app and your password to log in.
The camera can also be put into standby mode via the app, which Charlie prefers to do during the day when it's not being used. 'Otherwise, it picks up sounds (like me singing to Seb while I change his nappy) and I'd prefer that they weren't recorded for my husband to hear on the app,' she says.
The app also has lots of additional features that you can pay for with the 'Lollipop Care' package. You can also do a month's free trial to see how you get on with the features before committing. Charlie hasn't felt the need to try out these extras, but she likes knowing that features like sleep tracking and continuous video recording are options she could choose to pay for.
Value for money
Overall, our tester is really impressed with the Lollipop Smart Baby Camera and says she has already recommended it to friends - especially those returning to work or planning trips who want the peace of mind that comes with being able to peek at their sleeping baby when they're away from home.
The camera quality is particularly good and the app has really useful features as opposed to gimmicky ones that you don't need or won't use. 'I love the flexibility of the Lollipop Smart Baby Camera, and being able to do everything through your phone is great too, although if you wanted more of a traditional monitor set up, you could also put it on a tablet so you could have the live view of the camera without needing to check your phone,' adds Charlie. 'It's just so handy for parents on the go and although it isn't a cheap baby monitor, it's brilliant quality.'
As a parenting specialist, Heidi has written for Prima Baby, Gurgle and Practical Parenting and was baby gear editor of Mother & Baby magazine for six years, looking after regular consumer features for the shopping pages as well as specialist consumer content such as buying guides and gift guides.