The best baby walkers 2023: top push toys for girls and boys
Sturdy, engaging and built to withstand some bumps, discover the best baby walkers for your little adventurer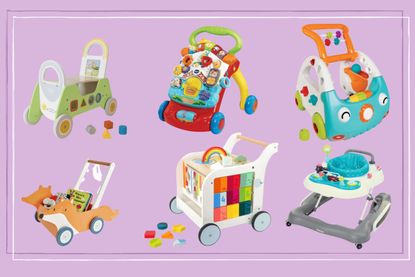 (Image credit: Future)
The best baby walkers and push toys don't just encourage your little one's first steps, they also encourage play and interaction, and let them explore the world in new ways.
While you might want to hold off your little boy or girl from walking for fear of accidents, choosing the best baby walker will allow them to gain confidence and start walking in a safe, secure way when they are ready.
Many walkers also come with educational games, enticing lights, fun sound effects, and bright colours, so will automatically be something that your baby is interested in and engaged in. To help you get the most out of this important developmental stage, we've created a list of the best baby walkers to suit every budget, style, and space. Whether you're a fan of wooden, Scandi-style toys, minimalist designs, or all-singing, all-dancing colourful, plastic creations, along with our team of testers, we've done hours of research to find out everything you need to know before deciding on the right walker or push toy for your and your toddler.
When you've chosen the best walker for your baby, read our guide to the best baby carriers and the best pushchairs. After all, walking can get tiring!
Best baby walkers 2023 - our top pick
Our pick of the best baby walker is the Vtech First Steps Baby Walker. It's robust enough to withstand crashing into walls and doors when your toddler picks up speed, but it's also light enough for little ones to manoeuvre around the room easily. We love the fact that it has a detachable play panel with light and sound features so you get real value from it – it's not 'just' a walking aid but an interactive toy that's likely to hold your little one's attention in both modes of play. Our tester found it easy to put together and noted that it's easy to pop away when it's no longer in use. Best of all, it really made a difference to our little tester's independent walking skills. It's a win win!
Best baby walkers 2023 - tried and tested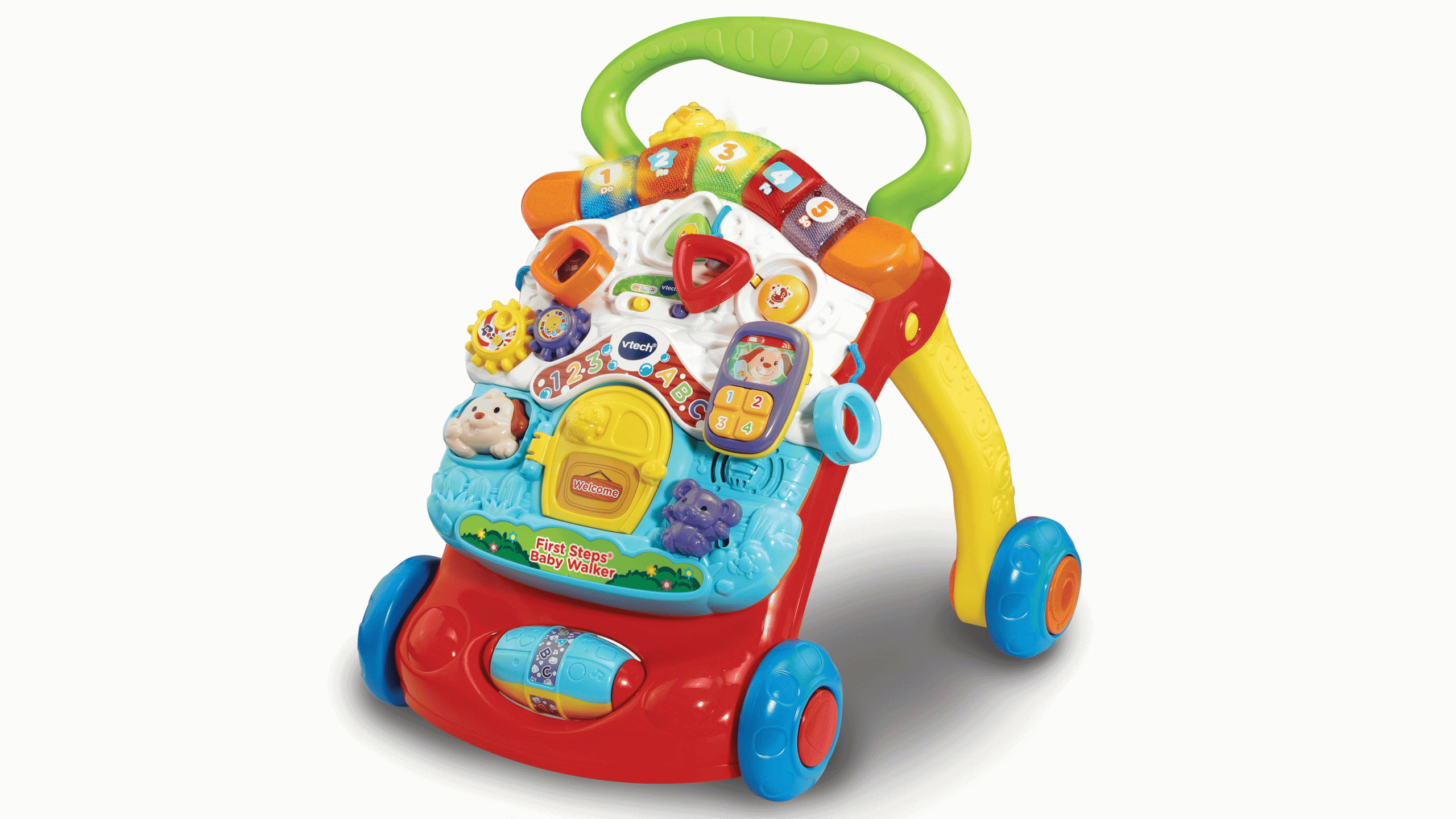 1. Vtech First Steps Baby Walker
Best buy - versatile, engaging and packed with fun interactive features
Specifications
Weighs: 6.75kg
Age range: 12m+
RRP: £42.99
Reasons to buy
+
Highly engaging
+
Multifunctional
+
Great value
Reasons to avoid
-
Requires x3 AA batteries
Our consumer editor says: This colourful, sturdy walker is packed with fun and appealing sounds and features to keep busy hands and brains occupied. It gives good support for little feet just starting to step out, and offers plenty of playtime appeal, both before and after its use as a walker.
It has a detachable two-mode panel with lights and sounds including a movable bird character, rotating gears, piano keys and a toy smartphone, while the frame also houses a simple roller rattle. It's easy to assemble and its compact size makes it easy to store at bedtime.
Our tester says: 'Thea was immediately interested in this walker when it arrived, getting very excited as I went through the simple process of putting it together,' says Katy Islip, mum to Thea, nine months. She gave her baby the play panel to explore on the floor at first, which was an instant hit.
'Thea got straight into pushing the piano keys and opening and closing the central door,' says Katy. 'There are loads of engaging toys in the play panel, which doubles up on the fun by offering a music mode and a learning mode. This effectively gives every feature a dual purpose, so there's no danger of Thea getting bored with it - or of me getting fed up with the same noises and tunes.'
Our tester also commented on the wide range of music and songs that this walker plays, with more natural voices than baby toys typically feature. 'The two-volume levels help keep the chaos to a dull roar when needed, too,' she adds.
Verdict: Babies seem to universally love this walker toy – our baby gear expert had one for her first baby almost 16 years ago – and we think it offers brilliant value for money. Our tester found this walker gave her daughter hours of fun play, as well as physical support which helped build her confidence as she moved towards independent walking.
---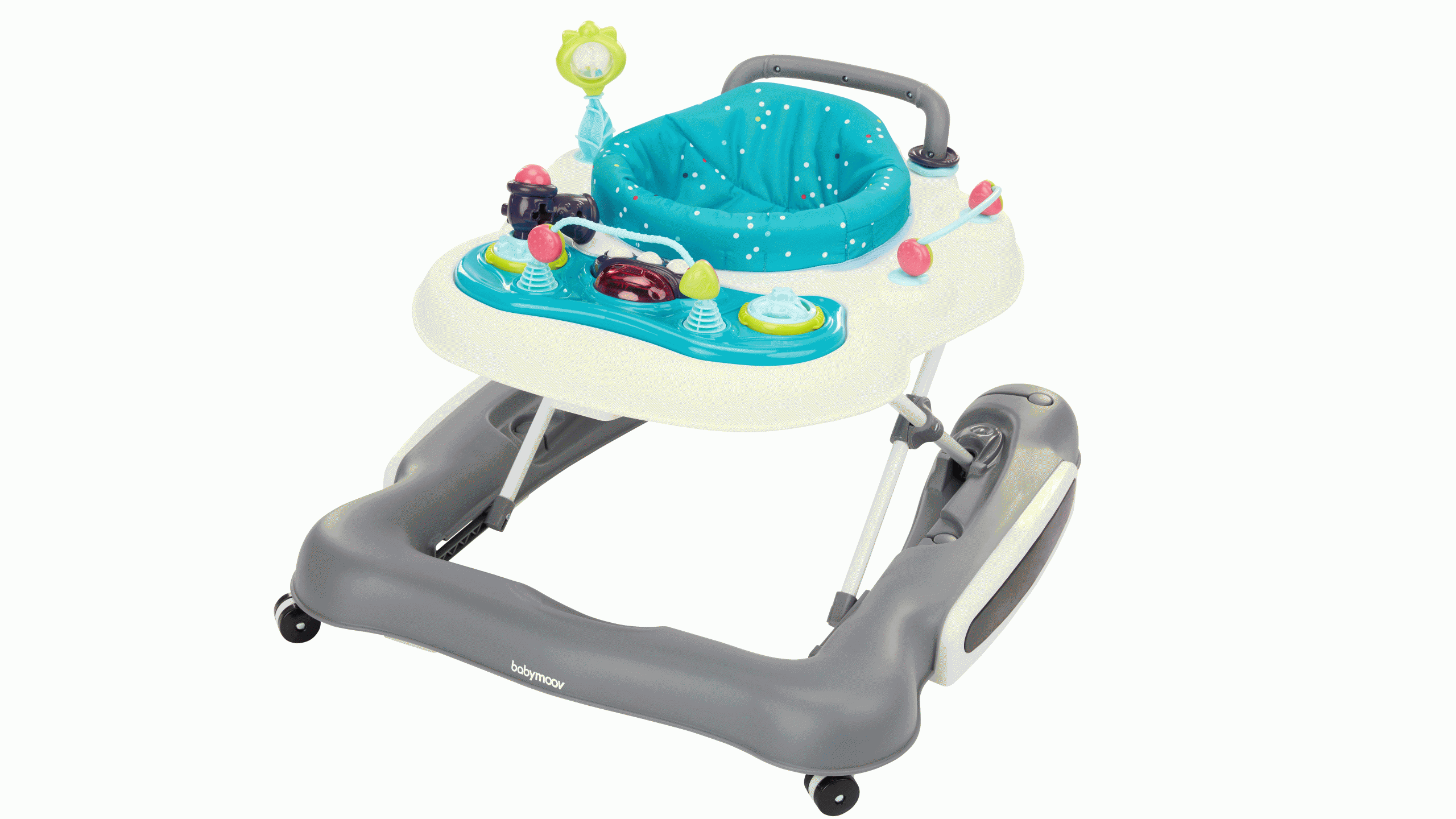 2. Babymoov 5-in-1 progressive walker and push toy
Best premium buy - a highly versatile walker with musical features and a rotating seat
Specifications
Weighs: 5.7kg
Age range: 6m-2yrs
RRP: £109.99
Reasons to buy
+
Stylish design
+
Engaging toys and tunes
+
Excellent longevity – grows with the child
Reasons to avoid
-
Takes up space
-
Requires 2x AA batteries
Our consumer editor says: The Babymoov 5-in-1 Progressive Baby Walker has two core functions – it's a baby walker for up to 12kg, and a pusher toy for use up to 24 months. When your little one gets bigger, the 360° seat can easily be lifted out and the back bar moved to become a handle for toddlers to hold onto, so they can use the walker and guiding wheels to continue exploring the world.
Our tester says: 'I absolutely loved this walker – it's very simple to assemble and took around 20 minutes to build – I'm not usually very confident building anything on my own, but even I found it super easy,' says our reviewer, Tess Watkins, mum to ten-month-old Isla.
The seat is height adjustable and has three different settings, while the learning tray features a music box with three tunes and toys. Our tester found her daughter got the hang of this walker straight away and was soon cruising all over the living room. 'I really love the freedom this walker toy gives her; it encourages her development and lets her move around and get used to being on her feet in a safe way,' she adds.
Verdict: The 360° rotating seat is a brilliant feature. 'Isla gets so excited spinning around to discover the different toys,' says our tester, Tess. 'The walker is exceptionally good quality and extremely stable, and the seat cover is easy to remove and wash. And, with three different height settings, I think we'll get a great deal of use out of this walker, making it superb value for money too.'
---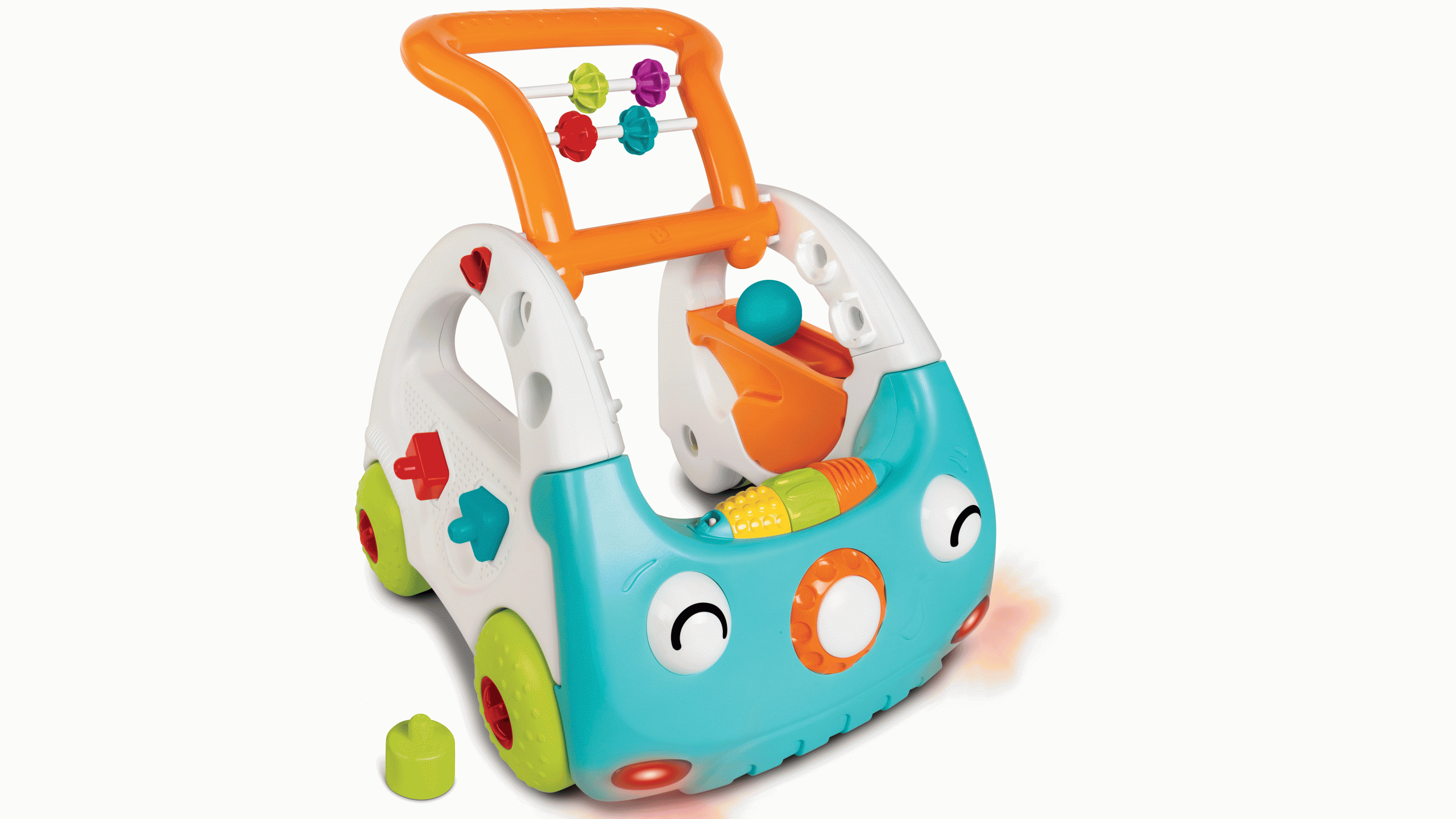 3. Infantino Grow with Me Sensory 3-in-1 Walker
Best budget buy - a fun, car-themed walker with interactive play features
Specifications
Weighs: 2.3kg
Age range: 6m-36m
RRP: £59.99
Reasons to buy
+
Simple but satisfying features and sounds
+
Lockable wheels for extra stability
Reasons to avoid
-
Requires 3x AA batteries
Our consumer editor says: This push toy offers three modes of play for babies aged six to 36 months – sit and explore, stand and play, and the discovery car walker. It also features lights, sounds, songs and toys. A height-adjustable handle ensures a sturdy grip for little ones, while lockable back wheels stop the walker rolling away from little standers. The eyes roll open and closed, and tactile toys like the abacus, shape sorter and ball tunnel add further interest to each side of the car.
Our tester says: This little car quickly became a firm favourite in our house – it was simple to put together and, with batteries included, it was immediately good to go," says our tester, Katy Islip, mum to Thea, nine months. They started using the sit and play mode while Thea explored the various features, particularly enjoying the car's cute rolling eyes and the amusing light and sound effects triggered when each one moves. 'As she's just started cruising, we soon moved the handle up to the stand and play setting, giving her a better grip as she used it to pull herself up and lean on,' adds Katy.
The musical effects and sounds are cute and so far haven't proved annoying, according to our tester, and the additional toys have added to the fun. Although Katy thinks it's a shame the ball tunnel only comes with one ball, and the door comes off very easily. 'That has become a bit of a game for Thea,' says Katy.
Verdict: 'Once in place, the shape sorter pieces are very firmly wedged in position so she's not been able to remove them yet, but has hilariously tried latching on to their protruding tops, which made us laugh. Overall, this is a sturdy little toy with lots to discover and hold Thea's attention. I might not have considered buying this over a 'traditional' walker but I've been impressed by its stability and charm.'
---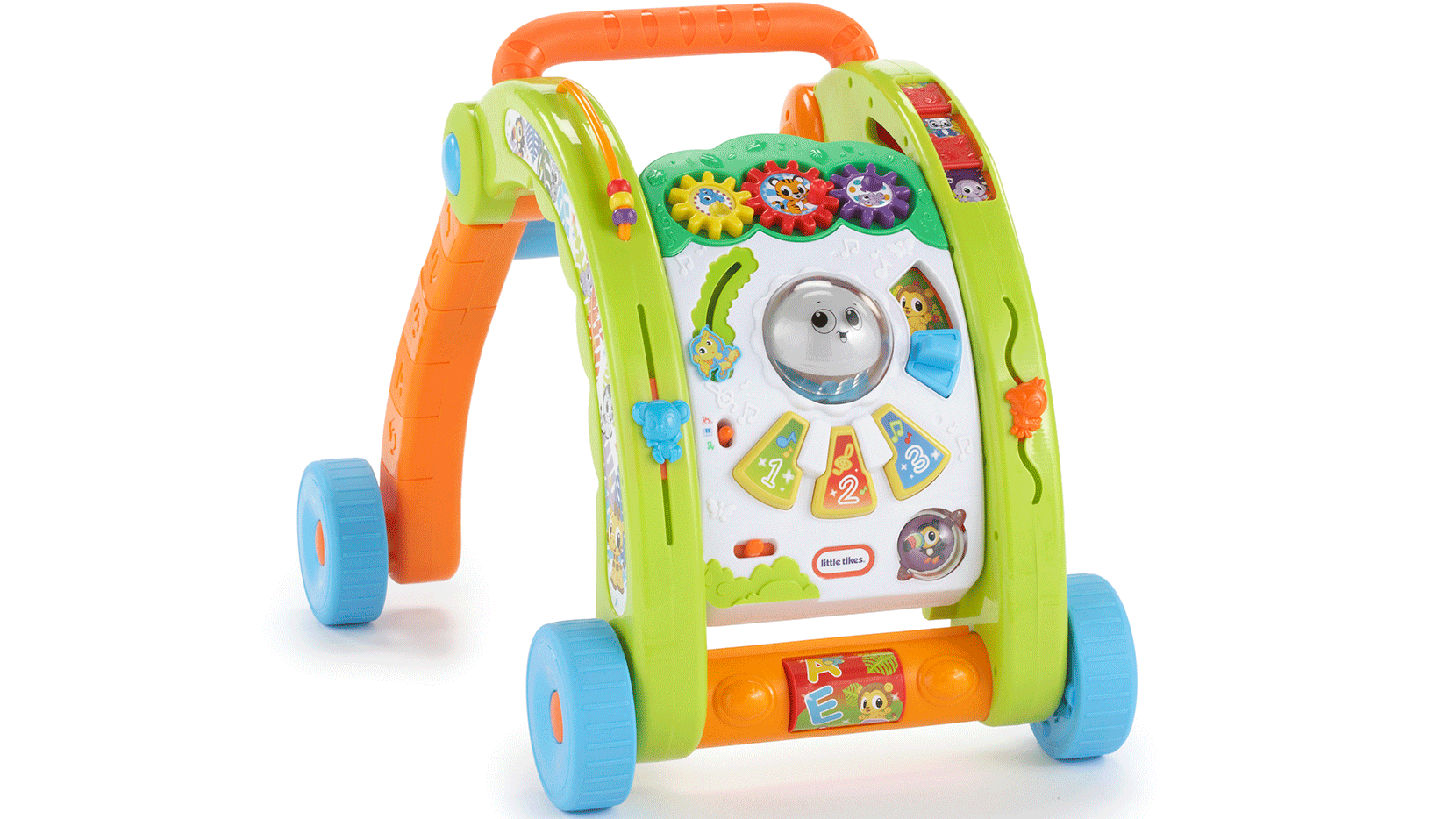 4. Little Tikes Fantastic Firsts 3-in-1 Activity Walker
A versatile walker and activity centre in one
Specifications
Weighs: 2.87kg
Age range: 9m+
RRP: £50
Reasons to buy
+
Sturdy
+
Engaging, educational features
+
Easy to store
Reasons to avoid
-
Requires 3x AA batteries
-
Fiddly to assemble
Our consumer editor says: The Little Tikes Fantastic Firsts 3-in-1 Activity Walker is ideal for encouraging little ones take their first steps, projecting colourful lights onto the floor to encourage babies to get moving. It's a 3-in-1 toy; a walker, standing activity table, and sit-and-play activity centre. With over 70 songs, sounds and activities – including piano keys, a peekaboo slider and a glowing light dome – the activity centre is designed to help develop curious minds. It also folds down flat for floor-time fun and easy storage.
Our tester says: 'This is the best walker we've tried – it's so simple to put together as it all snaps into place, taking us about ten minutes to assemble in total, and it's super easy to use – we loved it,' says our tester, Tess Watkins, mum to Isla, ten months.
Katy particularly loves the light projector; she says it really works to encourage first steps but adds excitement and fun for babies. 'The activity centre is amazing; my daughter was still discovering new features days after it arrived, from piano keys which illuminate different colours to a spinning drum featuring the alphabet,' adds Tess.
Verdict: Another huge plus is that this works as a standing toy and stores away easily if you're short on space. 'It's also much sturdier than other walkers – in particular, the speed restrictive wheels stopped it from getting away from Isla too much,' adds Tess. 'Most importantly, this kept Isla entertained for ages while encouraging her development. She gets so excited to see the lights illuminate and the music start playing when she takes a few steps. This walker has really built up her confidence on her feet and it's been amazing to watch her mobility develop.'
---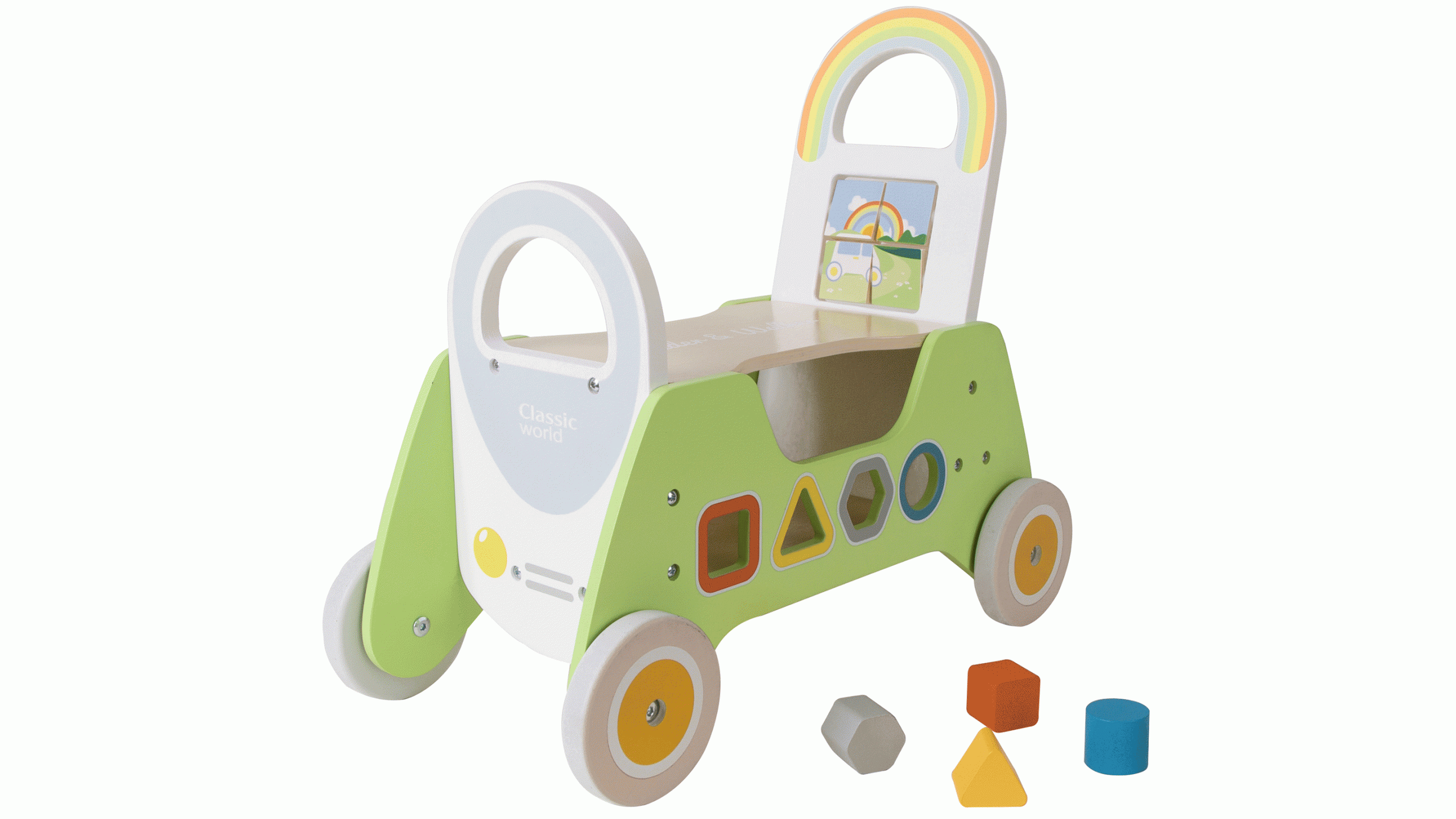 5. Hippychick Classic World Rider and Walker
A simple but robust wooden walker