Love to Dream Swaddle Up Review
We asked new mom Natalya LaGrange and baby Sasha to test the Love to Dream Swaddle Up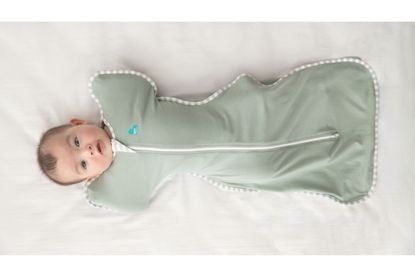 (Image credit: Love to Dream)
'My daughter slept like a champion! The Swaddle Up gave her a very comfortable night's sleep.'
Reasons to buy
+

Arms up design

+

Range of TOGs

+

Speedy
Reasons to avoid
-

Short size window

-

No transition option

-

Looser design
Age: multiple sizes, up to 19lb | Fabric: 97% Cotton, 3% Elastane

Swaddles have been used for centuries to soothe fussy babies and stifle the Moro reflex that can startle them awake. But experts agree that babies shouldn't sleep too deeply – they need to be able to wake from a deep sleep. The Swaddle Up aims to help soften the reflex, but not eliminate it entirely so it's the best swaddle for little ones who don't like their arms being tucked away.
The Swaddle up is one of few swaddles out there that allows baby to sleep with their arms up by their head – a position that most babies will choose naturally when left to their own devices. 'I really like that this swaddle allows for the arms up sleeping position,' says our tester Natalia, mom to baby Sasha. 'It's definitely the most comfortable way for a baby to sleep.'
There could be some debate about whether the Swaddle Up is really a true swaddle at all. But the unique patented wings certainly do seem to comfort and soothe little ones – the swaddle has won multiple awards and earned thousands of four and five star reviews on Amazon.
Design
This is one of the simplest designs of the swaddles we tested. Once baby's hands are popped in their holes, a single zipper fastens the baby securely in the swaddle, while four-way stretch fabric allows just enough compression to keep baby feeling snuggly and secure.
'I really like the special cover that kept the zipper away from my daughter's face,' says our reviewer Natalya. 'I thought the pattern on the fabric was a really nice touch, and the swaddle has a really sleek design. Sasha looked super cozy and comfortable in it and slept really well.'
Natalya also appreciated that the twin zipper meant she could change Sasha's diaper without having to unswaddle her entirely.
Comfort and features
We love that the Swaddle Up is available in so many TOG ratings. The 0.2 TOG our tester tried out is ultra lightweight and perfect for warm weather or layering up with warmer PJs. The heaviest TOG (2.5) will keep baby toasty, even when the temperature drops to a chilly 16 degrees. 'I found the 0.2 TOG a little thin, so I'd definitely opt for a higher TOG for colder nights,' says Natalya.
Not only is the Swaddle Up approved by the International Hip Dysplasia Institute as a hip healthy swaddle, but it's also available in a specially designed version to accommodate a hip dysplasia harness or brace that will fit over a Pavlik Harness, Denis Browne Bar (DDB) & Rhino Brace. With 1 in 100 US babies treated for hip dysplasia, this will be a welcome feature for many parents.
Value for money
Natalya thinks that the Swaddle Up is well worth the $32.95 price tag. 'It's a really great swaddle, one I can't recommend enough,' she says.
Swaddle Ups are also available in a version made from organic cotton, priced at $37.95. There's also a 'Designer Collection' featuring some really sweet prints.
If you live in a cold climate, the Swaddle Up could wind up being a pretty pricey option. Higher TOG versions cost more, with a 1.0 TOG swaddle costing $37.95 and a 2.5 TOG one selling for $47.95. When you consider that each size only accommodates a few pounds of growth, these cozier swaddles aren't the best value for money, but might just help keep your baby warm and sleepy.
Freelance Contributor (US)
Rosie Hopegood is a journalist, editor, and writer with many years of experience writing about lifestyle, including parenting, for a broad range of magazines and newspapers. Now based in Brooklyn, New York, Rosie has written for Daily Telegraph, Al Jazeera, The Observer, The Guardian, The Independent, Vice, Telegraph Magazine, Fabulous Magazine, Stella Magazine, Notebook Magazine, Saga Magazine, Reader's Digest, Sunday Telegraph, Sunday Mirror, S Magazine, and Stella Magazine. She spent five years on staff at the Mirror, where she was Deputy Features Editor on the magazines team.