Love to Dream Transition Swaddle Review
We asked new mom Natalya LaGrange and her baby Sasha to try out the Love to Dream Transition Swaddle...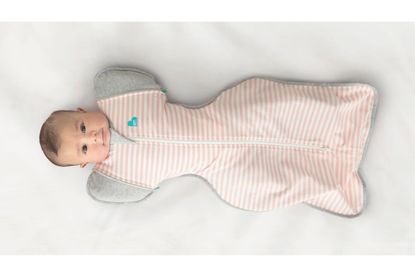 (Image credit: Love to Dream)
'My baby was very content in this swaddle. She seemed to feel very secure and contained, even with her arms out.'
Reasons to buy
+

Easy transitioning

+

Arms up design

+

Two-way zipper
Reasons to avoid
-

Could lose zip-off wings

-

Pricey
If your little one is showing signs of rolling, it's time to transition out of a swaddle. The Love to Dream Swaddle Up Transition Sack is two swaddles in one: an arms-up swaddle that allows the baby to sleep in a comfy, natural position and becomes an arms-out swaddle once zip-up wings are removed. This is hands-down (sorry...) the best swaddle to buy if you value the versatility of a transitional swaddle or if your little one has shown not to be a fan of having their arms down.
Parents love that their baby still has the reassuring comfort of a snug fitting suit around the torso area, but can use the use of their arms to safely reposition themselves if they roll. Babies can also self-soothe when they have access to their hands – something our reviewer Natalya credits with helping her baby Sasha sleep better. 'Sleeping with her arms out was great for Sasha,' she says. 'It allowed her to stabilize her pacifier which helped soothe her to sleep.'
Design

Size: two sizes available, up to 24lb | Fabric: 97% Cotton, 3% Elastane
Unlike other transitional swaddles we tested, the Love to Dream Swaddle Up Transition swaddle comes with patented zip-off wings that are fully removable. Many other transitional swaddles feature snappers covering armholes, or work by fastening the swaddle below the armpits instead.
The zip-off design means that babies have plenty of arm and shoulder room to move about in, but there is also the risk of misplacing the zipped-off parts. This could be annoying for parents who tend to have their babies sleep with arms out for naps and arms in for nights – or if, like our reviewer Natalya, you plan on reusing the swaddle with future babies.
Natalya loved the way the swaddle looked, and the wide range of prints it's available in. 'It's a very eye-catching swaddle,' she says. 'I would even use it for a newborn photoshoot, if I'd had one.'
Comfort and features
Made from a blend of 97% Cotton and 3% Elastane, this swaddle combines the benefits of natural fibers with the stretchiness of elastane, meaning that baby has just enough wiggle room to feel snug and secure. There's also an organic cotton version available for a few dollars more.
For Natalya, the finishing touches set this swaddle aside from other swaddles she tried. 'I thought it was great that the zipper had a soft cover to protect her little face, and the material was very soft to the touch.'
We particularly liked that this swaddle is extra roomy around the hips and legs. Love to Dream are a research partner with the International Institute of Hip Dysplasia, and also make this swaddle in a version that accommodates a hip harness for babies currently undergoing treatment.
Value for money
At $39.95 for the 0.2 TOG version, this is one of the pricier swaddles we tested. The thicker 2.5 TOG swaddle will set you back $59.95. Considering that the swaddle is sized and will only fit your baby within a five-pound bracket, this is expensive. Of the ten swaddles our reviewers tried out, only the Ollie Swaddle, $65, cost more – but as this swaddle was unsized and could also be used as an arms out swaddle. This makes the Love to Dream Transitional Swaddle a more expensive option if you live in a colder climate.
'It could definitely cost a bit less,' says Natalya. 'But I think it's okay value since there is the transitional component. Plus I was definitely impressed with the quality. In colder weather, I think you could get away with dressing baby more warmly underneath the lighter version.'
Freelance Contributor (US)
Rosie Hopegood is a journalist, editor, and writer with many years of experience writing about lifestyle, including parenting, for a broad range of magazines and newspapers. Now based in Brooklyn, New York, Rosie has written for Daily Telegraph, Al Jazeera, The Observer, The Guardian, The Independent, Vice, Telegraph Magazine, Fabulous Magazine, Stella Magazine, Notebook Magazine, Saga Magazine, Reader's Digest, Sunday Telegraph, Sunday Mirror, S Magazine, and Stella Magazine. She spent five years on staff at the Mirror, where she was Deputy Features Editor on the magazines team.