Miracle Blanket Swaddle Review
We asked new mom Miriam Litvac and baby Gideon to try out the Miracle Blanket Swaddle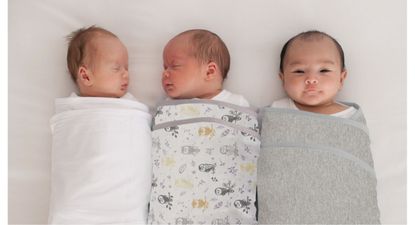 (Image credit: Miracle Blanket)
'Once your baby's arms are positioned correctly, it's almost impossible for them to wiggle out.'
Reasons to buy
+

Holds arms snugly

+

No zippers or Velcro

+

Soft cotton
Reasons to avoid
-

Learning curve

-

Fiddly

-

Hit or miss prints
Miracle Blankets have been around for twenty years and helped soothe more than 2 million babies. There's good reason that this swaddle endures: it's really effective at keeping wiggly baby arms firmly in place. The result? More sleep for tired moms and dads. Easily the best swaddle you can buy for wriggly baby who might escape easily from other swaddle blankets.
'My baby slept beautifully in this swaddle,' says our reviewer Miriam. 'It seems to really comfort him and I think that's because he can't get his arms out, no matter how hard he tries. He even slept through the night in it.'
Made from soft knit cotton, the Miracle Blanket has no zippers or velcro panels to wear in the wash. It can be worn as an arms-in swaddle until your baby starts to show signs of rolling, and then wrapped round your baby as a transition swaddle with one or both arms out.
Design
SIZE: 0-14 weeks, or until first signs of rolling
Fabric: cotton
This was one of the more complicated swaddles we tested. Miriam found it fiddly to put on, and didn't like that it involved maneuvering her little one several times. 'It takes a minute or two to put on because of all the tucks,' she explains. The more times you do it, the easier it gets, but by its nature the swaddle will always require baby to be moved around a lot. If the baby is upset, it might not be possible to put the swaddle on at all.'
The swaddle works by securely fastening each arm by the baby's side with a strip of fabric that tucks under the body. Once in position, Miriam was impressed by just how securely Gideon's arms were held down. 'I've tried many swaddle designs, and the Miracle swaddle is better than all of them in the way that it keeps the arms from coming out,' she says. 'The Halo Swaddle comes the closest second, but my baby was even able to break out of that.'
Comfort and features
The Miracle Blanket is made from knitted cotton that feels like it will stand the test of time. 'The fabric itself is nice and soft, and of good quality,' says Miriam. 'One warning though: it is very warm, especially because it's wrapped several times around baby. If your baby's room runs warm, you may not be able to use this swaddle safely.'
There are more than 30 prints and designs available, but the swaddle only comes in one size and one TOG rating.
Value for money
At $29.99, the Miracle Blanket is a mid-range swaddle. Given that you'll most likely need several swaddles and that this one doesn't come in multi-packs, the costs could soon add up.
But online reviewers say their Miracle Blankets last well and go on to swaddle second and sometimes third babies.
We like that the swaddle comes with a no questions asked money-back guarantee. If you've got a mini-Houndini on your hands, this one's definitely worth a try.


Freelance Contributor (US)
Rosie Hopegood is a journalist, editor, and writer with many years of experience writing about lifestyle, including parenting, for a broad range of magazines and newspapers. Now based in Brooklyn, New York, Rosie has written for Daily Telegraph, Al Jazeera, The Observer, The Guardian, The Independent, Vice, Telegraph Magazine, Fabulous Magazine, Stella Magazine, Notebook Magazine, Saga Magazine, Reader's Digest, Sunday Telegraph, Sunday Mirror, S Magazine, and Stella Magazine. She spent five years on staff at the Mirror, where she was Deputy Features Editor on the magazines team.