The Ollie Swaddle Review
New mom Lauren Woosey reviews the Ollie Swaddle - and rates it the best premium swaddle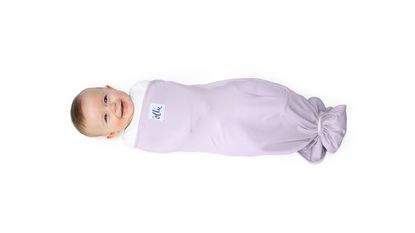 (Image credit: Ollie World)
'I love how simple and easy to use this swaddle is. We were able to easily switch between arms-out naps and arms-in at night, without any fiddly adjustments.'
Reasons to buy
+

Easy for diaper changes

+

Arms in or out

+

Grows with baby
Reasons to avoid
-

Expensive

-

Velcro is noisy

-

Synthetic fabric
When it comes to swaddle design, the Ollie breaks the mold. Yes, it's expensive but it's our pick of the best swaddle you can buy if your budget isn't limited. Designed by a foster mom who knows a thing or two about soothing fussy babies, this swaddle is the only one we tested that wraps beneath the shoulders. If you're in the market for a This allows extra wiggle room for growing joints, as well as making it a doddle to transition to arms out sleeping. It's also the only one with a nifty elastic loop at the bottom, which makes for easy diaper access.
This isn't a swaddle that comes in dozens of different print, TOG, and size combinations. The Ollie World site features just one swaddle size, in one TOG rating (0.8), in a handful of understated shades. Made from a unique fabric that claims to keep baby snuggly in winter and cool in summer, this could potentially be the only swaddle you need.
Design
Fabric: spandex and polyester | Size: newborn to first signs of rolling
The Ollie features three high-quality velcro panels that allow the baby to be snugly wrapped at the shoulders, with plenty of kicking room for little legs. 'The design is so simple it's impressive it works,' says Lauren. 'I liked how easy it was to adjust the tightness of the swaddle – my son is a little older, but there would be plenty of room to grow with a newborn. Iggy prefers his arms out for naps, and this was easy to do by simply wrapping the swaddle under his arms.'
Lauren found swaddling Iggy to be straightforward and fairly speedy, taking around 10 seconds – but there was a knack to holding down her son's arms while she secured the velcro. It was also easy to undo, although the velcro was a little noisy. For Lauren, a key feature was the swaddle's unusual loop bottom design. 'One of the best things about the swaddle is definitely that you don't have to take it fully off to change a diaper,' she says. 'I did have to undo the bottom Velcro panel, but that didn't disturb the baby's chest area so he was still swaddled.'
Comfort and features
One of the Ollie Swaddle USPs is its moisture-wicking fabric, designed to reduce the risk of overheating. While some moisture-wicking fabrics contain harsh chemicals, Ollie fabric is interwoven with patented moisture-wicking threads that promise to be kind to new skin, as well as stand the test of time after multiple washes. It's also an Oeko-Tex Standard Certified fabric, meaning it's been rigorously, and independently tested to ensure it's free of nasties.
'The fabric is super cozy and soft – Iggy loved wearing it and was very calm and contented,' says Lauren. Polyester and spandex don't sound like a particularly luxurious blend (this is no Merino wool!), but it does allow for an incredibly stretchy, supersoft fabric.
Value for money
At $65, the Ollie is almost double the price of many other market leading swaddles. But it's a premium swaddle with a luxurious feel, and our tester Lauren thinks the cost is justifiable. 'The Ollie Swaddle definitely has a high-quality feel and a sleek yet classic look,' she says. 'If you used this swaddle every day from birth, then it's worth the money. But there's always a risk that your child doesn't like to be swaddled, and then it would feel like an extravagant spend!'
There's the option to bundle up and buy two swaddles for $119 when you buy directly from Ollie. You can pick the colors you prefer, rather than being stuck with multipack options.
Freelance Contributor (US)
Rosie Hopegood is a journalist, editor, and writer with many years of experience writing about lifestyle, including parenting, for a broad range of magazines and newspapers. Now based in Brooklyn, New York, Rosie has written for Daily Telegraph, Al Jazeera, The Observer, The Guardian, The Independent, Vice, Telegraph Magazine, Fabulous Magazine, Stella Magazine, Notebook Magazine, Saga Magazine, Reader's Digest, Sunday Telegraph, Sunday Mirror, S Magazine, and Stella Magazine. She spent five years on staff at the Mirror, where she was Deputy Features Editor on the magazines team.