Woombie Grow with Me 5 Stage Swaddle Review
New parent Miriam Litvac reviews the Woombie Grow with Me 5 Stage Swaddle - our choice of the best swaddle overall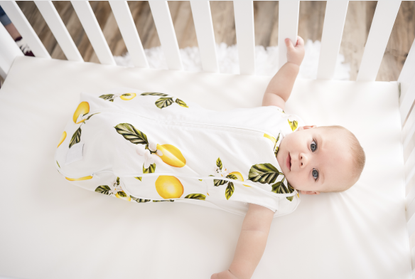 (Image credit: Woombie)
'I wish I'd found this swaddle when my baby was first born!' says our tester Miriam. 'The Woombie has been a complete revelation for our family. It's the easiest swaddle I've ever used. Simply pop the baby in and zip - you're done! It's even easier than putting on zippered pajamas.'
Reasons to buy
+

Grows with baby

+

Two-way zipper

+

Easy on
Reasons to avoid
-

Expensive

-

Only one TOG option
When we enlisted a panel of ten testers to try out the best swaddles on the market, the Woombie topped our list – and with good reason. Firstly, there's the smart design that means the Woombie seamlessly transitions from a newborn swaddle to an arms-out swaddle, and finally a toddler sleepsack. Then there's the ease of use: the swaddle does up with one speedy zipper, with no extra panels of velcro or complicated folds of fabric.
For our reviewer Miriam, who had previously tried swaddles from many different brands, the swaddle was a total game-changer. 'I can't recommend Woombie enough,' she says. 'I'll be gifting these swaddles to any friends having a baby from now on.'
Design
Fabric: cotton/spandex | Size: 0-18 months
Designed by a Certified Infant Care Specialist & Nursing team, the Woombie has several brilliant features that tired parents love. In particular, there's a one way zipper for easy diaper changes, and an arms free interior that allows baby to self soothe by touching their hands together over their chest.
Our tester was impressed that it took just a few seconds to wrap up her son, and that, unlike many other swaddles on the market, there was no learning curve involved. 'The swaddle is incredibly easy to use and does exactly what it's designed to do – prevent the arms from escaping and triggering the startle reflex,' she says. 'It doesn't seem like there's any real way that baby could get his arms out and wake himself up.'
The Woombie also offers plenty of room for little hips and legs to move, and is recognised by the International Hip Dysplasia Institute as a hip healthy swaddle.
Comfort and features
'The design of the swaddle is brilliant – it's built to grow with baby during the first 18 months or so of life, and it looks like it will do just that,' says Miriam. 'The only slight issue is that there's a bunch of fabric piled up at the bottom of the swaddle, which I could imagine might be uncomfortable for a baby as they grow longer but are not yet ready to expand the foot of the swaddle.'
Miriam loved the Woombie's multidimensional stretch 'Bebeflex' fabric. 'I really liked the light-weight but sturdy, linen-like feel to it, although it could perhaps be a little softer. Even though it's not a particularly warm fabric, it works well because you can dress the baby appropriately for the temperature in the bedroom without having to worry about the swaddle causing overheating.'
Our tester noted that the poppers were 'the easiest to use I've come across on any infant clothing.'
Value for money
Of the ten market-leading swaddles we tested, the Woombie was second only to the Ollie swaddle in price - but our reviewer thinks the Woombie swaddle still provides good value for money. 'Between its ease of use, its effectiveness at preventing escaping arms, and the longevity gained from the five convertible stages, it's an extremely reasonable price point,' she says.
Many other market-leading swaddles cost around $25-30. At $38.99, the Woombie is a comparatively expensive option but it also promises to last significantly longer. For that reason, we think the Woombie offers good value for money as well as a more sustainable solution to baby sleepwear compared to buying a new swaddle every 3-6 months.
Freelance Contributor (US)
Rosie Hopegood is a journalist, editor, and writer with many years of experience writing about lifestyle, including parenting, for a broad range of magazines and newspapers. Now based in Brooklyn, New York, Rosie has written for Daily Telegraph, Al Jazeera, The Observer, The Guardian, The Independent, Vice, Telegraph Magazine, Fabulous Magazine, Stella Magazine, Notebook Magazine, Saga Magazine, Reader's Digest, Sunday Telegraph, Sunday Mirror, S Magazine, and Stella Magazine. She spent five years on staff at the Mirror, where she was Deputy Features Editor on the magazines team.