We tested the BeSafe iZi Turn B i-Size car seat and love it for this reason
Brilliant for babies, the BeSafe iZi Turn B i-Size car seat is suitable rear-facing up to age four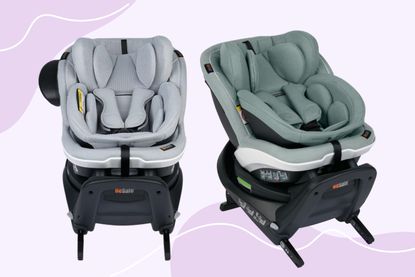 (Image credit: Besafe)
Reasons to buy
+

Safety features

+

Rotating

+

Stylish
Reasons to avoid
-

Expensive

-

Heavy

-

Not very portable
The BeSafe iZi Turn B i-Size car seat came out as our top choice for newborns in our guide to the best convertible car seats based on our consumer tests.
If you're looking for the best convertible car seat for your baby or infant, you might have found it in the iZi Turn B i-Size from the premium car seat brand BeSafe. This two-in-one car seat ensures babies are safe in their seat in a rearward-facing position, later moving to 360-degree flexibility for older children.
Reviewed by
Reviewed by
Katie Dancey-Downs
For this review, Goodto.com asked one of our parent testers to try out the iZi Turn B i-Size with her baby, Auden, aged two and a half years old at the time. Katie loved the seat's safety features, stylish appearance, and ease of use.
'This car seat feels incredibly safe and secure, and the rotation system makes life a lot easier for us,' she told Goodto. 'It has a high price point, but the quality feels very good. Safety is the most important aspect of a car seat, and it's rightly the main focus of this product. But BeSafe hasn't forgotten about style or comfort.'
In a nutshell
The BeSafe iZi Turn B i-Size car seat is a robust convertible car seat that gives you the option to keep your child in the safest rear-facing position up to the age of four. It rotates 360° for easy onboarding and has excellent safety features, particularly for younger babies. Buy it if you're looking for a rear-facing seat to use from birth to four years.
The product doesn't just make life easier for parents thanks to its swivelling capabilities but is absolutely packed with safety features that justify its higher price tag. These include a Baby Shell to offer a high level of protection from birth, built-in side impact protection in the seat shell, and a soft headrest with the brand's Dynamic Force Absorber, which functions like a trampoline to absorb impact in the event of a collision.
Price & availability
'This is a comfy and sturdy car seat that grows with a child, rotating between front and rear-facing,' Katie told us. 'It has an in-built Isofix base and is suitable for children from birth to around four years old. It's a robust system, which makes it feel safe and secure.'
Though the seat lasts four years, the BeSafe iZi Turn B i-Size car seat is not the cheapest option out there - but Katie feels that considering how much the brand has prioritised safety and security in the design, the high price tag is justified.
The BeSafe iZi Turn B i-Size car seat is currently to buy for £369 from Natural Baby Shower.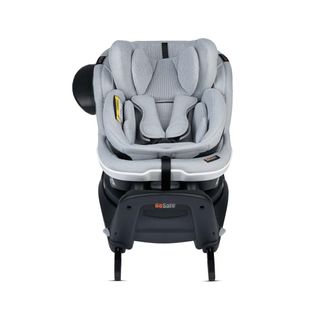 Design & features
Weighs: 15.5kg | Age: Birth to four years old

The BeSafe iZi Turn B i-Size car seat's main selling point is its focus on safety, and Katie felt that Auden was safe and comfortable while in it. She also feels the seat is engineered so that parents feel confident and can't accidentally install it incorrectly or unsafely.
'The three-point harness straps have magnets in the top, so you can pop them out of the way as you lift your child into the seat,' Katie explains. 'This saves a lot of heartache with pulling straps out from underneath wriggling toddlers!'
Katie adds: 'The baby seat insert has a special pin in it so that when it's fitted you can't accidentally turn it into front-facing mode. It's a great extra safety feature and really helps keep things clear.'
A guide printed on the side of the seat shows you which way it's safe for your child to sit at specific ages.
The seat is a stylish black design with a sleek white stripe. 'There are flashes of green to show that all the various components are fitted correctly, too,' says Katie.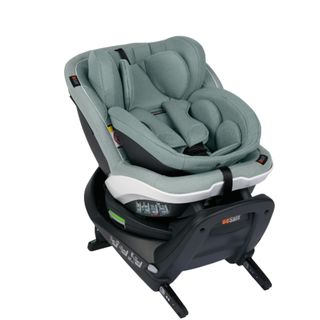 How we tested
Transported a 2.5-year-old child using this seat, installed via the base (included in the price) using ISOFIX anchor points according to manufacturer's guidelines, in a standard family car.
Used the seat for a minimum of two weeks for everyday transportation, driving everywhere from the supermarket to the doctor's surgery.
Tested the seat rotation functionality, in particular, to see how easy it is to place the child in and out of the car compared to a non-rotating seat.
Things you won't find on the box
Available in a series of stylish colours, from anthracite mesh to sea green melange, the iZi Turn B i-Size looks premium and high-end. Katie loved its sleek appearance, as well as how the design has been cleverly thought out to make life easier for parents as well as safer for kids.
'The stand-out aspect of this car seat is safety. It feels robust and secure, with the Isofix base taking out any guess-work when it comes to fitting the seat,' she told us. 'A little spirit-level shows that the seat is level and the system beeps if the foot hasn't been put down correctly. The harness feels really strong and supportive.'
'This car seat rotates on the base, which means that you can load your child in from the side, then swing them into place - which makes strapping them in a lot easier,' Katie adds.
'There's an insert for newborns, and our 2.5-year-old found the seat comfy and couldn't escape from the straps - which he's inclined to try and do. He doesn't slip down in the seat either, which he has done in other car seats.'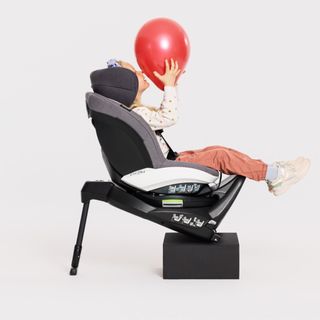 Who's it best for?
Overall, our reviewer would recommend this seat to anyone prepared to spend extra on a rotating convertible car seat with additional safety features. It's particularly suitable for newborn babies, thanks to the Baby Shell which is equipped with a locking mechanism that prevents forward-facing use while the Baby Shell is in place. 'The BeSafe iZi Turn B also looks swanky,' adds our parent tester, Katie.
Need an alternative?
After testing the BeSafe iZi Turn B i-Size car seat, we chose it as the best convertible car seat for newborns because it allows for rear-facing travel up to the age of four and comes with a Baby Shell for extra protection and with this in place, the seat can only be used most reclined and rear-facing.
If you're looking to spend less, we think the Ickle Bubba Radial car seat (£189, Amazon) is the best convertible car seat overall.
Looking for more? Discover our range of baby gear buying guides covering everything from the best prams to the best baby monitors.